Set Up With Ninite
I decided to reinstall Windows on one of my old computers. One big pain with this issue is downloading and installing all of your programs. You can do it one by one or all at once using a program/service called Ninite.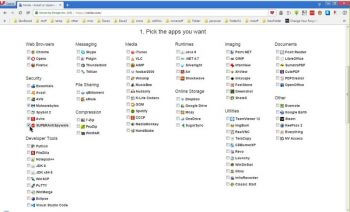 I went to their web site and scrolled down to the 1. Pick the apps you want section. Put a check mark in the box in front of all the applications you want downloaded, then scroll down a little bit further on the page to the section 2. Download and run your custom installer/updater. Click on the big blue Get Your Ninite button.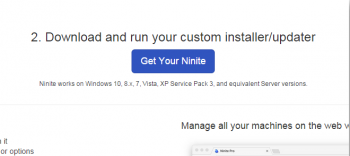 Your download should start immediately, prompting for a name and place to download.
Then, save this installer for future use. If required, then run the program and it will automatically start downloading and installing the chosen applications/programs without any prompts.

The installer, in my case, automatically started in a minimum detail view. If you want to see more information as it's happening, click on the Show details option.
Once finished, it shows you the results including programs it couldn't download. Click on the Get help on failed or skipped applications or the retry/re-install option.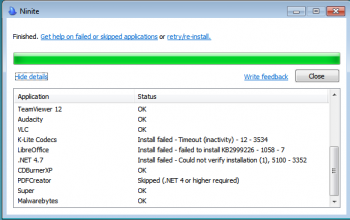 As you have probably already guessed, you can use this program to simply check and upgrade any programs you have already installed on your system.
—