Getting notifications on your Apple Watch is a great feature. I am no longer tethered to my iPhone to check email and text messages, among other things. Although, I'm still somewhat reliant on it since my iPhone 6 has to be in somewhat close proximity of my Apple Watch.
Setting up notifications is easy. To get started, open the Apple Watch app on your iPhone and tap 'Notifications'.
You will see a few different things on the Notifications screen. The first is a 'Notifications Indicator'. If this is enabled, anytime that you have any pending notifications, a red dot will appear at the top center of your Apple Watch screen. It's a nice feature and one that I find very useful.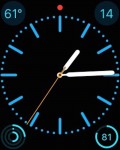 The next section is 'Notification Privacy'. If you are demoing your watch a good bit, you may want to turn this on. When this is turned on, notification details aren't displayed until you tap on an alert.
'Activity' lets you set notifications related to, well, activity. You can be reminded every hour to stand, receive progress updates, be notified of goal completions and achievements as well as opt to receive a weekly summary.
'Maps' allows you to turn on 'turn alerts.'  Your Apple Watch will vibrate when you are approaching a turn and display the turn information.  This is actually quite a nice feature whether you are the driver or a passenger.  It keeps you from having to keep checking your progress toward the next turn.
Some apps, such as Calendar, Mail, Messages, Passbook & Apple Pay, Phone and Reminders, allow you to  mirror your iPhone notifications or set up custom notifications for your watch. Mirroring your iPhone means exactly that – if you are set up to receive notifications on your iPhone, you will receive the same notification on your watch.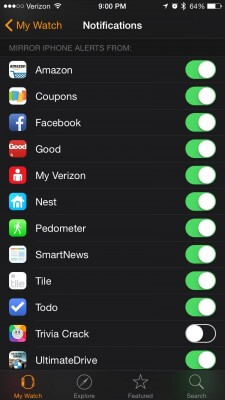 Most other applications allow you to mirror your iPhone notifications or choose to not receive notifications on your watch.
So, how do notifications work? If your iPhone is unlocked, you'll get notifications on your iPhone, instead of your Apple Watch. If your iPhone is locked or asleep and your Apple Watch is unlocked and on your wrist, you'll get notifications on your Apple Watch.
When you dismiss notifications on your Apple Watch, they're also dismissed from your iPhone. I find that I am using my iPhone a lot less than I used to. A big part of the reason for that is the ability to get notifications on my Apple Watch.