Microsoft Secure Network
Microsoft Edge Secure Network is a built-in VPN service available on the Canary Channel. Meant to be an additional layer of security for browsing the internet, it encrypts your data as you browse. To start using the built-in VPN you will first need to have a copy of "Edge Canary" one of the free insider builds available from Microsoft.
How To Download Edge Canary
Open your current browser and enter [edge canary] in the search area.
Download the Canary Channel for your operating system. It is available for Windows, macOS 01.12 and above, mobile, and Linux
Stable vs Canary
Edge Stable – This is the standard browser released with Windows and is updated every six weeks. It is the most stable of all the channels and is recommended for all users
Edge Canary – The Canary Channel is updated daily with the latest features and fixes. It is the most unstable version of Edge
I have had Canary installed for about three years and have never experienced a problem with it crashing. It allows me to experience new features that may or may not become fixed features in the Stable version. Downloading Edge Canary should have no effect on your OS. If you ever experience an issue, simply switch back to Stable and wait for the next release.
Installing Microsoft Secure Network
Once you have a copy of Edge Canary, you can access the VPN feature by doing the following:
Checking The VPN Feature
One quick way to check the effectiveness of your VPN settings is to use Edge Stable and visit "What Is My IP Address" and then repeat it using Edge Canary. I am not sure which location will show up in your browser, but it should not be your actual location. Clicking on Secure Network in the menu after the installation will show the Protected traffic.
The following images were taken from the What IS My IP Address site: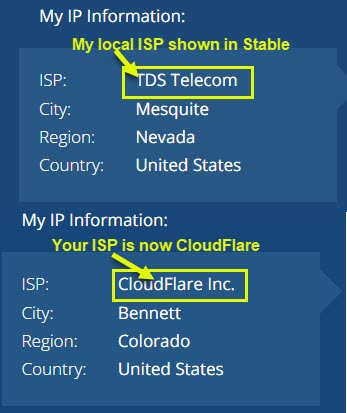 Summary
As of right now, this is still a test by Microsoft, and picking a virtual location is not yet supported. All your information is encrypted so you remain secure and overall is a safe way to browse. Your data remains on Microsoft Cloudflare servers for 25 hours, then is fully deleted. This is obviously not the same as a professional VPN where you pay for the service but perhaps if successful, Microsoft will expand the features.
—