Fixing Chrome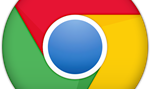 I was trying to help someone work out their Facebook issues but was unsuccessful. They where using Chrome on an XP system with 500 MB RAM. They could get into Facebook, but couldn't play the games. They already ran an antivirus scan. I suggested using CCleaner to clean out temporary files; this has worked in the past.
No luck this time. I suggested resetting Chrome and restarting the computer, and finally trying to create a new profile on the Chrome browser. The only other suggestion I could offer was to try Firefox– Chrome and Internet Explorer on XP cannot be updated.
They are going to give Firefox a shot, but considering it's slow as molasses running uphill on my system with 4 GB of memory… My 4 year old system is showing it's age, too. Most programs seemed to have become CPU hogs (not memory). Go figure…
If nothing else, I did figure out how to create a new profile in Chrome.
New Profile In Chrome
Before you do this, you might want to export your bookmarks if you're going to delete your old profile afterwards or if you just want to transfer your bookmarks to this new profile.
Exporting Bookmarks
Click on the settings menu ( three stacked dots, top-right hand corner). Then Bookmarks and Bookmark manager.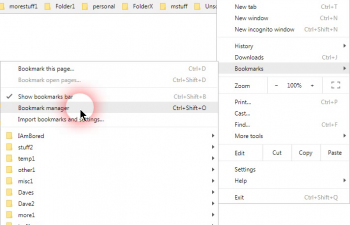 Click on Organise, then Export bookmarks to HTML file. Put in a name for the file when prompted or leave it at what is already set. It will be something like bookmarks_07_07_2017.html – just the word bookmarks and the date. Remember this because when you're ready to add your bookmarks to your new profile, you'll need to come here again and choose Import bookmarks from HTML file…
Adding New Profile
Open the Chrome Menu and choose Settings. Near the bottom you will see a Users' section.
In my example pictured below I have already created a user account called Alucard, but if you haven't fooled around with this feature yet, you'll see a symbol there– the basic anonymous silhouette avatar. Click on it. If you already have other profiles set up, just click on the one you want to use. Otherwise…
Click on Manage people.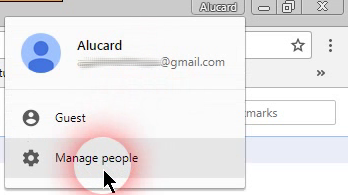 In the next box that opens, down in the right-hand corner, click on ADD PERSON.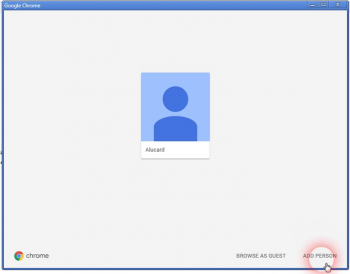 In the new window, in my example where it says Person 1, type the name you want here. Then choose an avatar. I'm choosing the Alien. Then you can choose Create a desktop shortcut for this profile. It creates a Chrome shortcut on your desktop bearing your name and avatar that automatically opens Chrome to your profile. If your computer is being used by more than one person, on the same account, you can each create your own profile and customize it accordingly.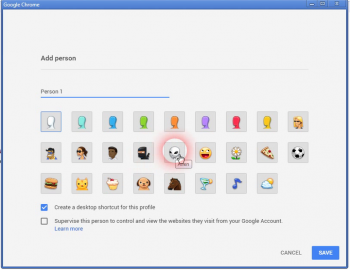 Click on SAVE when done.
Removing People
If you want to remove someone, go back to Manage people.
Hovering your mouse over the person you want to remove will cause three stacked dots to appear in the top right-hand corner of the profile picture. Clicking on that will bring up a simple menu with the option to Remove this person.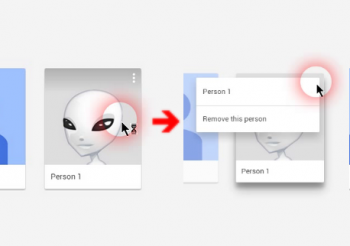 You will then get a last chance warning. Click on the reddish REMOVE THIS PERSON.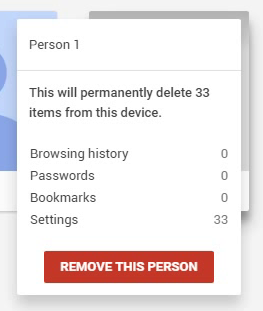 If you only have one user, the browser will default to that user when it is opened.
Just a note: My website at hitanykey.webs.com is no longer running. I closed out my account after too many issues with the service. I'm currently looking for a new host, but just might go blogger. I'll keep you updated.
—