Oh, No! I Just Got My Apple Watch and it Won't Charge!!
If you just got an Apple Watch and are having problems with it charging, you aren't alone. My Apple Watch was delivered late in the afternoon of May 8th.  I chose the 38mm Apple Watch Sport space gray aluminum case with black sport band.  It wasn't fully charged and I didn't take time to charge it before I started setting it up and seeing what it could (and couldn't) do.  By the end of the day, the battery was pretty low.  I attached it to the charger and checked it about an hour later to find that the battery was almost totally depleted and the watch was very hot.  I Googled 'apple watch battery won't charge' and found out that, while the issue wasn't affecting everyone, I certainly wasn't alone.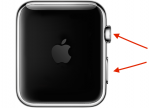 The solution is pretty simple.  You need to do a force restart.  Press and hold both the side button and Digital Crown for at least 10 seconds.  Once you see the Apple logo, release the buttons.   This did the trick for me.  I reattached the watch to the charger.  It started charging and no longer got hot.
I probably should have figured this out without having to search for a solution since the way to reset iPhones and iPads is to hold in the power button and Home button until the Apple logo appears.  Apple is nothing if not consistent in its user interfaces.