Locate WiFi Passwords
See the Original Tips and Techniques for DOD Degree of Difficulty Values
Windows stores all of your Wi-Fi passwords on your system. This can be handy if you have forgotten your Wi-Fi password and need to share it with someone or activate Wi-Fi on another one of your devices. Normally once connected, your computer remembers your settings and you don't have to enter your password again. For safety reasons, you want a difficult password to make it hard to hack. Unfortunately, that also makes it difficult to remember. It is not recommended to write your Wi-Fi passwords on paper and stick them to your computer or router. You are basically giving anyone that sees it access to your private Wi-Fi password.
Whenever you want to find that forgotten password you must first be signed into Windows as an administrator to see the passwords. Checking Wi-Fi passwords is a different process depending on if you are already connected to your Wi-Fi or if you are unable to sign in.
Wi-Fi Password With Connection
If you are already connected to your wireless router and have forgotten your Wi-Fi password it is a simple process to retrieve it:
Click on the Windows Start button
That is all there is to it. Once you have your password you can now install it on your other devices.
WiFi Passwords Without Connection
If you are not currently connected to your wireless router and have forgotten your Password, the process to retrieve it is different. However, you still can have access to your router's password and any previous "User Profile Connections" you might have used in the past by accessing them through the CMD Prompt.
Click on the Start Menu and enter CMD.  Then choose to Open the CMD Prompt as an Administrator.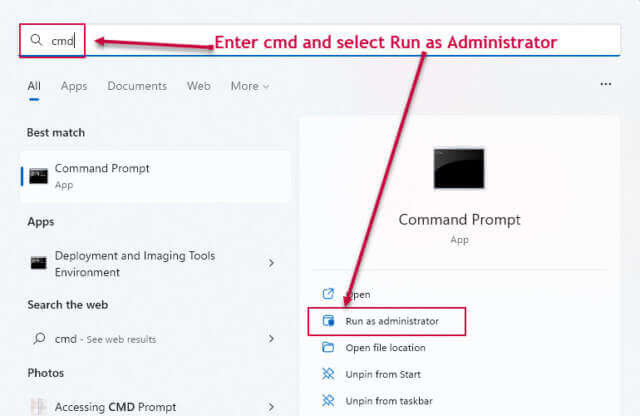 Once in CMD, you will be entering the (Network Shell Wireless Local Area Network) command or NETSH WLAN for short. You use the show profile command first. This will give you a list of your wireless profiles. This list will include the SSID for your home router in case you have forgotten which one is yours.
In the open Administrator Command Prompt window, enter the following command line. You may copy and paste it if you prefer:
netsh wlan show profile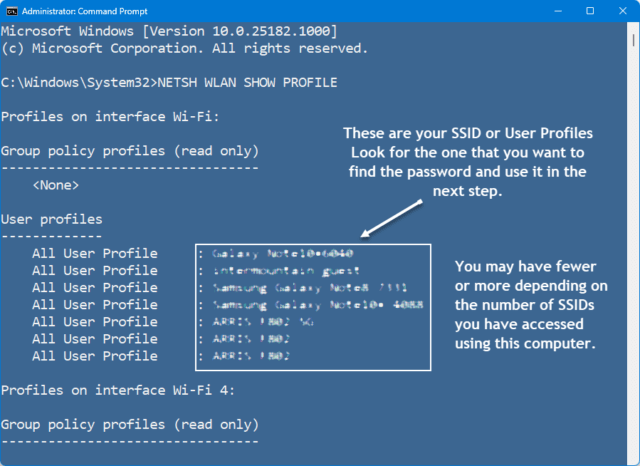 Be sure to use the profile for your current router. Now that we know which profile needs a password, we can enter another command. It is better to type this entry in because you must change "Wi-Fi" to match your Profile.  Any spaces or hyphens must be included:
netsh wlan show profile "your wifi" key=clear
This command "key=clear", will show you the password for your profile.
Summary
Even when you are successfully connected to your Wi-Fi, it is easy to forget a long string of numbers, letters, and symbols. If you have not already saved it in your Vault on OneDrive, having a quick and easy way to find it while in Windows can give you peace of mind. So even if you have lost the ability to connect with your router and need to find your password, the CMD prompt will help you out.
—