Backup Your Browser Profiles
These days it is important to back up your browser profiles and settings.
Internet browsers are becoming the go-to programs these days for accomplishing most everything. We use them to access our bank accounts, create and edit our web sites, backup all our software and other data, process spreadsheets and other documentation on line, and the list goes on ad infinitum.
Most of the above activities were previously done right on the computer sitting on our desk or lap. Not so any more. For this reason it is becoming much more critical that all our browser settings are backed up right along with all your other data– documents, photos, music, videos and anything else you couldn't bear to lose.
I have tried many different solutions over the years and without much luck. Most of these utilities were either not very user-friendly or simply did a questionable job of it. Then I found FavBackup.
My Current Utility of Choice
FavBackup has a nice clean interface. It also supports all the major browsers being used today. Judging by the release dates it appears to be well-maintained and up-to-date as well. All very positive points.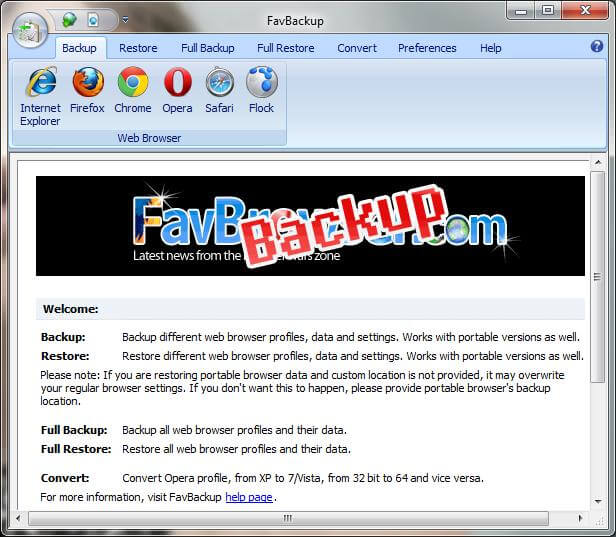 Backups
As you can see in the above image there is a good explanation of the different options available in the Menu Ribbon.
I did a Full Backup of the 3 browsers I use on a daily basis. It only took a few seconds for each one and the backup file sizes looked like this:
The only thing I use IE for is to watch my beloved NetFlix movies. That may explain the small file size.
Restoration
It goes without saying that no backup is worth the disk space it uses if you can't restore it.
I sure didn't want to screw up my Firefox installation but in order to provide you with a thorough post, I hoisted up my shirt sleeves and bit the bullet.
Don't blink. The restore process took about 2 seconds. I started Firefox and all my bookmarks were in place and my extensions were all there and working properly.
I am using Firefox at the moment to write this post and have encountered no glitches whatsoever. Perfect!
Download
You can download FavBackup right here: http://www.favbrowser.com/backup/
Or from FreewareBB here: http://www.freewarebb.com/files/file/7394-favbackup/
Conclusions
It is Portable and Free. No Installation necessary and no wallet hit. I've most certainly added it to my software Tool Box.
I have discovered only one clunky aspect to the interface. It doesn't 'remember' the last-used output folder so you have to keep renewing this information for each browser backup. Kind of a pain but a small one.
I have fired off an e-mail to FavBrowser explaining to them that this feature was now on my wish list. We'll see what happens…
To date, this is by far the best browser backup solution I have personally found.
Has anyone used FavBackup? What is your favorite browser backup solution?
—