In 1983, Cosmonauts Vladimir Titov and Gennady Strekalov were saved from an exploding Soyuz T-10 launch.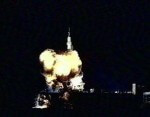 Fuel spilled around the base of the rocket and caught fire at T-90 seconds. The control cables for the escape system had already burned and the Soyuz crew could not activate or control the escape system themselves. Twenty seconds later, launch control was able to activate the escape system by radio command, by which time the booster was engulfed in flames.

Photo Credit: RKK Energia
Learn more at http://en.wikipedia.org/wiki/Soyuz_T-10-1.