Winners Announced!
[message type="info"]
Heimdal Security Pro Giveaway Contest!
This contest has now expired. Winners will be notified by eMail.
Mike McCabe
Dick Kroeger
Miron Gazda
David Green
Mindblower Theone
Congratulations to the Winners and Thank You to everyone who participated!
[/message]

Heimdal Security
Heimdal Security has generously offered our readers a chance to win one of five 3-year licenses (4 PCs) for their Heimdal Pro security program, currently valued at $126.17 (US) each. DCT readers can purchase this fine program at a 50% discount by visiting this Heimdal Pro page. They also offer a 30-day trial period for the Pro version so you can try before you buy.
Heimdal PRO is a security suite that protects against attacks that antivirus can't block. Heimdal scans your incoming and outgoing Internet traffic for cyber threats, blocking them before they infect the system. By constantly patching vulnerable software and filtering HTTP, HTTPS & DNS traffic, Heimdal ensures increased security levels against ransomware, financial Trojans, data-stealing malware and other threats that deflect antivirus reaction.
System Requirements

Installation
Installation couldn't be more straightforward. Download the program and install it. Rebooting your computer may not be necessary, but since Heimdal changes your default DNS, it might be a good idea anyway.
Ease Of Use And Results
The user interface is easy to use and has a nice appearance.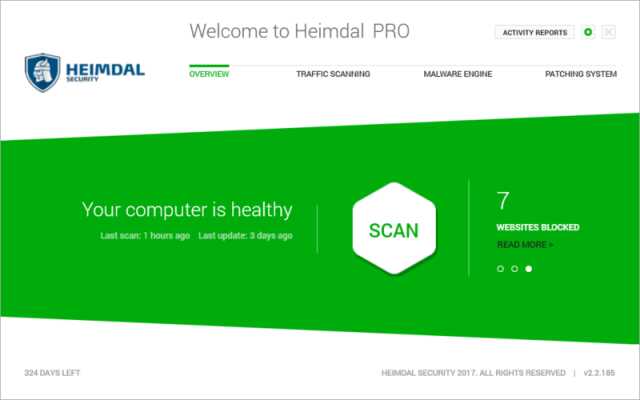 The websites that Heimdal blocked on my computer were sites I have never visited. However, those sites wanted to load in the background and I would have never known about it. It makes one wonder how vulnerable I have been all these years without Heimdal protecting me. These seven were blocked within the last seven days; I've been running Heimdal Pro now since October 18, so there's no telling how many malicious sites have been caught.
Heimdal has also patched two programs on the system. The beauty is that I never noticed it happening; this behavior can be changed in the program Settings. In fact, all aspects of this program can be finely tuned, from enabling/disabling various functions to how many, if any, notifications that may be sent your way.
Here's a short video explaining how Heimdal Security works:
Conclusions
Heimdal Security Pro adds another much-needed layer of protection over and above any antivirus solution. It catches things that traditional antivirus programs weren't intended for. One really beautiful feature is its ability to monitor outbound traffic. If it recognizes questionable behavior, it will block what could be traffic going out to the bad guys. This is extremely important when you consider the sensitive data heading that way. Think of your online banking activities, for instance.
Since Heimdal acts as a proxy I fully expected my internet connection to be less responsive as a result. I couldn't have been more wrong about that. During the six weeks or so that I've been running this program, it has caught and blocked several malicious sites, patched a few programs on my computer, and from a performance perspective, I've never noticed it was doing its job.
I can heartily recommend Heimdal Pro and think you should at least give it a try. And don't forget, DCT readers get a generous discount by going to this Heimdal Security Pro page.
How To Enter The Contest
We'd appreciate it if you'd take a moment and submit a comment telling us why you'd like to win Heimdal Security Pro. However, submitting a comment is not required to enter this contest and will have no bearing on your chances.
For your chance to win, simply enter your name and valid eMail address in the spaces provided below, then click Enter Contest. After your entry is accepted you will be presented with options to share the contest on Twitter and/or Facebook. For each person who enters the contest as a result of your share you will earn two (2) extra entries!
Sharing the contest on social media is completely voluntary, but is encouraged.
Competition Rules:
To enter, simply submit your name and a Valid eMail address. Your address will not be shared outside this site

You must submit a VALID eMail address. We need to contact the Winner, so disposable eMail addresses will not be eligible

Additional entries may be earned by voluntarily sharing on Facebook and/or on Twitter

Shortly after the contest ends, the winner(s) will be chosen at random

Winner(s) names will be posted on this giveaway page. Please check back here to see the winner(s) name announcement!
The winner(s) will be notified by eMail at the eMail address used to enter the contest – be sure to use a valid eMail address that you check regularly
Winner(s) must claim their license within five (5) days. After the five (5) day period, unclaimed prizes will be distributed at DCT's sole discretion

Entrants agree to allow DCT to communicate with them via eMail using the address provided by the entrant when entering the contest
[contesthopper contest="75361″]
Good luck to everyone!
—