Giveaways & Contests
Dave's Computer Tips is working hard to bring top-quality software to our readers. Please note that none of the upcoming contests and giveaways are etched in stone. Changes may be made to this list at any time. Here's what's happening…
Running Now!
Audials has once again graciously given our DCT readers a chance to win one of five licenses for their release of the wonderful Audials One 2020 software. I must say that this program impresses me. At this time of writing each license is valued at $49.90 (US). There are also subscription licenses available. If you buy their product, and if you are not happy, you will receive a full refund within 14 days, no questions asked. Another option is to enter this contest for a chance to win a copy for free!
"Save your favorite songs from any internet source. Easy, fast, legal, and top quality. Enjoy your music collection everywhere!" ~ Audials
"Record movies, series, and television from streams. It's automatic, convenient, and always in top video quality. Create your own movie collection!" ~ Audials
This giveaway contest is running now and you can read all about it and enter the giveaway contest at this Audials One 2020 page. If you want to have a chance to get your favorite downloads, then this software is for you!
Coming Soon!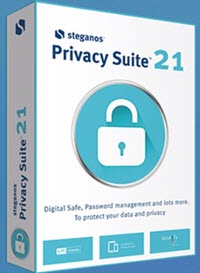 Steganos has kindly offered our DCT readers a chance to win one of five licenses for their new Privacy Suite 21 program. At this time of writing, these licenses are valued at $34.99 US (5-PC License). Steganos also offers a 30-day free trial in order to try before you buy.
"Steganos Privacy Suite 21 combines the award winning Steganos Security software products Steganos Safe and Steganos Password Manager. Users are able to encrypt sensitive data like business reports, TAN lists or holiday photos thanks to a clear and easy menu navigation – on PCs, in networks and in the cloud. Passwords for all online accounts can be created automatically and are easily managed and administrated, regardless of whether it is on a computer, smartphone or tablet." ~ Steganos
This giveaway contest is scheduled to begin on June 15 and will end at midnight on June 25, 2020. Mark this on your calendar– it's a great offer!
ASCOMP has generously offered each of our DCT readers a chance to win one of five licenses for their Cleaning Suite Pro software. At the time of writing these licenses for the Pro edition are each valued at $19.90 (US). ASCOMP also offers a free version for private use.
"If the system boots up more and more slowly and the hard drive gets fuller, then it is high time for a thorough system cleaning! But which data can be deleted without risk, which are still needed for the smooth system and program flow? Cleaning Suite gives the answer!" ~ ASCOMP
This giveaway contest is scheduled to begin on June 29 and will end at midnight on July 9, 2020. Enter to win this great bit of software!
---
That's it for now. Be sure to visit often so you don't miss these great Contests and Giveaways! And don't forget, there are other informative and entertaining articles posted by our writers during the week as well.
Visit us on:
If you would like to see a specific piece of software promoted as a giveaway contest on DCT, please let us know and we will do our best to make that happen.
DCT
—