If you're tired of viewing PDF documents via traditional reader software which simply scrolls up and down pages, you may be interested in taking a look at this innovative freeware from Web Stunning. Flipping PDF Reader will transform your PDFs into flipbook format where turning pages replicates the experience of reading a physical magazine or book. But wait, there's more! Flipping PDF Reader also provides a great way to organize all your PDFs into a central access point.
Download is a relatively small 5.45MB (zip), installation is clean and devoid of any bundling or hidden extras. Although it does add a desktop internet shortcut which leads to the home page for Web Stunning's commercial 'PDF Publisher' software.
One of the aspects I particularly appreciate from this application is that it doesn't automatically hi-jack your file associations, which is a peasant change for media related software. So, any pre-existing PDF reader software retains default status unless, of course, you manually change it over yourself. Flipping PDF Reader also adds an entry to the 'Open with' options in the right click context menu for quick access. All this provides a nice variety of viewing options for the end user.
Because Flipping PDF Reader does not set itself as your default reader it also doesn't automatically scan for and centralize all your PDF files (at least, I assume the two would be related). You need to manually import the PDF files; simply click on File>Open, then navigate to and select the relevant PDF(s):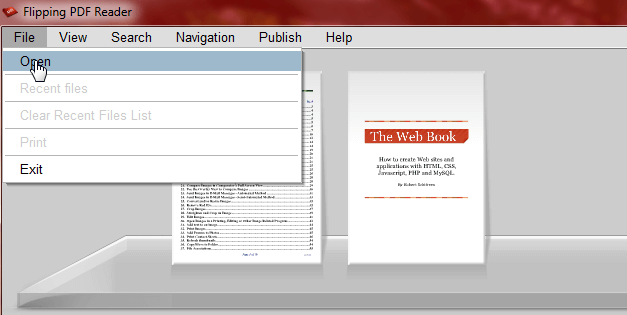 All imported PDFs are then represented by thumbnails sitting along a rather neat representation of a bookshelf: Once you've finished importing, you now have all your PDFs accessible not only from their original location but also from a single centralized library within the Flipping PDF Reader interface, simply click on a thumbnail to view:
Once in viewing mode you have a number of useful options available via the icon buttons across the bottom – zoom, search, full screen, print, etc. To return to library mode simply click on the "Go to Bookshelf" button at far left (additional search options are also available from the "Search" menu across the top of the interface – you can search for specific text or quickly skip to a designated page).
Flipping pages is a simple matter of clicking on the back and forward arrows; either the smaller black arrows positioned centrally at the extremity of each page, or on the larger green arrows at bottom right of the interface (there is also a suitable audio effect associated with the page flipping process which can be turned off and on via the speaker icon in the menu bar at the bottom)  – note also the page index at top right:
(*The above image has been drastically reduced in size to accommodate upload/download requirements)
I really like Flipping PDF Reader's overall concept, however I did experience a couple of issues when importing existing PDFs. I sent an email off to the support team detailing the problems and they responded very promptly, displaying genuine concern and a willingness to assist – a very big plus for them. Turns out the PDFs in question, operator manuals downloaded from the net, include permission denials which interfere with the conversion process. So be aware that possibly not all PDFs are going to co-operate with this software. All in all – recommended.
A minor heads up:
Scanning the downloaded executable through Virus Total produced a hit from NOD32 – "a variant of Win32/HiddenStart.B". Malwarebytes Anti-Malware also flagged the executable. I sent a further email off to the support team requesting clarification and received this prompt reply:
Our setup file contains hiddenStart.exe inside and it looks suspicious because the utility allows to start processes in hidden mode, without window.
hiddenStart.exe itself doesn't contains viruses or malware, but it is potentially unsafe. We utilize this potential to convert PDF to SWF in background, without black CMD window.
To me, this is a viable and acceptable explanation which the overall evidence tends to support – 41 of 43 engines scanned the file 100% clean, plus the site itself is rated Green (safe) by WOT, McAfee Site Advisor and Browser Defender. I really don't believe it's cause for concern but it would be remiss of me not to mention it.