FireBird is a professional music synthesizer developed by Tone2 which has previously sold for $79.00us. However, Tone2 has decided to release a final updated version and make it available free to everyone.
FireBird 2 – now available for free!

After seven years of faithful service, the time has come to set the bird free. Firebird itself has become vintage and even though it's no longer profitable to remain a commercial product, we feel that more people should deserve an opportunity to enjoy this sometimes heavily underestimated synthesizer.
Which is why we decided to release one last update and turn the product into freeware (previuosly $79). We want to say a big THANK YOU to all customers who supported the development of Firebird and other Tone2 products, by purchasing our software.
In the interests of full disclosure I must start off by saying that I am certainly no expert in the field of music synthesizers. However, I have checked out this software from Tone2 and found nothing but highly favorable comments from both editorials and audiophiles alike. Even though most of the reviews are now getting a little long in the tooth, they do speak very highly of this software:
FireBird 2 – the software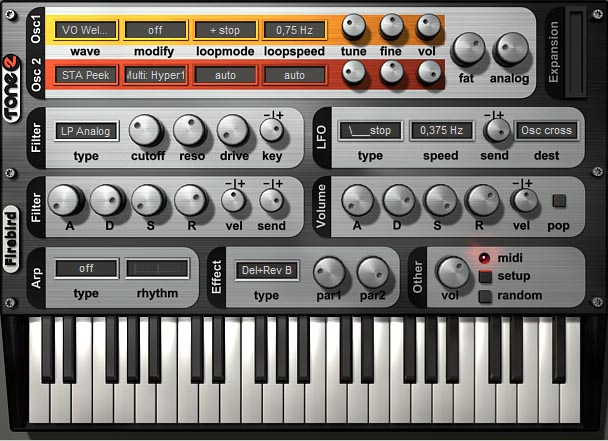 Firebird is not just another subtractive synthesizer, it uses a unique synthesis architecture to deliver next-generation sounds. Its innovative user interface provides you with the tools to create impressive sounds with a minimal amount of effort. Featuring an impressive selection of 437 build-in sounds, representing both highly sought-after VA sounds, as well as sounds more specific to Firebird and characterized by its Harmonic Content Morphing synthesis, breathing both life and dynamics into the sounds.

Key Features

Very easy program to use
A unique sounding synthesis: Harmonic content morphing (HCM)
High sound quality: Warm, transparent
437 hand picked presets included, over 1000 sounds available
84 oscillator types containing 18,000 morphable waveforms
38 different filter types
True stereo mode, 4x unison mode, and up to 8 oscillators per voice
Can sound like other synthesis methods – additive, subtractive, AM, FM, phase distortion, supersaw, vocoder, sync
Can sound like natural instruments like piano, brass, organs…
23 spectral manipulations or "modifiers" can be applied to the oscillators
21 arpeggiator types
13 effect types
Skinable user interface
FireBird 2 – download and installation
You can read more information about FireBird and its features, and download direct from Tone2 here: http://www.tone2.com/html/firebird_vsti_vst_synthesizer_1.html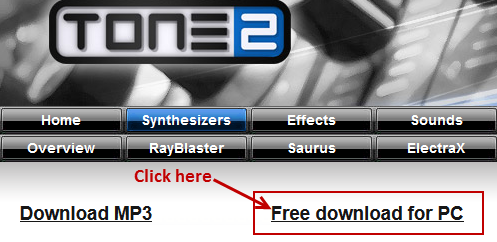 FireBird 2 is an 18.8MB zip download, simply extract the contents of the zipped folder and then run the extracted executable to install. FireBird 2 scans 100% clean through Virus Total and installation is pretty straight forward and perfectly clean.
**NOTE: During installation you will be provided with options to install the FireBird Synthesizer plus free Saurus Synthesizer demo (default), or FireBird Synthesizer only. If you do not want to install the free Saurus Synthesizer demo, make sure to select the "Firebird Synthesizer only" option from the dropdown menu prior to clicking Next: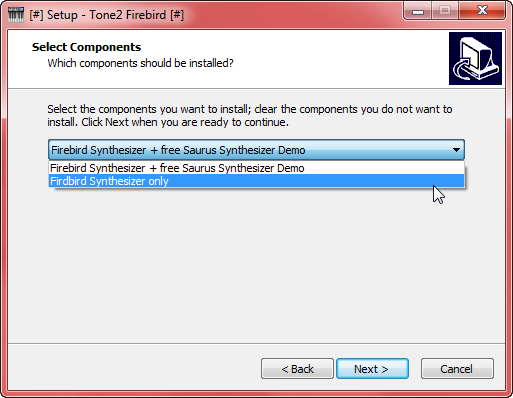 **Important Note: FireBird is a plug-in, it is not a complete stand-alone synthesizer. You will need a VST host application installed for this software to work.

Fortunately, DCT subscriber Dave has provided details on how to get this working with a free VST host, no installation required. You can view Dave's advice in the comments under… or follow these instructions:
Download SAVIHost here: http://www.hermannseib.com/english/savihost.htm
Extract the contents of the zipped folder
Copy or move the extracted savihost executable "savihost.exe" into the same folder as FireBird (by default: C:\\Program Files (x86)\\Steinberg)
Rename "savilhost.exe" to "FireBird.exe"
Double click "FireBird.exe" to run
Thanks Dave!
As I said earlier, what I know about synthesizers would fit on the back of a postage stamp. So, any audiophiles out there, your comments would be most welcome.