Here's a great way to add the Christmas spirit to your Desktop; lots of free animated sparkly Christmas trees and Christmassy snow globes to choose from. Download as many as you like. Each tree or globe measures around 3″ x 2″ and they display over the top of existing background/wallpaper (including options to set transparency):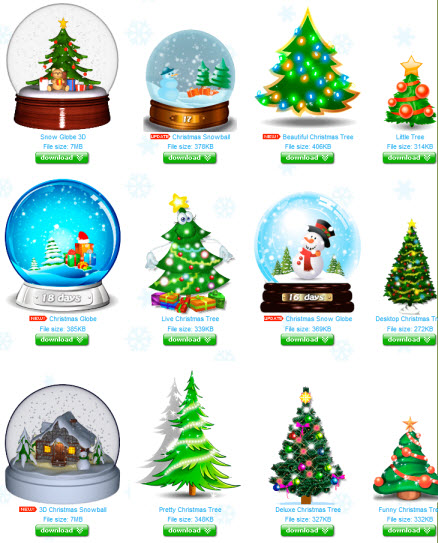 Th screenshot shows just a small selection, there are more than forty different designs to choose from. The best part is that they are all portable, no installation required. This means you can use them over the Christmas period and when they are no longer relevant simply disable each one. No need for any uninstalls, just leave them sitting inactive in whatever folder ready for next year.
Simply download the zip folder, extract the contents and double click the single executable to run. Position the tree(s) or globe(s) around your screen via drag and drop, access a simple option menu via right click: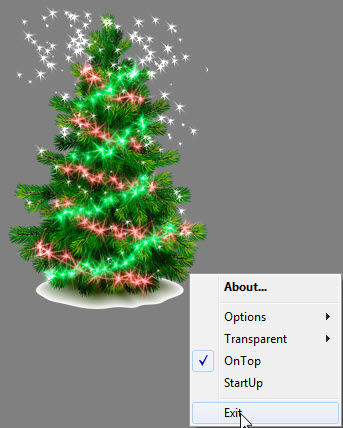 (size displayed in screenshot is actual size)
**The site that offers these downloads is rated Red by McAfee SiteAdviser. However, after further research, I believe  there is zero risk involved and the rating is unjustified. Both WOT and Browser Defender rate the site Green (safe), and there is absolutely nothing on the McAfee site details page to substantiate the Red rating. In fact, everything there points to a safe site.
Furthermore, I downloaded two random selections from the site and scanned the files through Virus Total, Avast and Malwarebytes, all came up 100% clean. All the evidence suggests this is an unsubstantiated and incorrect rating from McAfee.
In case you missed the link earlier, you can visit the site and download here: http://www.get-xmas.com/