[message type="info"]The lucky winners have now been drawn, and the winning names are:
Lou Balazs
Sam Kar
Steve Collins
Brian Ludy
Robert Rozijn
Brian Kozak
Linda Jacobs
Roger Hart
Peter Thompson
Tom Milligan
Winners have been notified by email.
Congratulations to the winners and many thanks to all who entered, especially those who 'Shared' and/or 'Tweeted'.
THIS GIVEAWAY HAS NOW EXPIRED[/message]
Nick Bolton, CEO at Firetrust (and regular DCT reader), has most kindly donated 10 LIFETIME licenses for the outstanding MailWasher Pro software for us to give away to 10 lucky readers. "Lifetime" means nothing to pay ever, no ongoing annual subscription fees plus free upgrades to future versions… Thank you Nick and Firetrust!
*NOTE: As soon as this giveaway has expired and the winners drawn, Firetrust will be offering a special 50% discount off MailWasher Pro exclusive to ALL DCT readers, including those who missed out on winning the freebies (we will be publishing a separate article with more details, including a link to the special 50% discount offer, immediately after the giveaway has expired).
I've been a MailWasher Pro user for many years, it's one program I just couldn't do without. In fact, I only have two paid for softwares installed and Mailwasher Pro is one of them.
MailWasher Pro – Outstanding Spam Filter & Email Manager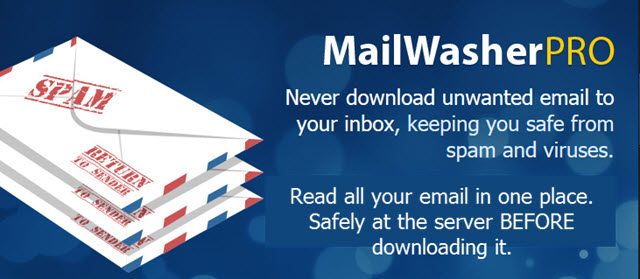 The MailWasher Pro product page declares…"Anti-Spam Filter, trusted by millions", but that description doesn't really do MailWasher Pro justice, it's not only a terrific spam filter it's also a fantastic email manager. MailWasher Pro sits between your server and your email client and presents details of all new available emails for you to pick and choose what to download and what to delete, directly on the server. Spam, and other nuisance emails never get anywhere near your inbox.
The following excerpt from MailWasher Pro's FAQ section describes the program's primary function perfectly:
MailWasher works directly with your email server, exactly like your email program does. But there is one important difference: you can tell MailWasher to delete a message at the server, without downloading it – or you can bounce an email back to the sender so that it looks as though your address is not valid.

MailWasher retrieves information about all the emails on the server. With that information you can then decide what to do with each individual email – download, delete, or bounce back. If you check your account with MailWasher first, you can delete or bounce the emails you do not want. Then, when you use your email program, it downloads only the remaining emails, those that you want to read.

MailWasher can be thought of as a "first line of defence" which can weed out junk, large wasteful attachments, and potentially harmful viruses.
Check out this brief video tour:
I use MailWasher Pro to manage all my email accounts – my personal email account, my DCT email account, and my Outlook.com webmail account – all from the one place, within MailWasher. It really simplifies the whole process as well as significantly lessening the impact on my ISP's data download limit by downloading only those emails I want to read and/or interact with. Goodbye spam! Goodbye unwanted joke emails! Goodbye large (unwanted) attachments!
I can see immediately who the email is from, the subject line, the size of any attachments, and even preview the message. From there, I can easily decide which emails I want to download and which ones I do not want to download. Simply mark the unwanted emails for deletion and only the remaining wanted emails will be downloaded to your email client.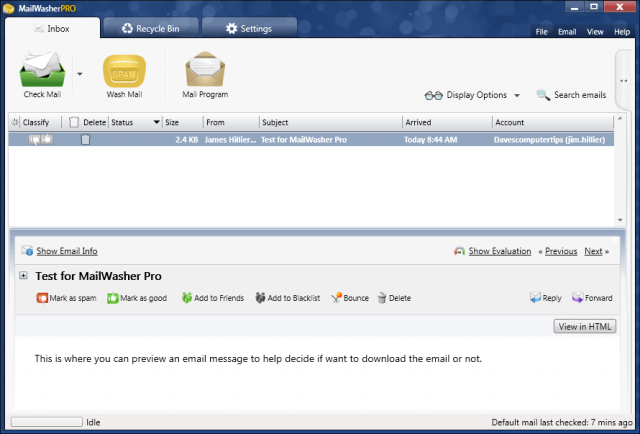 As you can see from the above screenshot, there are plenty of options for dealing with emails and MailWasher quickly learns from your choices so the process becomes more and more automated while still leaving the final decision entirely in the hands of the user.
As well as including a blacklist (for spam senders) and whitelist (for friends and safe senders), MailWasher Pro incorporates Bayesian filtering technology, which many refer to as an "intelligent filter". This component helps the spam filter software learn the differences between spam and wanted email and is surprisingly accurate after a relatively short period of time.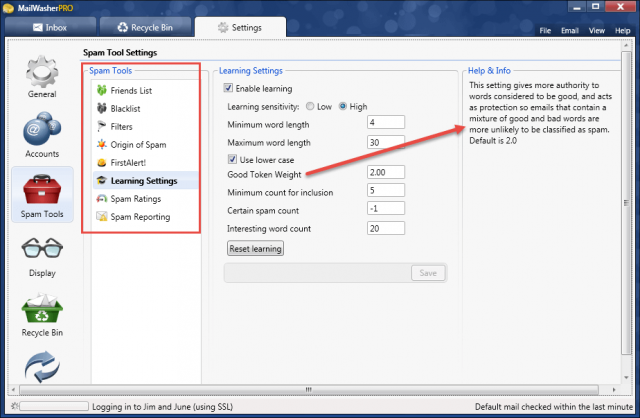 MailWasher Pro is extremely effective but it's also really simple to set up and use. Existing email accounts are imported automatically and MailWasher Pro is then ready to go to work. All you need do is just choose how you want MailWasher to behave – preferences such as minimizing to either the Taskbar or System tray, how often you want MailWasher to check for new emails (10 minutes by default), etc.
Once ready to go, MailWasher Pro will notify you each time a new email arrives, both visually and audibly. You can then open the program, see who the email is from and decide whether you want to download it or not, or perhaps just read the message in the preview pane and then delete it, all the choices are entirely in your hands.
You can even drill down more thoroughly into the email's details; clicking on Show Email Info will replace the preview pane with detailed information about the email separated under three tabs – very useful for helping identify the exact source and determining if an email is legitimate or not:
And if you accidentally delete the wrong email, MailWasher Pro's got your backside covered there too – simply open the "Recycle Bin" tab, right click the deleted email and select Restore. Too easy!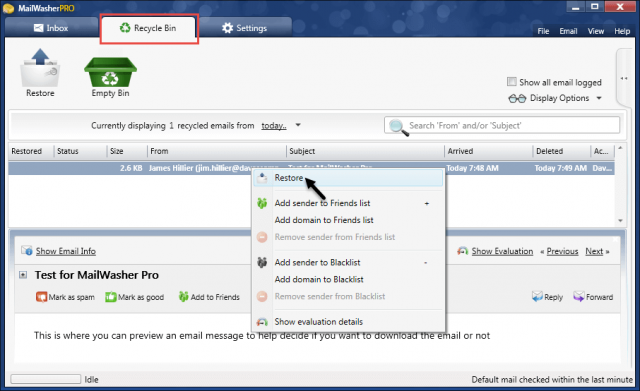 MailWasher works with every email program, since all email programs support POP3 or IMAP: eg. Microsoft Outlook, Outlook Express, Windows Live Mail, Thunderbird, GMail, Hotmail, AOL, Postbox, Outlook.com, Yahoo with Mail+ and so on.
I guarantee that, once you've experienced MailWasher Pro, you'll never want to go back to your previous method of handling emails again.
So How Do You Win
We'd appreciate it if you'd take a moment and submit a comment telling us why you'd like to win MailWasher Pro. However, submitting a comment is not required to enter this contest and will have no bearing on your chances.
For your chance to win, simply enter your name and valid email address in the spaces provided below then click Enter Contest. After your entry is accepted you will be presented with options to share the contest on Twitter and/or Facebook. For each person that enters the contest as a result of your share you will earn 2 extra entries as a reward!
Sharing the contest on social media is completely voluntary, but encouraged.
Competition Rules:
To enter: simply submit your name and a valid email address.

You must submit a VALID email address. We need to contact the winner so disposable email addresses will not be eligible.

Additional entries may be earned by voluntarily sharing on Facebook and/or on Twitter.

Shortly after the contest ends the winner(s) will be chosen at random.

Winner(s) names will be posted on this giveaway page. Please check back here to see the winner(s) name announcement!
The winner(s) will be notified by email at the email address used to enter the contest – be sure to use a valid email that you check regularly.

Winner(s) must claim their license within 7 days. After the seven (7) day period, unclaimed prizes will be distributed at the sole discretion of DCT.

Entrants agree to allow DCT to communicate with them by email using the address provided by the entrant when entering the contest.
[contesthopper contest="40424″]
*Don't forget the exclusive 50% discount offer, available from 15th June!