[message type="info"]Winners have now been drawn – and the winning names are:
JoninOz (Unclaimed: Redrawn to "Chris")

Evandro
William
Per Torholt
Jim Moss
James Turner (Unclaimed: Redrawn to "Larry McLemore")

Dodell
Ben White
Melba
Brenda Morris
THIS GIVEAWAY HAS NOW EXPIRED
Congratulations to all winners and thank you to all entrants – your support is what helps keep these giveaways coming.[/message]
Ashampoo just keeps those goodies coming for regular DCT readers. This time it's a brand new release of Ashampoo's terrific Photo Commander software. This very latest version, Ashampoo Photo Commander 12, was just released earlier this week, on 14th July.
Ashampoo Photo Commander 12 would normally sell for $49.99us but DCT subscribers now have a chance to win one of the 10 licenses absolutely free just by submitting a reply to this article with a comment… we'd prefer if you commented on the Ashampoo Photo Commander software… Entries close 27th July.
If your comment does not appear immediately it's because first comments must be moderated. Please be patient, it will appear shortly!
Ashampoo Photo Commander 12 – The Software
Ashampoo Photo Commander 12 includes everything, and I do mean everything, you will ever need to view, manage, edit, organize, convert, publish and share your precious photos. Of course, despite its obvious versatility and power, Ashampoo Photo Commander 12 is very simple to use thanks to Ashampoo's always intuitive interface and enhanced wizards.
There is just so much to Ashampoo Photo Commander 12 it's nigh on impossible to enumerate every available function and feature, suffice to say, whether you are an occasional happy snapper or dedicated hobbyist, Photo Commander 12 will do everything you could ask for – from quick and simple fixes to complex editing, creating collages and slideshows, personalized calendars and greeting cards, adding frames and annotations, managing organizing and sharing – it's all there and then some!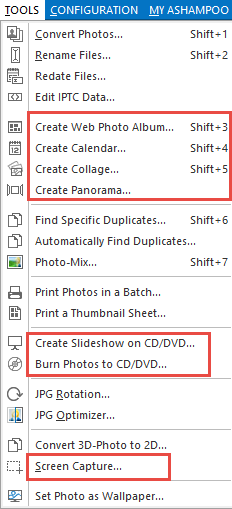 To give you an idea of the many functions and features incorporated into Ashampoo Photo Commander 12, check out the screenshot of the Tools menu to the left… and that is just one of many menus.
Note the features I've highlighted; create calendar, collage, and panorama. As well as create slideshow on CD/DVD and a screen capture tool… brilliant!!
Photo Commander 12 has changed it's menu display slightly from older versions, with fewer drop down menus and more individual toolbars for each section, or groups of functions, making the software even easier to navigate.
Ashampoo Photo Commander 12 – What's New

Ashampoo Photo Commander 12 – The Giveaway
Competition Rules:
To enter: post one reply to this article commenting on the Ashampoo Photo Commander software.

The contest ends on 27th July at 00:01 (EST), any entries made after that time will not be eligible for a prize.

Your comment MUST be made from a VALID email address – disposable email addresses will not be eligible.

Each user is allowed only one entry. In the spirit of fairness, abusers of this rule may have all entries removed, be banned from this contest, or banned from future contests.

Shorty after the contest ends the winners will be chosen by random number generator as winners of 1 FREE license each.

Winners' names will be posted on the original giveaway page. Please be sure to check back on this page to see if your name is added as a winner!
Winners will be notified by email at the email address they provided when leaving their comment – be sure to use a valid email that you check regularly.

Winners must claim their prize by submitting a contact form which will be available (on this page) once the draw has been completed and winning names published.

Winners must claim their license within 7 days. After the seven (7) day period, unclaimed prizes will be distributed at the sole discretion of DCT.
Don't miss out on your chance to win this fabulous full photo management suite for free, get those comments in. Best of luck to all entrants and a very big THANK YOU once again to the generous folk at Ashampoo!!