Microsoft to Lay Off 18,000 Workers
Rumors have been rife for some time and now and, in a Microsoft News Center blog post, Satya Nadella has confirmed that 18,000 workers will be laid off during next year. In his blog post, which is essentially a message to employees, Mr. Nadella intimates that the lay off is part of Microsoft's new direction, "The first step to building the right organization for our ambitions is to realign our workforce."
Mr. Nadella goes on to add that the job cuts will make Microsoft "more agile and move faster", and promises the company will make the transition as smooth as possible:
The first step to building the right organization for our ambitions is to realign our workforce. With this in mind, we will begin to reduce the size of our overall workforce by up to 18,000 jobs in the next year. Of that total, our work toward synergies and strategic alignment on Nokia Devices and Services is expected to account for about 12,500 jobs, comprising both professional and factory workers. <source>
Germany to use Typewriters to Foil Spying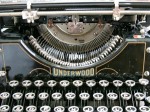 According to a report from The Guardian, German politicians are considering a return to using manual typewriters for sensitive documents in the wake of the US surveillance scandal. The head of the Bundestag's parliamentary inquiry into NSA activity in Germany said in an interview with the Morgenmagazin TV program that he and his colleagues were seriously thinking of ditching email completely.
Asked "Are you considering typewriters" by the interviewer on Monday night, the Christian Democrat politician Patrick Sensburg said: "As a matter of fact, we have – and not electronic models either". "Really?" the surprised interviewer checked. "Yes, no joke," Sensburg responded. <source>
With levels of surveillance seemingly escalating, it's not such a silly idea. One wonders if (or maybe when) all this interference from governments and organizations will eventually radically change the way everyone utilizes the internet.
The Latest Scam Target – Hotel Computers!
Travelers beware!! If the latest headlines are anything to go by, hotels are flavor of the month for cybercriminals. With recent stories involving the discovery of keyloggers on public PCs at hotels in the U.S., it seems nowhere is safe from these parasites.
"The Secret Service and the Department of Homeland Security's National Cybersecurity and Communications Integration Center (NCCIC) warned that a task force in Texas recently arrested suspects who have compromised computers within several major hotel business centers in the Dallas/Fort Worth areas.
The U.S. Secret Service is advising the hospitality industry to inspect computers made available to guests in hotel business centers, warning that crooks have been compromising hotel business center PCs with keystroke-logging malware in a bid to steal personal and financial data from guests." <source>
Dell Chromebook's Popularity Halts Sales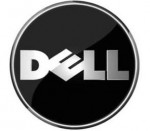 Yes I know, the headline sounds back to front, popularity should increase sales not put a stop to sales. Trouble is, Dell's Chromebook 11 is so popular, the company just couldn't keep up with demand. So, Dell's only Chromebook is at least temporarily unavailable for online purchase through the company's website, only seven months after the model started shipping.
While the Dell Chromebook remains available for education purposes, it seems the average consumer is out of luck, at least for the time being. In an email to PC World, a Dell spokesperson said "Due to strong demand, the Dell Chromebook 11 is currently not available for order on Dell.com."
According to PC World, the laptop will eventually come online again, though the company did not provide a specific date. <source>
Is This the New Windows 8 Start Menu?
Images of what is purported to be the new Windows 8 start logo have been doing the rounds, apparently courtesy of a leaked Windows build 9788. The image closely resembles the proposed Start Menu Microsoft first unveiled back in April this year which is mooted for the upcoming Windows "Threshold". The resemblance tends to suggest that the image is likely genuine but what the finished product may eventually look like remains anyone's guess.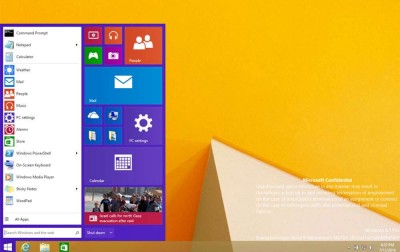 The Geekiest, Coolest Cooler on the Planet (video)
Oregon inventor Ryan Grepper was fed up with boring old coolers so he decided to make his own "COOLEST" cooler, which he describes as "60 quarts of AWESOME packed with so much fun you'll look for excuses to get outside more often." Is this cooler the coolest cooler ever?
Check out the video: