[message type="info"]Winners have now been drawn – and the winning names are:
k19s
Ali
Avik Paul
Rob
AH Zeff
Rick
Andrey
Walter Crawford
Cindy
Julio
THIS GIVEAWAY HAS NOW EXPIRED
Congratulations to all winners and thank you to everyone who entered.[/message]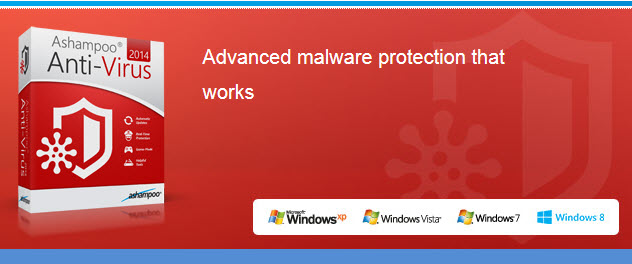 Thanks to Ashampoo's ongoing generosity we have 10 one-year licenses for Ashampoo Anti-Virus 2014 to giveaway to our subscribers… competition ends 6th October
A one-year license for this brand new, recently released anti-virus software from Ashampoo would normally sell for $39.99us but you now have chance to win a license absolutely free simply by submitting a reply to this article with a comment. **We'd prefer if you commented on Ashampoo Anti-Virus 2014.
*If your comment does not appear immediately it's because first comments must be moderated, it will appear shortly!
Ashampoo Anti-Virus 2014 – the software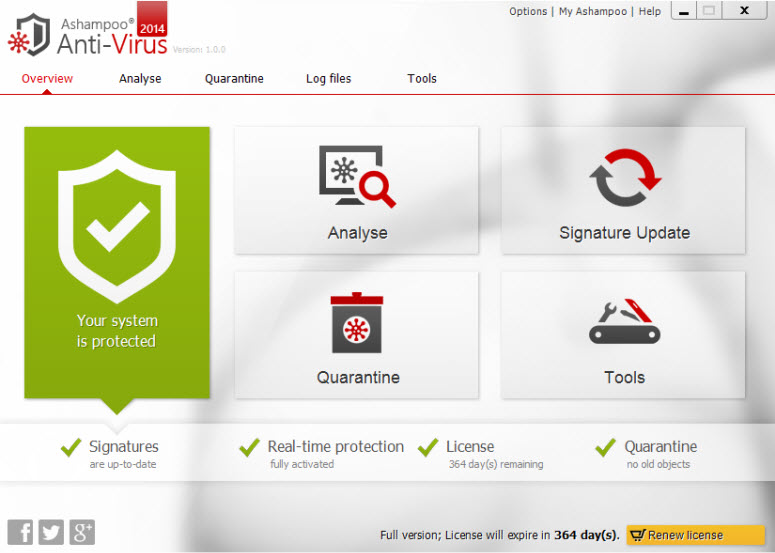 Key features:
Real-time protection: Neutralizes attacks as they happen
Behavior Blocker: Monitors application behavior and prevents even not yet classified threats such as zero-day exploits
On-Access Guard: Neutralizes infection attempts during file operations.
Multi-Engine Scanner: Combines two scan engines for maximum accuracy
Customizable whitelist to exclude files from scan
Web protection: Prevents access to malicious websites
Game mode: Handles all security issues automatically to ensure uninterrupted gameplay
Self-protection: Vital program parts are encrypted to prevent the circumvention of security measures
I installed Ashampoo Anti-Virus 2014 on my Windows 8 machine and I must say I am impressed with it's simplicity. Being so new, it's impossible at this time to get a line on overall protection but coming from Ashampoo and including engines from both Emsisoft and Bitdefender, I suspect it may be top notch. Ashampoo Anti-Virus 2014 has already queried a couple of suspect processes on my Windows 8 system which had been previously ignored by Windows Defender, it's always nice to receive confirmation that your AV is actually on the prowl.
As you can see from the above screenshot, there is nothing complicated about Ashampoo Anti-Virus 2014, it's simple to install and use, initiating optimum protection right out of the box. Clicking "Analyse" opens up a new window which presents a familiar range of scan options: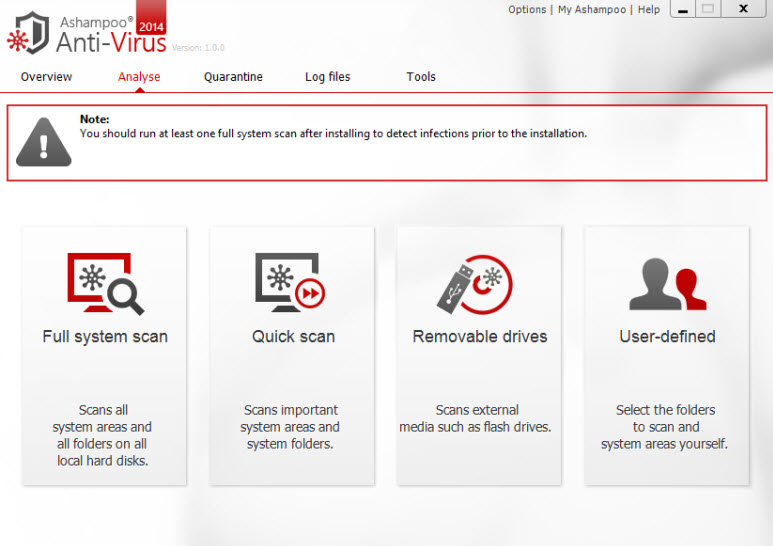 The "Tools" section contains several interesting inclusions:
It wouldn't be Ashampoo if the software didn't come with some nifty extras, would it.
You can check out more about Ashampoo Anti-Virus 2014 and its features here: Ashampoo Anti-Virus 2014
Ashampoo Anti-virus 2014 – the giveaway
Competition Rules:
To enter: post one reply to this article commenting on the Ashampoo Anti-Virus software.

The contest ends on 6th October at 00:01 (EST), any entries made after that time will not be eligible for a prize.

Your comment MUST be made from a VALID email address – disposable email addresses will not be eligible.

Each user is allowed only one entry. In the spirit of fairness abusers of this rule may have all entries removed, be banned from this contest, or banned from future contests.

On the day after the contest ends the winners will be chosen by random number generator as winners of 1 FREE (1-year) license each.

Winners' names will be posted on the original giveaway page. Please be sure to check back on this page to see if your name is added as a winner!

Winners will be notified by email at the email address they provided when leaving their comment – be sure to use a valid email that you check regularly.

Winners must claim their prize by submitting a contact form which will be available (on this page) once the draw has been completed and winning names published.

Winners must claim their license within 7 days. After the seven (7) day period, unclaimed prizes will be distributed at the sole discretion of DCT.
We don't generally like to run giveaways where one-year licenses are involved but, as with most things, there is always an exception to the rule. Coming from such a reputable company as Ashampoo and being such an integral software, Ashampoo Anti-Virus 2014 is certainly exceptional. Thanks once again to Ashampoo!!