[message type="info"]The lucky winners have now been drawn, and the winning names are:
Delma Talley
Glenna McIntyre
Hamidreza Ghasempour – Unclaimed: redrawn to Frank Mohnhaupt

Gerald Rains – Unclaimed: redrawn to Robert Rozijn

MJ Nunag
Jenny Ham
John Burton – Unclaimed: redrawn to Mike McCabe

Alp Candemir
Jim Moss
Vincent Alberti – Unclaimed: redrawn to Hania Balewicz

Winners have been notified by email.
Congratulations to the winners and many thanks to all who entered, especially those who 'Shared' and/or 'Tweeted'.
THIS GIVEAWAY HAS NOW EXPIRED[/message]
The generous folk at AceThinker have kindly donated 10 licenses for their terrific AceThinker iPhone Screen Recorder software for us to giveaway to 10 lucky readers.
AceThinker iPhone Screen Recorder

This handy tool leverages iOS's AirPlay mirroring function that works on all iOS gadgets, letting you view your mobile on large screen and record it with ease. No need to jail-break your iOS; enjoy the simplicity of mirroring mobile to computer screen.

View in a Bigger Way: Enjoy viewing your mobile on large screen with no loss of quality. This tool can display the mobile screen in HD and brings you optimal visual experience.
Record in a Comfortable Way: Capture gameplay, a video call, or anything on your iPhone/iPad. No need to go through complex or inconvenient recorder apps; now you can do it easily on a computer screen.
Share Instantly: Whenever you have completed a screencast from your mobile, you're able to save the video clip in the desired format and upload it to social network or video sites with only a few clicks.
AceThinker iPhone Screen Recorder allows users to connect an iOS device to a Windows (or Mac) computer wirelessly via a shared wifi network in conjunction with the iOS device's AirPlay feature. Not being overly familiar with the iOS operating system or its AirPlay feature, I must admit I wasn't terribly confident about trying out this software. As it turns out, I needn't have worried, it's absolute child's play. I installed the software and, after a quick perusal of AceThinker's online guide, it was up and running with my wife's iPad Air in no time.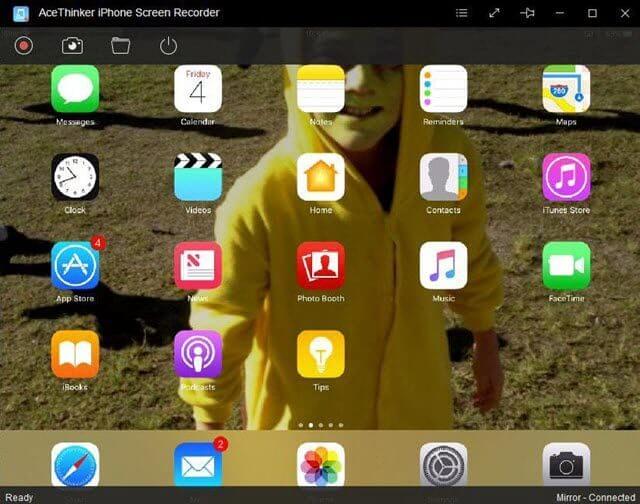 The four buttons (or icons) across the top left of the interface are Record, Screenshot, Open Folder, and Disconnect. It's actually brilliant to view the iPad's display on my 24″ monitor and I imagine it would be an even greater transformation with an iPhone. Once connected you can record your gameplay, a tutorial, a video call, or anything you want, all very easily with simple and intuitive controls.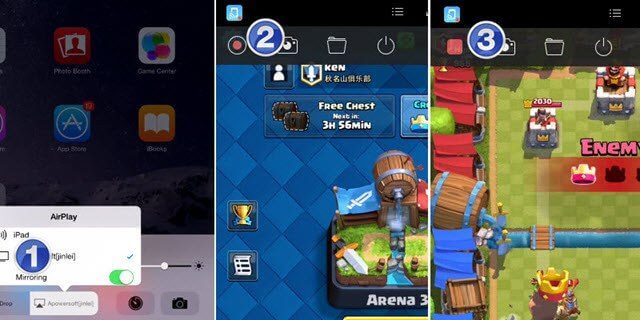 AceThinker iPhone Screen Recorder supports all popular video formats with General Settings providing options for:
Display Quality (1080p or 720p)
Output format (MP4, WMV, AVI, MOV, FLV, MPEG, VOB, ASF, GIF)
Video Quality (High, Standard, Low)
Audio Input (System sound, Microphone, System sound and microphone)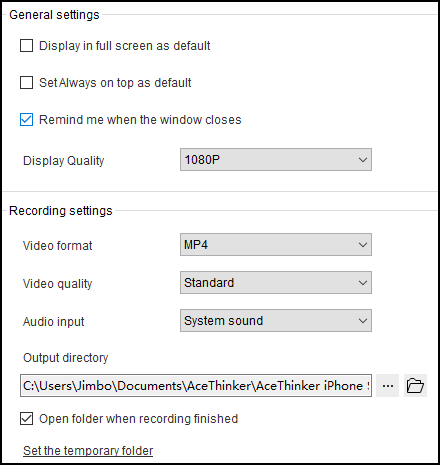 Setting up and using AceThinker iPhone Screen Recorder is a breeze, even for an iOS dunce like myself. The combination of sheer simplicity plus quality output, plus the convenience of a big screen, makes for a top notch iPhone/iPad screen recorder.
NOTES:
AceThinker iPhone Screen Recorder is available for both Windows and Mac. However, our 10 free licenses are for Windows only.
Requires an iPhone 4S or above and support for AirPlay.
Requires a wifi connected PC.
So How Do You Win
We'd appreciate it if you'd take a moment and submit a comment telling us why you'd like to win AceThinker iPhone Screen Recorder (for Windows). However, submitting a comment is not required to enter this contest and will have no bearing on your chances.
For your chance to win, simply enter your name and valid email address in the spaces provided below then click Enter Contest. After your entry is accepted you will be presented with options to share the contest on Twitter and/or Facebook. For each person that enters the contest as a result of your share you will earn 2 extra entries as a reward!
Sharing the contest on social media is completely voluntary, but encouraged.
Competition Rules:
To enter: simply submit your name and a valid email address.

You must submit a VALID email address. We need to contact the winner so disposable email addresses will not be eligible.

Additional entries may be earned by voluntarily sharing on Facebook and/or on Twitter.

Shortly after the contest ends the winner(s) will be chosen at random.

Winner(s) names will be posted on this giveaway page. Please check back here to see the winner(s) name announcement!
The winner(s) will be notified by email at the email address used to enter the contest – be sure to use a valid email that you check regularly.

Winner(s) must claim their license within 5 days. After the five (5) day period, unclaimed prizes will be distributed at DCT's sole discretion.

Entrants agree to allow DCT to communicate with them by email using the address provided by the entrant when entering the contest.
[contesthopper contest="66377″]