***DCT EXCLUSIVE***
Winners have been drawn, thank you to everyone who entered, your support is much appreciated – And the winners are:
Dacko
owen.jr
candi
milxxon
Mindblower
Ng
ajay
Viethai
May Thy
Jess
John d
Jack Draper
CanGoose
Karen Barrett
J. Schuch
Rex E
Richard Brito
James Streator
Steve
D.W. Shorty Weatherman
Larry Rydel
Eddie
Frank Eierstock
Coogie7
Lester
Earl
Russ
RobertWilley
Frank
Barbara Lair
safecn
terry w
sangenxu
Riz Sid
Jimbo
Jim Perry
Chuck
Eric
Sam Sumner
Ron Chanbers
dan
Hugh Williams
Lee
VinnieTLB
Ralph
Mayur
caduser
RAGAGH
emlyn williams
Flying Dutchman
Congratulations to all the winners!!You will be receiving an email within the next 24 hours with instructions on how to claim your free license.

If you were one of the entrants who missed out, don't despair – we will have a big surprise for you in a couple of weeks time. Stay tuned!!

East Technologies has very generously donated 50 (yes fifty!) licenses for their East-Tec Eraser 2011 software, to be given away to our readers – this software would normally sell for $49.95usd… thank you East Technologies!
All you need do for a chance to win is post a reply to this article with a comment. Replies can be anything, but we would prefer if you commented on the East-Tec Eraser software: competition ends 00:01 (EST) 30th October – With 50 free licenses up for grabs, your chances of winning are very good indeed!

*If your comment doesn't appear immediately it is because first comments must be moderated. It will appear shortly!
Keep what you do online or on your computer to yourself and protect your privacy!

The perfect tool to cover your digital tracks and prevent your personal information being used by others.Securely erase tracks and secrets. Completely destroy information stored without your knowledge or approval. Clean all your favorite browsers. Clean all your favorite programs.
Whenever anyone mentions secure erasing, the one name which is always in the forefront is East-Tech Eraser. East-Tec Eraser enjoys a rather unique position in software circles, it is the quintessential software in its genre, the benchmark by which others are judged.
If security and privacy are of paramount importance to you then you really can't afford to be without this software. East-Tec Eraser 2011 employs the most professional and highly developed deletion methods to permanently erase digital information – meeting and exceeding even recognized industry standards such as the Bruce Schneier Algorithm and the renowned Peter Gutmann Method.
Securely erase: Internet history, Web pages, unwanted cookies and pictures from visited sites, chatroom conversations, deleted e-mail messages and files, temporary files, Windows swap file, the Recycle Bin, etc. Supports cleaning Internet Explorer, Mozilla Firefox, Google Chrome, Opera, Safari, etc., as well as over 200 of the most commonly installed programs.
A scheduling feature allows users to automatically run selected cleaning operations after pre-defined actions or intervals; whenever the browser is closed, when the computer is not in use, at a certain date and time, once a day, or set longer cleaning operations to run once a week. It's all highly configurable to suit user requirements.
East-Tec Eraser also provides a totally secure method for wiping entire hard drives and USB drives. Perfect for when users wish to sell-on disks or when disposing of them permanently.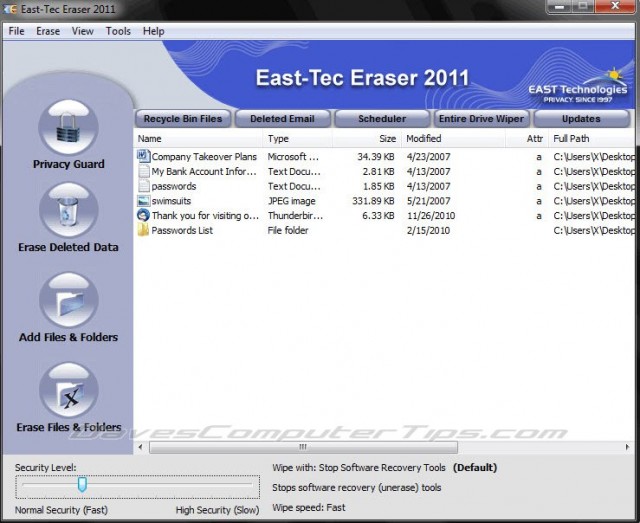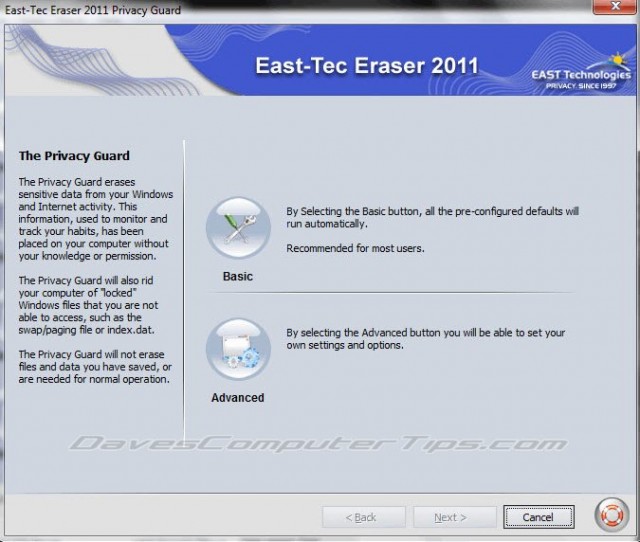 COMPETITION RULES:
* Post one reply to this article. Replies can be anything, but we would prefer if you commented on East-Tec Eraser or told us a little about yourself.
* Comments must be posted before 00:01(EST) on 30th October. Any replies after the cut off will be deleted and will not count.
* Post only one comment! Users who abuse this rule may have all replies deleted and be banned from the contest.
* On Oct 31st, 50 replies will be chosen by random number generator as winners of one FREE license for East-Tec Eraser 2011 each.
* Winners will be notified by email at the email address they used to comment – be sure to use a valid email that you check regularly.
Another terrific software giveaway for DCT readers, compliments of the great people at East Technologies.
Again, a big THANK YOU to East Technologies!