While 2013 has not seen a huge amount of activity on the freeware scene with most established products remaining largely unchallenged in the popularity stakes, there have still been a few relative newcomers that have managed to capture the imagination. It's been my experience that it requires something pretty special to lure users away from long time favorites and try something new different anyway.
It's rare to find a one-shoe-fits-all freeware solution that one can recommend for all levels of users in all circumstances. Consequently, our 'Best Of' selections are geared toward the vast majority of 'average' home users and based on a balance of criterion including; simplicity and ease of use, size and resource usage, effectiveness, and to a lesser extent, overall reputation.
Best Free Antivirus – 2013
There was a time when AVG dominated the free antivirus market, in those days just about every machine I worked on had AVG Free installed. After several years in AV purgatory, AVG Free has made a comeback of sorts this year but not enough, in my opinion, to regain top spot. Conversely, Avira Free Antivirus (formerly known as AntiVir), once regarded as the 'geeks' favorite AV, has seen a steady decline in popularity over the past couple of years. All during those ups and downs one free antivirus solution has maintained a consistently significant following, Avast Free Antivirus.
There was a time when these 'big 3' free antivirus solutions would have slugged it out, blow for blow, in the popularity stakes but I do believe Avast has now established an overall dominance. While it's far from perfect, Avast Free has a history of scoring consistently well in laboratory tests, both in terms of protection and rate of false positives. Plus it's always been one of the lighter AVs around and continues to be so.
One newcomer which I do believe rates a mention is Panda Cloud Antivirus Free Edition. I installed Panda Free on my aging XP system and, while it includes a nice range of protection modules and is certainly light on resources, I was bitterly disappointed at its behavior during the installation process.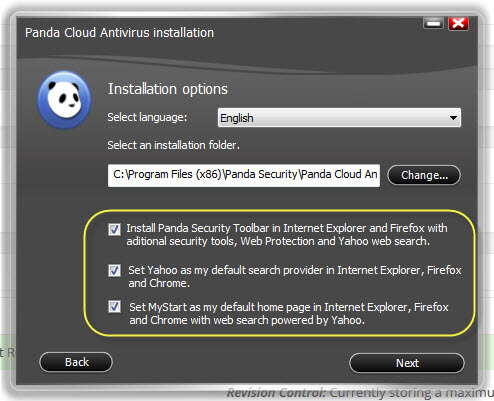 I realize this practice is becoming more and more commonplace, plus there are clear options to decline, but really… a security software that wants to install a toolbar plus change the default search provider and home page? Don't know about you but that's not the sort of behavior I expect nor want to see from any program which is supposed to be protecting my system from the very same potentially unwanted paraphernalia it is itself wanting to install.
Marginal winner overall… Avast Free Antivirus.
Best Free Supplemental Security – 2013
Disappointingly nothing new in this department. Well, nothing new that's worthy of consideration anyway. The free versions of Sandboxie and WinPatrol remain clear choices to help augment overall security. There are distinct differences in what these applications can do for you; Sandboxie will help keep you safe in a multitude of situations per medium of its isolation technique, while WinPatrol is very effective at monitoring processes looking to insinuate themselves into the system.
Both are extremely useful and can certainly be used in tandem, but it's Sandboxie's overall versatility which just gives it a slight edge over the more unilateral WinPatrol . Keep in mind too that the free edition of Sandboxie has been greatly improved during the past 12 months with the addition of full support for 64-bit systems.
Both Sandboxie and WinPatrol are highly recommended but there can only be one winner…  Sandboxie.
Best Free PDF Viewer – 2013
Yet another category where nothing new has excited the imagination during 2013. Having just stated that there can only be one winner, I'm now about to immediately break that rule… I'll give myself an uppercut. Trouble is; some users are happy with just the basics while others require that little bit extra, featurewise. For the basics I still can't go past Sumatra PDF Viewer, which is very small, portable, and renders PDFs very well.
For just that little bit extra in the feature department there are three viewers of note with free editions, PDF-XChange Viewer, Nitro PDF Reader, and Foxit Reader. Foxit Reader and Nitro Reader each include a nice range of additional features but there is trade-off of course, with both becoming just a little too bloated for my liking. Just for comparison purposes; Sumatra is a 2.7MB download, PDF-Xchange Viewer weighs in at 8.00MB., while both Nitro and Foxit are in excess of 30.00MB.
Additionally, downloading Nitro PDF Reader direct from the developer requires submitting a name and email address. While that may be quite easily overcome by utilizing a pseudonym and disposable email address, or even downloading from a third party source, it does raise the question of why it should even be necessary in the first place…. what does Nitro want to do with our email addresses? It is the motivation behind the requirement I find questionable rather than the requirement itself.
In the end, with a nice balance of features to file size plus availability of a portable version direct from the developer, I opted for PDF-XChange Viewer as the overall winner. For those who require nothing more than a basic viewer, Sumatra is also portable and another clear recommendation.
Best Free Cleaning/Maintenance software – 2013
At last we have something new to talk about, the outstanding PrivaZer. While I concede that the venerable CCleaner remains a truly viable choice, I do believe that a couple of relative newcomers have now stolen CCleaner's thunder. PrivaZer is my top pick here, with a special mention for SlimCleaner thrown in.
PrivaZer's executable can be used to fully install the software, run without installation, or quickly and automatically create a portable version… now that my friends is choice! PrivaZer's deep cleaning abilities and obvious attention to user privacy are deciding factors but, with options to automatically create system restore points and/or backup the registry, PrivaZer also includes the requisite safety nets.
I also had a good look at SlimCleaner during a series of comparison tests conducted back in early 2012 and was quite impressed. I would have no problem recommending SlimCleaner, I just reckon PrivaZer is a cut above everything else on offer right now. Another aspect of PrivaZer which I find appealing is that it relies solely on a free version, while most other leading/popular cleaners come in premium versions with a feature-limited free edition thrown in for good measure.
The clear winner… PrivaZer.
Best Free Office Suite – 2013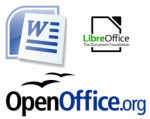 Alternatives to the costly Microsoft Office do not exactly abound. Fortunately for us, those that do exist are generally very good quality suites. I guess the two major contenders would be OpenOffice and LibreOffice which, although they are in direct competition with one another, ironically emanated from the same source.
OpenOffice, now known as Apache OpenOffice, was the original and long time most favored alternative to Microsoft Office. Then, when Oracle acquired the rights to OpenOffice, the project was discontinued and re-emerged as Apache OpenOffice.
A large proportion of the original OpenOffice developers who became disgruntled with Oracle's management of the project eventually left to form a new development team called The Document Foundation which produced and is now responsible for LibreOffice.
Although there is very little to pick between the two in terms of features and overall compatibility, I have a slight leaning toward LibreOffice. Primarily because The Document Foundation appears to be more actively developing its suite, but also because it is a non-commercial enterprise whereas Oracle is a huge revenue based corporation.
The winner then, in a rather small field… LibreOffice.
Best Free Uninstaller – 2013
This is another category where it's a case of out with the old and in with the new. In years gone by Revo would have generally rated top product among the free uninstallers but that is no longer the case. The free edition of Revo Uninstaller does not support the removal of 64-bit applications, in fact it doesn't even include 64-bit applications in its list of installed programs. In this day and age, that is a serious limitation.
Enter Geek Uninstaller, a free and portable uninstaller which does support all 64-bit programs as well as 32-bit. Geek Uninstaller is also pretty good at cleaning up program remnants and leftover registry entries so is pretty much on a par with Revo in terms of efficacy with the additional and huge benefit of also working with 64-bit applications.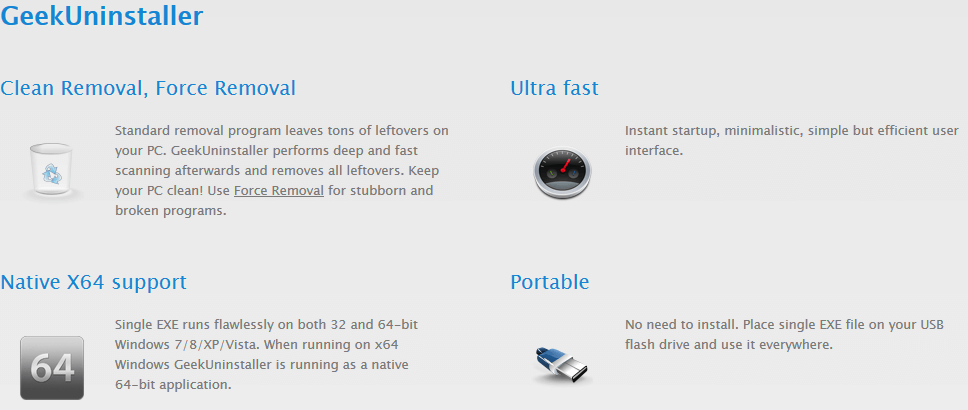 I realize there are alternatives available which may include additional features but on the balance of all criterion, Geek Uninstaller is top pick.
Best Free Backup Program – 2013
There are two main types of backup software to consider; image backup and file/folder backup. Personally, I much prefer the former because the imaging method is not only all inclusive it can also be used to recover a broken system. Consequently, the main consideration when rating imaging software is 'reliability', users must be safe in the knowledge that the software will ensure successful recovery following a disaster.
There are three main contenders in this category; EaseUS Todo Backup, Macrium Reflect and relative newcomer Aomie Backupper. Let's deal with the two more established solutions first – EaseUS Todo Backup and Macrium Reflect; EaseUS's offering was once the more feature rich of the the two but recent releases have seen a quite dramatic reduction of features supported in the free version. So much so that there is now very little to pick between them. As far as the all important reliability goes; common indicators, including user comments and reputation, clearly favor Macrium Reflect.
Now for the unusually named Amoei Backupper. This relative newcomer's feature set is really quite impressive. I particularly like the built-in ability to create bootable USB media for disaster recovery in addition to CD. Also, Aomei Backupper is the only one of the three which supports both incremental and differential backups… for a free imaging software it certainly is full-featured. Obviously, a degree of reliability can only be assessed following a period of time and usage but, considering Aomei's reputation for producing quality software, I suspect Backupper would be very reliable. Another major consideration here is ease of use, these imaging programs can be quite complex, even for more experienced users… Aomei Backupper also comes up trumps in that department.
Comparative download file sizes:
EaseUS Todo Backup = 113.35MB
Aomei Backupper = 60.1MB
Macrium Reflect = 41.84MB
I may be jumping the gun a little but I'm going to go out on a bit of a limb here and opt for Aomei Backupper, it just tops the ratings in too many aspects to ignore. Feature set is great, file size to feature set is spot on, ease of use is pick of the bunch, and user comments to date have been universally glowing. I've already downloaded and installed Aomei Backupper and am planning a proper test and review for early next year… stay tuned for that one.
**A notable omission here is Paragon Backup & Recovery Free, and I do apologize for that. I admit to knowing very little about this software. However, I do know that it is a 102MB download which places it on a par with the over sized EaseUs Todo Backup, and, although it includes a comprehensive feature set, I get the sense that it may also fall into the overly complex category.
This list could go on and on but I've tried to stick mainly with the essentials or where any notable changes have occurred. Most categories are pretty much settled with long time popular software dominating and nothing new of any consequence to report. If you believe I've omitted something relevant, please feel free to give me an uppercut via the comments… I can handle it. 🙂
Cheers, and I sincerely wish everyone a safe, peaceful and joyous Christmas.
Jim