Desktops is a tiny, free, and portable program from Windows Sysinternals which allows users to easily and quickly create up to four separate desktops:
Desktops allows you to organize your applications on up to four virtual desktops. Read email on one, browse the web on the second, and do work in your productivity software on the third, without the clutter of the windows you're not using. After you configure hotkeys for switching desktops, you can create and switch desktops either by clicking on the tray icon to open a desktop preview and switching window, or by using the hotkeys.
The remarkable thing is that the entire Desktops program is contained in a tiny 61KB zip download – extracted to just 114KB – and it works a treat! To help give some perspective, the last of the included screenshots under weighs in at 61.3KB.
Desktops is fully portable, no installation necessary. Simply double click the extracted executable to run, select your preferred hot keys and click OK: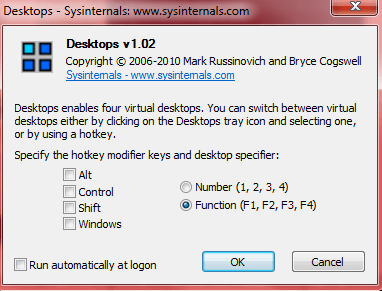 A Desktops icon will now be available in the notification area of the Taskbar. Left click ion the icon, select and create your desktop – up to 3 additional desktops: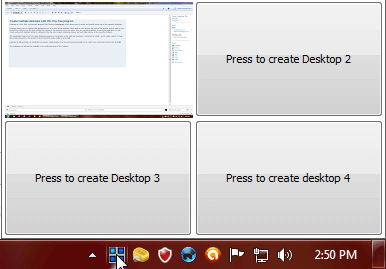 To switch between desktops; either hit the appropriate pre-defined hot key(s) or left click the system tray icon to display thumbnail previews and then click again on the desired desktop:
Advice on the Sysinternals Desktop home page is to exit the program by logging off Windows and then logging back on again:
Desktops reliance on Windows desktop objects means that it cannot provide some of the functionality of other virtual desktop utilities, however. For example, Windows doesn't provide a way to move a window from one desktop object to another, and because a separate Explorer process must run on each desktop to provide a taskbar and start menu, most tray applications are only visible on the first desktop. Further, there is no way to delete a desktop object, so Desktops does not provide a way to close a desktop, because that would result in orphaned windows and processes. The recommended way to exit Desktops is therefore to logoff.
To be honest, I've never really been all that interested in creating multiple desktops, and there may well be smarter software around – but at 61KB, free and portable… Desktops is way too cool to overlook.
Read more and download from the Desktops HOME PAGE.