Comodo recently released its contender in the malware scanner/remover type software department. Yes, it's free and what's more it's portable – don't ya just love portable!!
Comodo has also added an interesting and innovative component called KillSwitch, which makes CCE rather unique and sets it apart from competitors. Here is what Comodo has to say about this feature:
KillSwitch – an advanced system monitoring tool that allows users to identify, monitor and stop potentially unsafe processes that are running on endpoint systems. Uniquely for a product of its type, KillSwitch leverages Comodo's huge whitelist database to isolate untrusted processes with an extremely high degree of accuracy – improving IT operational efficiency by reducing false positives and cutting the amount of time spent troubleshooting an endpoint machine.
Comodo goes on to say that KillSwitch is mainly recommended for advanced users and system admins, not so much for less experienced users. However, the main component of CCE which scans for, identifies and removes malware is very easy to use and suitable for all users, regardless of levels of proficiency.
Clicking on the red Free Download button available on the Home Page immediately presented an unpleasant surprise, a rather intrusive form to fill out:
Hmm, not too keen on that – a bit too much information required for my liking. Not to be deterred, and fully cognizant of my responsibilities to you guys, I hunted around and located this alternative download from FileForum which does not involve any additional requirements at all: Download CCE from FileForum.  DCT subscriber 'Dacko' has also informed us of this alternative, from the Comodo Forums: Download CCE from Comodo Forums. Both include 32-bit and native 64-bit versions – make sure to download the correct one for your system.
The CCE interface is very basic, pretty much what one would expect for this type of software: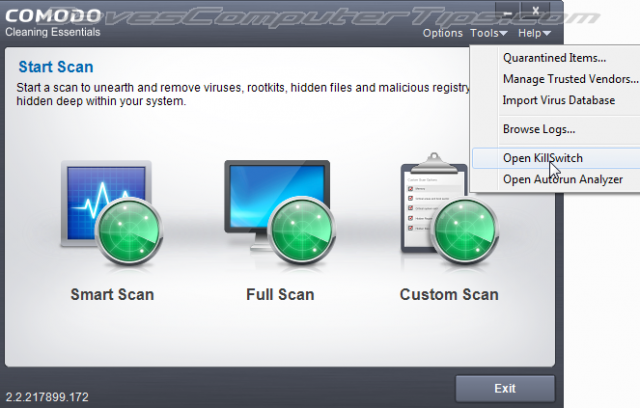 As you can see, there are the usual choices between Smart Scan (quick scan), Full Scan and Custom Scan. The KillSwitch component can easily be activated via a dropdown menu under Tools, as can AutoRuns (yes, AutoRuns is also part of the package). There are also separate execute files in the CCE folder which can be used to start both KillSwitch and AutoRuns directly.
The list of options is also pretty basic:
Heuristics level can be set to Low, Medium or High. Note the option to create a system restore point prior to scanning – not a bad idea that one! I scanned my system using default settings – Windows 7 64-bit with 70 gigs used space: Smart Scan took just 2mins 6 seconds to complete. As one would expect Full Scan took way longer, 2hours 22 minutes. I'd prefer to view that as being very thorough rather than slow – my glass is always half full. 🙂
Identified threats can be dealt with by one of three methods; Ignore, Remove or Quarantine – it's especially nice to see a Quarantine feature included. The scanner did not find any malware on my system which is exactly what I expected, it does indicate though that false positives are probably not going to be a major issue with CCE.
The KillSwitch component looks very promising, as Comodo stated – especially for advanced users. I haven't had a chance to play with it properly yet but it does appear to be very useful indeed:
The icons at the bottom provide access to more features; AutoRuns can be started from there, plus a Program Usage Analyzer, Find Handles or DLLs, view System Information and more – CCE certainly covers a lot of bases.
Download: 24.25MB zip
Extracted size: 49.0MB