Christmas is fast approaching and, as the go-to gadget man in the Hillier family, I've been busy checking out requests for possible tech type Xmas presents for the grandchildren. The most interesting of which has been a tablet/notebook combination device for my 13 year old grandson. My research in this area ended up re-enforcing a long held opinion… that Australia is miles behind the U.S. in terms of available options.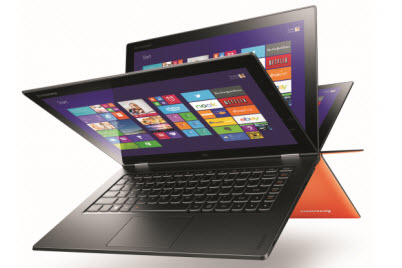 I was working to a budget so the main criteria for this particular exercise was to find the most portable and effective option at an affordable price running Windows 8.1. My initial research immediately narrowed it down to three main contenders; the Asus Transformer T100, the HP Pavilion x360, and the Acer Aspire Switch 10.
Due to their small form factor, these hybrid devices do not come with high end specs, so you can forget about such things as Intel "i" series processors. They are, by nature, fanless, and generally powered by an Intel Atom processor. As such, they are quite acceptable for the tablet side of the equation but somewhat underpowered for the desktop environment… definitely not suitable for CPU intensive chores such as video encoding.  However, for users who are looking to simply browse the net, run Office components, and perform other less exacting tasks, they are eminently suitable.
On the other side of the coin, one of the main advantages of this type of system is extended battery life, an important consideration for students or anyone working for long periods away from an external power source. So, which one did I settle on? Read on and you'll find out.
HP Pavilion x360
At 11″ the HP X360 is the largest of the three and also comes with the most powerful processor, an Intel "N" series, which is a step above the Atom CPU. As the name suggests, it also comes with a hinge capable of turning 360 degrees, so it can easily be transformed from tablet to notebook, and vice versa, with a range of laptop, tablet, stand, and tent modes.
However, on the minus side; it comes with a 320-500 GB standard HDD rather than an SSD, it's bulkier and heavier than both 10″ contenders, and reviewers unanimously report a somewhat disappointing screen quality. Also, battery life is not as good as the Atom powered alternatives.
As with most machines of this ilk, the x360 is available in a number of different configurations, including choices between Intel Celeron and Intel Pentium processors. However, here in Australia, the most common and affordable is Celeron powered, with the Pentium model being not only scarce but also considerably more expensive. The HP x360 is also the only one of the three that doesn't come with Office Home and Student included in the price.
Most Common Specs (Australia)
Display: 11.6″ IPS touchscreen
CPU: Intel Celeron N2820
Memory: 4GB DDR3 RAM
Storage: 320GB HDD
Connectors: 2 x USB 2.0, 1 x USB 3.0, 1 x HDMI, SD card reader
Weight: 3.1 pounds (1.4 kg)
Battery life: Approx 5 hours
Office H & S: No
Average price: $550.00au
Bottom Line: I really like the idea of the 360 degree hinge but, in the end, negative comments regarding the display, the standard HDD as opposed to SSD, plus the value for money factor, saw me looking elsewhere.
Acer Aspire Switch 10
In the interests of full disclose, I am not generally a huge fan of the Acer brand. However, the Acer Aspire Switch 10 is a very nice little machine. It comes equipped with a quad core "Z" series Intel Atom CPU and 64 GB SSD – I feel that an SSD helps compensate for the slightly less powerful processor necessary for these smaller devices. The Switch 10 also comes with Microsoft Office Home and Student included in the price.
It's sturdy magnetic hinge allows switching between laptop, tablet, stand, and tent modes. Although, unlike the x360, the keyboard must first be detached and then re-attached in order to achieve the various configurations. An above average IPS screen and very good battery life also add to the appeal.
On the negative side; for some unfathomable reason the single USB port is USB 2.0 rather than USB 3.0, and it's also the priciest of the three, here in Oz anyway.
Most Common Specs (Australia)
Display: 10.1″ IPS touchscreen
CPU: Intel Atom Z3745 quad core
Memory: 2GB DDR3 Ram
Storage: 64SSD – expandable via microSD  (there is also a 32GB SSD model available but I wouldn't touch that with a barge pole)
Connectors: 1 x micro USB 2.0, 1 x micro HDMI, micro SD card reader
Weight: 2.6 pounds (1.17 kg)
Battery Life: Approx 8 hours
Office H & S: Yes
Average Price: $580.00au
Asus Transformer T100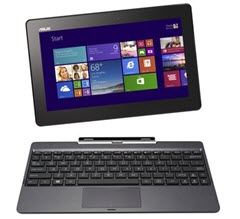 Is the one I eventually settled on. This little machine has a lot going for it. Also coming with a 10″ display, Intel Atom "Z' series quad core CPU, and 64 GB SSD, its specs are very similar to the Switch 10, although, unlike Acer, Asus has included a USB 3.0 port. Where the Asus beats the others hands down is its amazing battery life, confirmed at around 11 hours.
The Asus T100 also includes Office Home and Student in the price, but the detachable keyboard offers less versatility than the Switch 10. Weighing in at just 2.35 pounds, it is also the lightest of the three.
This one is also available in various configurations, including an additional 500GB HDD built into the keyboard. However, as per usual, choices in Australia are limited compared to the U.S. I haven't come across one yet which includes the additional 500 GB HDD storage but I did locate a model fitted with a slightly superior CPU (Z3775 rather that than the standard Z3740).
The deciding factor for me was value for money plus exceptional battery life, and, of course, the Asus name. Although almost identical in terms of specs, the T100 is considerably less expensive here in Australia than the Switch 10. The T100 also consistently receives positive reviews and is more often than not top pick in its class.
Specs (for the one I ended up buying)
Display: 10.1″ IPS touchscreen
CPU: Intel Baytrail Z3775 quad core
Memory: 2GB DDR3 RAM
Storage: 64GB SSD – expandable via microSD
Connectors: 1 x USB 3.0, 1 x micro HDMI, micro SD card reader
Weight: 2.3 pounds (1.07 KG)
Battery Life: Approx 11 hours
Office H & S: Yes
Price: $460.00au
I've since set the T100 up for the grandson and it really is an impressive little machine. So much so that I'm seriously contemplating buying another as a replacement for my aging and much heavier 15″ laptop. Maybe Santa might bring me one… I am throwing plenty of hints around the Hillier clan anyway. 🙂
Asus also make a transformer T200 model which comes with pretty much identical specs to the T100 but has a slightly larger 11.6″ screen. That's the one I'd probably prefer for myself but it's priced at a minimum $680.00au here and I'm not prepared to pay $220.00 more just for one and half inches additional screen real estate. (the same machine sells in the US for $490.00us).
*NOTE: I haven't mentioned any of the Lenovo Yoga range of hybrids here, mainly because, although they are indeed fine machines, they are also comparatively pricey and don't quite fit the "affordable" criteria – especially when working within a budget or considering a portable machine to be used primarily as a secondary device.