WinOptimizer 15 Giveaway Contest
Congratulations to the Winners and Thank You to everyone who participated!
Ashampoo has once again come through with five (5) licenses for their brand new version of WinOptimizer 15! That means that five lucky DCT readers will each have a chance to lay their claim on one free copy of this great program.
I took this product out for a test spin the other day so I could tell you a little bit about it, and there were some interesting results. There are far too many features to mention in this short overview, but it should give you an idea of how powerful this software is. With that in mind, and I will repeat this later on, it is a good idea to at least create a System Restore Point before using WinOptimizer to tweak all those settings.
It might also be good advice to tell you that changing one or two settings at a time is better than changing a whole bunch of things at once. I think it is most definitely the safer approach.
Well, enough of that, let's dig into some of the main workings of this fine program, shall we?
The Home Window
I will only mention the installation process because there is nothing to say about it. It runs just like any other Windows installation and there are no snags or hitches to watch out for. Once you have WinOptimizer installed and run it for the first time, you will be presented with this Home window:
I dove right in and clicked the Analyse now button, and after a short time, this is what I got:
It should be noted here that prior to running WinOptimizer 15 I had finished my weekly routine of checking for Malware, clearing disk drives of leftover cruft, temporary files, cache files, etc, and backing up my system. The point is, I thought I had cleaned up the computer pretty well. Wrong!
WinOptimizer is reporting a whopping 1190 issues, hundreds of which turned out to be junk files– the very files I thought I should have already gotten rid of. Wrong!
You have a couple of choices at this point:
You can choose to Optimize now, which will 'fix' everything WinOptimizer thinks is an 'issue', or,
You can choose to Show details, which lets you pick and choose what to 'fix'
I opted for the second (and safer) choice and this is what I saw: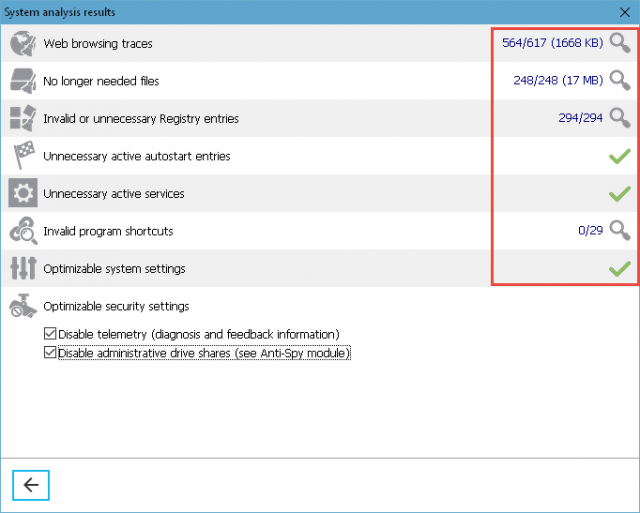 What really grabbed my attention was 1.6 Megabytes of Web browsing traces so I clicked on the magnifying glass icon to see what the heck was going on there. Lo and behold, I saw this: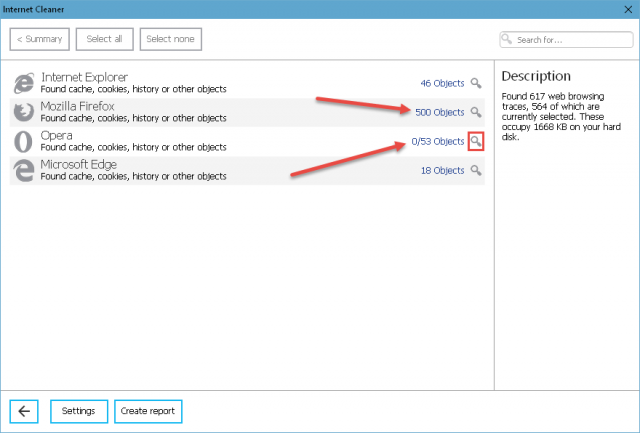 Mozilla Firefox?! I uninstalled that a couple weeks ago! I honestly have no idea how all that stuff got left behind and, more importantly, would never have known about it if I hadn't run WinOptimizer.
By clicking on the magnifying glass icon next to each entry, you can pick what you would like to keep, or not. This is an important distinction and one worthy of consideration. For example, in the above image you will notice that all 500 Firefox entries will be eliminated, but since I use Opera these days, I chose to leave those entries alone for the moment– at least until I have time to look at them more closely. You wouldn't have these finer details available to you if, in the beginning, you had told the program to 'fix' everything.
With powerful programs such as these it is much wiser, in my opinion, to take baby steps. Make the change, see if everything still works as you expect it to, then move on to the next tweak. It can be very tempting to go through all the different settings, changing a bunch of things as you go, but try very hard to avoid this behavior. You will thank me in the end.
WinOptimizer Functions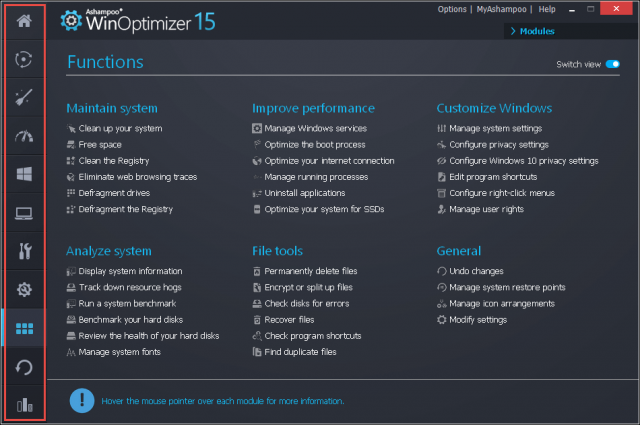 The above image should demonstrate why it would be nearly impossible, in an overview such as this,  to cover all the features offered in this program. Take my word for it, WinOptimizer can keep you busy for a long time if you choose to delve into its many facets. The features seem endless. Clicking any of the icons in the left-hand panel will offer you a number of categorized items to choose from.
Final Thoughts
WinOptimizer deserves a place of honor within the "one-click, fix everything" genre. Ashampoo seems to have given a lot of thought to the interface making it dead-simple to use. I can highly recommend this program if you take the time to be patient and careful when using it— it is a powerhouse.
How to Enter the Contest
We'd appreciate it if you'd take a moment and submit a comment telling us why you'd like to win WinOptimizer 15. However, submitting a comment is not required to enter this contest and will have no bearing on your chances.
For your chance to win, simply enter your name and valid eMail address in the spaces provided below, then click Enter Contest. After your entry is accepted you will be presented with options to share the contest on Twitter and/or Facebook. For each person that enters the contest as a result of your share you will earn two (2) extra entries!
Sharing the contest on social media is completely voluntary, but is encouraged.
Competition Rules:
To enter, simply submit your name and a Valid eMail address. Your address will not be shared outside this site


You must submit a VALID eMail address. We need to contact the Winner, so disposable eMail addresses will not be eligible

Additional entries may be earned by voluntarily sharing on Facebook and/or on Twitter

Shortly after the contest ends, the winner(s) will be chosen at random

Winner(s) names will be posted on this giveaway page. Please check back here to see the winner(s) name announcement!
The winner(s) will be notified by eMail at the eMail address used to enter the contest – be sure to use a valid eMail address that you check regularly
Winner(s) must claim their license within five (5) days. After the five (5) day period, unclaimed prizes will be distributed at DCT's sole discretion

Entrants agree to allow DCT to communicate with them via eMail using the address provided by the entrant when entering the contest
Invalid contest.
Good luck to all!
—