Ashampoo® Spectre Meltdown CPU Checker
Instant vulnerability check for Spectre and Meltdown
"Glaring security holes in all modern processors named Meltdown and Spectre have recently made the headlines. With Ashampoo Spectre Meltdown CPU Checker, you can determine at the click of a button whether your system is vulnerable. The program uses a Microsoft-based check that would usually require complex inputs and configuration work before you'd see results. Ashampoo Spectre Meltdown CPU Checker does it for you and checks both potential attack vectors. If your system is affected, the program will offer further information on how to protect your computer. Ashampoo Spectre Meltdown CPU requires no registration or installation to work."
Spectre Meltdown CPU Checker Results
I ran this utility and after a short time, the following screen displayed my unpleasant results: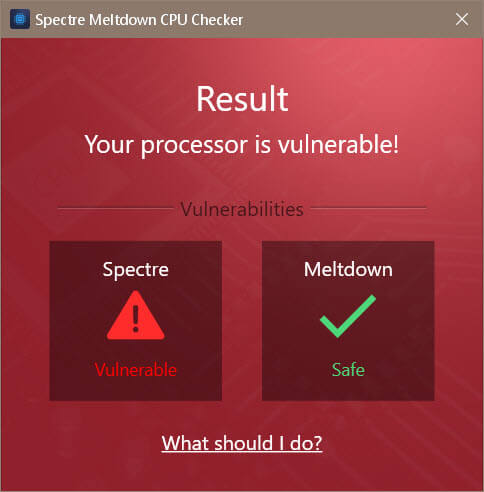 Clicking on the What should I do? link, brought me to this Spectre Meltdown CPU Checker page. This page contains a helpful list of suggestions provided by Ashampoo for those of us who are vulnerable to this nasty piece of malware.
How To Get The Program
You can download this free utility at this Spectre Meltdown CPU Checker page. It is a small 715KB download. There is no installation necessary, so you can simply download it and run it.
Thank you to Ashampoo for providing us with this easy-to-use software. This utility will save you the trouble of having to mess with a load of tricky PowerShell scripts which is truly a blessing.
Richard
—