My major gaming rig upgrade cycle comes around every four or five years, but would probably be more frequent if I had pots of money, which I don't. And by major upgrade, I mean the motherboard and CPU which, without exception always means a new Windows install. In between times I've upgraded the GPU, memory, PSU, hard drives and the computer case, which of course you can normally do without having to reinstall Windows, unless you're changing your boot drive of course. Probably the most important major upgrade I undertook was back in 2010 when I moved from a Pentium 4 to a Phenom II x 4 965, coupled with 8GB DDR3 memory, a new PSU and a Radeon 5770 GPU. At the time the difference in performance from the creaking old Pentium 4 was certainly very noticeable, but in hindsight, not nearly as marked as my most recent upgrade. It's also worth noting that I upgraded the Phenom 965 to an FX-8320 in 2014, upped the RAM to 16GB, swapped out the GPU multiples times, bought a bigger case… you get the drift.
Upgrading within the same compatible platform is not a major expense, so moving from socket AM3 to AM3+ meant I was able to keep my DDR3 RAM as well as the Corsair water cooling. However, as time marched on and games became more demanding, the itch to upgrade to the new AMD AM4 platform became irresistible, particularly since I had my eyes on the recently launched Shadow of the Tomb Raider and Forza Horizon 4, both of which feature the most stunning graphics yet released. And for a graphics whore such as myself, that's an itch that would not go away unless severely dealt with. Enter 2nd generation Ryzen.
Why Not Choose Intel?
I'm not a fanboy of either AMD or Intel and would use whichever serves its purpose for gaming performance– with some caveats. In the world of Intel vs AMD, there are literally millions of pages on the net dedicated to in-depth benchmarks and detailed tests, but frankly, a couple of FPS (frames per second) either way is neither here nor there. Having said that, AMD has made some huge strides catching up with Intel and when I discovered that the 2nd generation Ryzen 2600X was pretty much neck and neck with the Intel Core i7-8700K in many gaming benchmarks (and often a little faster), I was encouraged. However, when you look at the price comparison between the two CPUs, the scales are tipped very much in favour of AMD, which for my budget wins the argument.
Apart from the bloated price of the 8700K, I also have an aversion to the diabolical Intel LGA1151 heatsink mounting clips, known as push-pins. Added to which this particular CPU ships with a nasty little stock cooler that's more suited to an early Pentium. It's also true that the money grabbing and Scrooge-like Intel is no longer shipping coolers with many boxed desktop processors for reasons which I can only assume are budget related, yet has caused quite a stir in the gaming community.
On the other hand, AMD supplies a heatsink and cooler kit with every boxed CPU they ship and that in itself finalised any idea of going Intel for me and I'm only grateful that AMD is around to give Intel a run for its money.
Lets Go Shopping!
Fortunately, my upgrade urge coincided with a trip to the UK in August which meant I could browse for what I wanted and have all the components delivered to a UK address so that everything would be ready and waiting for me when I arrived. It's also worth noting that the very idea of buying this latest generation hardware here in Argentina wasn't even a consideration, particularly since the country has entered into yet another financial crisis (yes, another one!) and, whilst availability isn't a problem, the local prices have sky-rocketed.
Browsing through specialist PC component suppliers Scan UK and Ebuyer, I finally settled on the following components, some of which were on very special offers.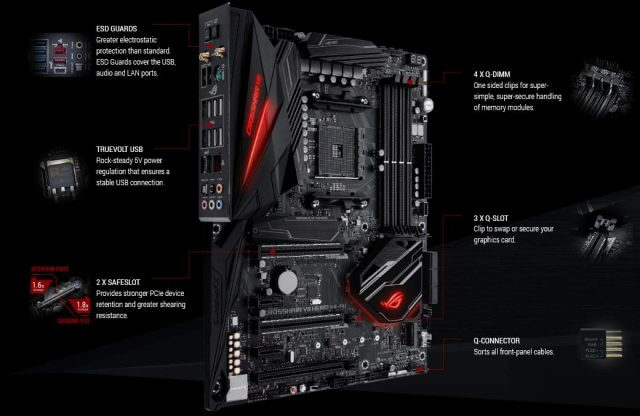 Motherboard Asus ROG Crosshair VII Hero WiFi (X470 chipset)
CPU Ryzen 5 2600X six core twelve thread 3.6Ghz (4.2Ghz boost)
Memory Corsair Vengeance LPX 16GB (2 x 8GB) DDR4 PC4-19200 2400MHz
Storage WD Blue 500GB 3D NAND SSD M.2 2280
PSU 850W Corsair RMx Series RM850x, Full Modular
Club 3D DisplayPort 1.4 HBR3 Cable
I was able to pick up the WD 500GB M.2 drive for nearly half price and the memory at a very generous discount– prices which would be impossible to find in Argentina. Anyway, once I'd managed to slide through Buenos Aires customs by using my tried and tested dumb tourist routine, I then set about the exciting upgrade process. I was to retain five spinners (conventional hard drives), one Samsung Evo 250GB SSD, an Asus ROG Strix RX580 GPU, the Corsair H100I water cooler and the Cooler Master Storm Trooper full tower case.
Well, stripping out the old and fitting in the new components took around five hours by the time I'd finished the cleaning and cable management and, having earlier set the motherboard up on the bench for testing with a fresh Windows install, I was finally ready for some serious gaming to commence. However, before the fun began I was curious to see how the Ryzen 2600X stacked up against the old FX8320 in a benchmark, even though the definitive proof of the pudding would be the actual gaming experience. Fortunately I'd run a Unigine Valley benchmark the day before and the graphic as shown below does indeed show a huge performance increase.
I also ran a 3DMark Time Spy benchmark before and after, and whilst the results are not quite as marked, the improvement is clear to see. In fact, the Time Spy score for the FX8320 was 3445 points and Ryzen 2600X 4604 points, although there seems to be a bug in the program as it reports older saved benchmarks using my new CPU.
In-game, the results were even more impressive and graphically demanding games such as Forza Horizon 3, both Rise and Shadow of the Tomb Raider are running at a fluid 60- 70fps at maximum settings and the same can be said for the new Forza Horizon 4 , which I can run at 3840 x 2160 (4k) using Radeon Virtual Super Resolution. I'm also finding that every day computer use, such as video rendering, photo manipulation, web browsing and last but not least, Windows 10 performance is generally much more responsive, with practically no lag whatsoever. This is helped of course by installing Windows 10 on the WD M.2 SSD device which is fitted directly to the motherboard and I still have a spare M.2/NVMe slot for added storage later.
Boot times are as you would expect from an SSD, if not a tad quicker due to the nature of the M.2 drive, which is supposed to run at PCI-E 3.0 x4 speeds, meaning around 31.5 Gb/s (3.9 GB/s). Anyway, in layman's terms, it's damn quick and I'm at the desktop in about thirty seconds.
What's Ryzen Like For Gaming?
Before I decided to buy the new CPU I read numerous reviews and opinions, particularly in tech forums and the unanimous conclusion was that the Ryzen 5 2600X is the "sweet spot" in terms of price and performance:
Six cores and twelve threads
3.6Ghz base with boost 4.2Ghz, unlocked
Precision Boost which negates the need for overclocking
TDP 95W
L3 cache 16MB
Around $200, including CPU and Wraith heatsink
This helpful video from AMD explains how 2nd generation Ryzen processors actually work and for once the YouTube comment section is behaving itself.
The combination of Ryzen 2600X, 16GB DDR4 2400Mhz RAM, X470 chipset and an RX580 GPU allows my games, even the most demanding titles, to run as smooth as silk. These, combined with a FreeSync monitor connected with a high quality 1.4 HBR3 DisplayPort cable have blown me away in terms of performance and perhaps when that upgrade bug hits again, I may consider upgrading the RAM to 32GB or replace the existing RAM with faster 3200Mhz modules or maybe even add a 1TB NVMe drive for extra speed and storage. Anything is possible and in the meantime, I'll leave with a shot of the finished rig in all its RGB glory.
—