Overview
In 2013, Amazon launched the AmazonSmile program offering Amazon Prime members an opportunity to give money to a charity every time they shop. The AmazonSmile tagline is "You Shop. Amazon Gives" and Amazon says that the members can "Experience feel-good shopping" when shopping on Amazon. I will go over the AmazonSmile program and how you can maximize your giving while shopping on Amazon.
 What Is AmazonSmile
AmazonSmile is a separate website created by Amazon. It is essentially a clone of the existing Amazon.com website. When you shop on AmazonSmile, a percentage is donated to a charity chosen by the shopper. The donation is at no additional cost to the shopper. Same prices, and the same shopping experience as shopping on Amazon.com.
How To Sign Up For AmazonSmile
In A Web Browser
Visit smile.amazon.com
Sign in with the same account you use for Amazon.com
Select your charity
Using The Amazon Shopping App On A Mobile Phone
Open the Amazon Shopping app
Navigate to the main menu (≡)
Tap on Settings and then select "AmazonSmile"
Select your charity and then follow the on-screen instructions to turn on AmazonSmile in the mobile app
Not Five Percent
If you look quickly, it sounds as though you are giving a lot. As of October 2022, Amazon shoppers have given $377.3 million to US charities and $422.6 million worldwide through AmazonSmile. But that is not yearly, that is the cumulative amount over ten years. In 2021, Amazon had $469.8 billion in sales. The AmazonSmile program's total contributions over 10 years represent but a fraction of Amazon's sales in just one year. If you look closer, you will see that you are not giving 5% of your purchases, but only .5%. If you spend $20 at Amazon, that is 10 cents. Spend $2,000 and $10 goes to charity – provided, that is, that you follow the rules. In addition, even though you are donating to your charity, Amazon is getting a tax deduction.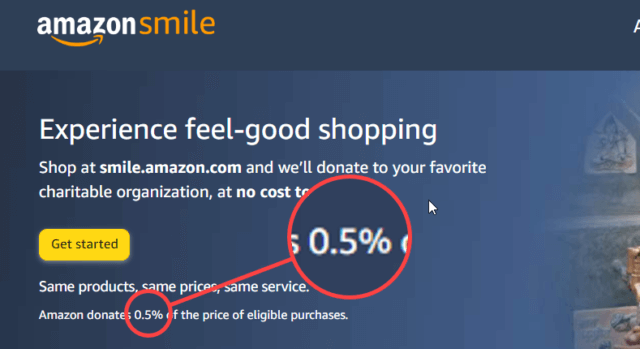 Amazon gives you hundreds of thousands of charities to choose from, but they don't tell you that most of these charities get very little in total contributions from AmazonSmile. In the US, the AmazonSmile Foundation is a 501(c)(3) public charitable organization and Amazon is required to file Form 990-PF with the IRS. I downloaded the PDF (WARNING, THIS IS OVER 2100 PAGES) for 2018 (the latest year available with detailed data). I did a rough estimate of the counts of charities and their contributions. Most charities get under $99:
| | | | |
| --- | --- | --- | --- |
|  Min | Max | Organizations |   |
|  $         2,000,000 |   |   0 |   |
|  $         1,000,000 |  $         2,000,000 |                       2 |   |
|  $            100,000 |  $            999,999 |                     13 |   |
|  $              10,000 |  $              99,999 |                  103 |   |
|  $                 1,000 |  $                 9,999 |               2,100 | approx. |
|  $                    100 |  $                    999 |             61,000 | approx. |
|  $                        5 |  $                      99 |           172,000 | approx. |
|   |  $                        5 |               1,100 | approx. |
The Fine Print
You would think that just signing up for AmazonSmile would be all that is needed for every Amazon purchase to count towards AmazonSmile. But you would be wrong! Amazon has set up two websites. If you go to the regular website or use a referral link that sends you to the regular website, your purchases will not be eligible for AmazonSmile. If you are using your browser, you need to go to the AmazonSmile website. If you shop through the Amazon Shopping app, you need to renew AmazonSmile every six months. Why? I have no idea. Also, not all items are eligible. You need to look for the "Eligible for AmazonSmile donation" stamp in the product's description.
In addition, none of the following purchases are eligible for donation benefits:
Subscribe-and-Save purchases
Subscription renewals
Kindle store purchases
Fire device purchases
Amazon physical store purchases
Amazon Dash purchases
Alexa-enabled device purchases
Your Impact
To see what type of impact your AmazonSmile purchases have had, open the Your AmazonSmile Impact page. From the main page, select the All button, move to the bottom, and select Your AmazonSmile. You can see the total eligible AmazonSmile orders you have made, the total contributions you have made, the total benefits your charity has received, the total benefits all US charities have received, and the total benefits all worldwide charities have received.
I have made over 500 purchases on Amazon, but, as you can see, only 188 were eligible for AmazonSmile resulting in a mere $25.58 in total contributions.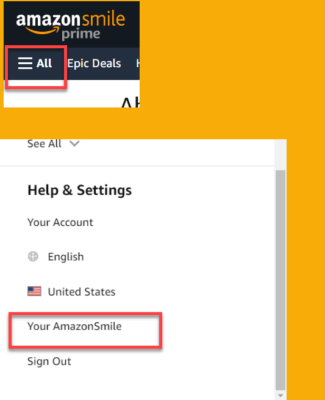 How To Maximize Donations
Even though charities only receive a small amount of your purchase as a benefit through AmazonSmile, every little bit counts. To maximize your donations through AmazonSmile, you must follow the rules. Review the above restrictions and limit your purchases through ineligible methods. Instead, make purchases through the Amazon Shopping app or the AmazonSmile site if you are using a browser.
Amazon Shopping App
If you are using the Amazon Shopping app, set a reminder in your calendar that repeats every six months to renew AmazonSmile.
Browser
If you are using a browser, install a browser extension that will automatically switch your Amazon site to the AmazonSmile site. There are a few of them to choose from. The extension I use on Chromium-based browsers is Smile Always. For Firefox, on the Firefox Add-ons site, Amazon Smile Redirect is the highest-rated extension and has the most users.
Bottom Line
By knowing the rules for AmazonSmile, and employing a few simple steps, we can maximize the benefits charities can receive through our Amazon purchases. Please note that this is written from the perspective of Amazon in the US. I assume that it works similarly in other countries. Let me know in the comments if that is not the case.
—