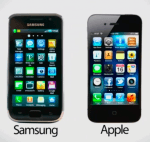 The Apple vs. Samsung trial started three weeks ago in San Jose, with each side accusing the other of a myriad of patent infringements. Despite several recommendations by U.S. District Judge Lucy Koh to settle the dispute out of court, no resolution was found so the jury of two women and seven men began deliberations on Wednesday. The jurors reached verdicts relatively quickly, deliberating for only three days. When faced with 33 questions over a spectrum of devices, the jury had over 700 decisions to make. The verdicts were largely in Apple's favor. The jury originally awarded Apple $1,051,855,000 in damages, deciding that Samsung's patent infringements were willful. This was revised down to $1,049,343,540 after a few inconsistencies in the verdict were identified and reconsidered by the jury. In its countersuit, Samsung was awarded no damages.
As explained by The Verge's Nilay Patel,
"…the jury found that all three of Apple's software patents on the iOS user interface were valid and infringed by a long list of Samsung devices, that Apple design patents were valid and infringed by several Samsung phones, and that Apple's trade dress on the iPhone and iPhone 3G were diluted by several Samsung phones as well."
Trade dress is defined as a product's physical appearance, including its size, shape, color, design, and texture.
As reported by Apple Insider, Samsung has a released a statement saying,
"Today's verdict should not be viewed as a win for Apple, but as a loss for the American consumer. It will lead to fewer choices, less innovation, and potentially higher prices."
Likewise, as reported by The Verge, Apple has issued a statement as well, saying,
"The lawsuits between Apple and Samsung were about much more than patents or money. They were about values. At Apple, we value originality and innovation and pour our lives into making the best products on earth. We make these products to delight our customers, not for our competitors to flagrantly copy. We applaud the court for finding Samsung's behavior willful and for sending a loud and clear message that stealing isn't right."