We first mentioned the excellent 3Defy Modeler online service way back in November 2011, you can catch up with that original article here: 3Defy – Add 3D effects to photos (online)
We have recently received notification from Chris Wallace at 3Defy that they have now added an exciting new capability – full-color 3D printing!
Our past 2D to 3D conversions could only be viewed in stereoscopic 3D. Now that 3D printers have advanced to the point of detailed full-color physical models, users can actually hold their creations in their hands! Many of our users requested this, and the results are really stunning! The way we accomplished this is by enabling "exports" which are compatible with 3D printers and online services like Shapeways and Sculpteo.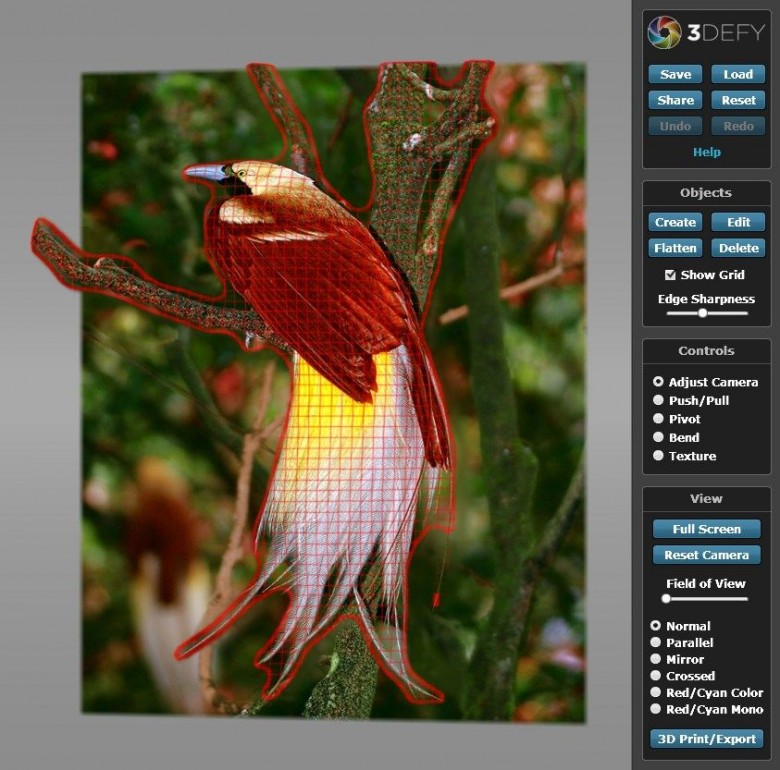 This is one area where I have very little know-how. Thankfully, Chris has provided DCT with a full run-down of the new capabilities; covering features, procedure and requirements:
3Defy – New Features:
Export 3D models in X3D format
Hollow-print mode – provides all 3D layers as thin solids.  Extracted solids are held in place by support posts (suitable for 3D printing)
Solid-print mode – provides all 3D layers as connected solids.  (suitable for 3D printing, but the large volume increases 3D print costs significantly)
Textures-only mode – provides only the 3D image textures. (can be used in other 3D software, but not suitable for 3D printing)
Support-posts – are automatically generated to hold hollow solids in place, positions can be customized.
Base-frame – can be included and customized for stability.
Hanging-hooks – can be included for wall-hanging 3D prints.
Shadowbox – can be included for enclosure.
Modify exported image layers in Photoshop.
Anaglyph viewing modes. (for red-cyan 3D glasses)
Export Format:
X3D is an industry-standard XML-based file format for representing 3D computer graphics. It is the successor to the Virtual Reality Modeling Language (VRML).
X3D can be imported into other 3D modeling tools like MeshLab, Blender, etc.
X3D can be printed in full-color with 3D printers and 3D printing services.
X3D can be converted to other industry standard formats like OBJ, STL, DAE, etc using conversion software like MeshLab.
The export also provides all image layers in zipped JPG format.
3D Printing Services:
3Defy does not provide the printing services directly.  X3D exports can be uploaded to online 3D printing services such as Shapeways and Sculpteo.
3D Print Materials:
Since the focus of 3Defy is 2D image to 3D model conversion, we recommend using full-color materials to capture the full artistic quality of the print.
3D Print Stability:
We provide the ability to customize export settings.
We recommend a minimum of 3mm for image layers and 4mm for support posts.
3D printing services typically provide recommended structural parameters for their different materials.
3D printing services typically provide a structural integrity validation during the 3D print process.
Unlimited Exports Per Model:
We recognize that users may want to try different variations of print settings, in order to optimize their 3D prints.  Once a user purchases the 3D print service for a 3Defy model, they are permitted to modify and re-export that model an unlimited number of times.
Software Requirements:
Adobe Flash 11
Uses built in GPU acceleration for high-speed 3D rendering
Pricing:
The 2D to 3D conversion tools are available for free.  The new exports service is priced at $4.99 per 3D model export, with package discounts available.
They say one picture is worth a thousand words – click on the thumbnails to enlarge:
How about a 40 seconds video – must be worth at least 5000 words?
http://youtu.be/nolmrLNUqPI
Many thanks to Chris and 3Defy for updating us on what this terrific service has to offer – Check out the 3Defy site here:  http://www.3defy.com/