I'm a list maker. I may not be a mover or a shaker but, Dang it, I always have things to do and I like making To-Do lists (I may not even complete all those tasks, but that's another story!).
While I don't mind using Tasks in my Outlook program for regular To-Dos, or Out of Milk for a quick grocery list, I found that I wanted something more efficient and separate when it came to less routine lists for things like travel packing or Christmas cards. I also wanted an app for my phone (to do the actual checking off) which had a desktop application where I could set up the lists easily without having to thumb-create everything on my smartphone.  Enter: Wunderlist.
Wunderlist has more features than you can think of, many of which are overkill for my down-home lists, but for collaboration, reminders, and quick adds to lists via email and the web, they certainly have your needs covered.

image via wunderlist.com
Most importantly to me, though, is Wunderlist's syncability factor: Create it on your PC or Mac, read it on the web, your tablet, your phone, or your laptop.
Here's what a packing list looks like on my computer: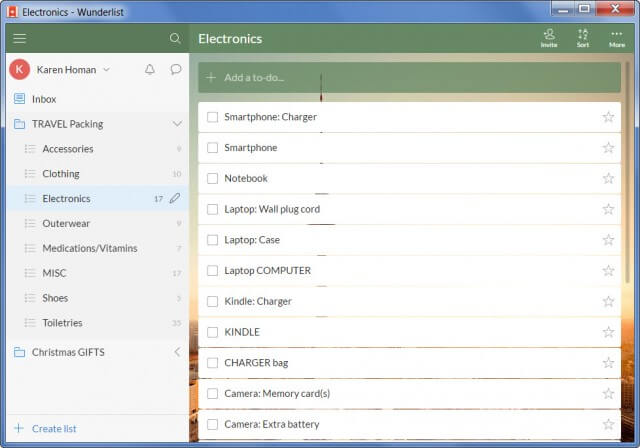 On the left (below) is what a packing list looks like on my phone with a big "+" sign in the corner for adding new To-Dos. Creating sub-folders is easy in Wunderlist and exactly what I wanted to do.
The image on the right shows a checklist ready for checking. Once checked, the items are hidden from view, but you can always retrieve the "completed" tasks to use over and over again. You can even "star" items for added importance.
Folks, there's a buncha list apps out there in app land; Wunderlist is free, has a desktop app and can be accessed pretty much anywhere. I always appreciate your suggestions for your favorite apps in comparison to mine, but for me and for now, Wunderlist is Wunderbar!