Of all the programs installed on all the computers across the world, I'd hazard a guess that the humble word processor would likely be among the most common and most often utilized applications. A word processor is, of course, an integral part of any full productivity suite and as such, not only available as part of the pricey Microsoft Office, but also in popular freeware alternatives such as OpenOffice and LibreOffice.
But what about those users who have no need for spreadsheets, presentation software, etc. which also come bundled with the suites? In those cases, downloading an entire 100+MB suite just to obtain a word processor seems a little overkill, that's where the stand-alone word processors come into their own… fortunately, there are several very good freeware offerings to choose from.
Here are two of the best:
AbiWord
AbiWord is a free, open source word processor available for both Linux and Windows supporting basic word processing features such as lists, indents and character formats, and more sophisticated features including tables, styles, page headers and footers, footnotes, templates, multiple views, page columns, spell checking, and grammar checking.
Download is 7.9MB, installation is 100% clean and devoid of toolbars or any bundling. During installation you will be asked to 'Choose Components' (or plug-ins) from a list; I'd suggest going through the list and making sure all your requirements are enabled: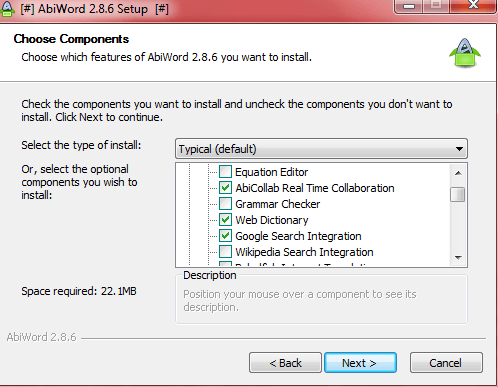 AbiWord's interface is generally similar to pre-Office 2007 versions of Microsoft Word so will be quite familiar to many: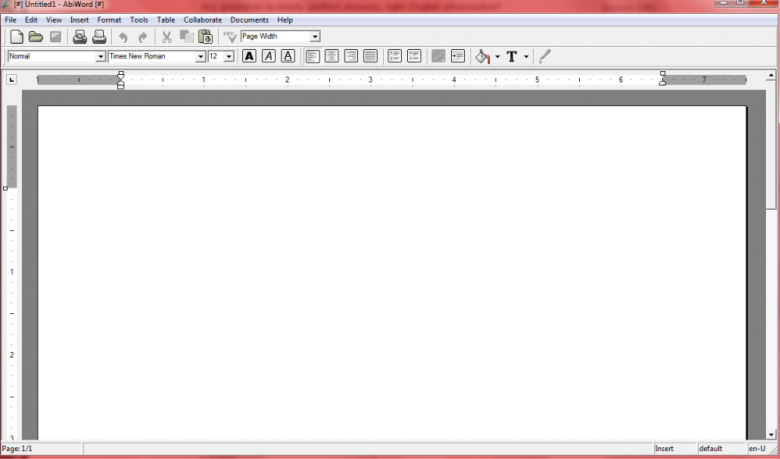 AbiWord includes all the features one generally requires in a word processor, including a great range of 'open' and 'save' formats – specifically, note the all important .doc (pre-2007 Word compatible) and .docx (latest Word compatible) formats, as well as options to save in the Outlook Express/Windows Mail .eml format:

Referencing is available via a right click context menu with links to an online encyclopedia, dictionary and good old Google search: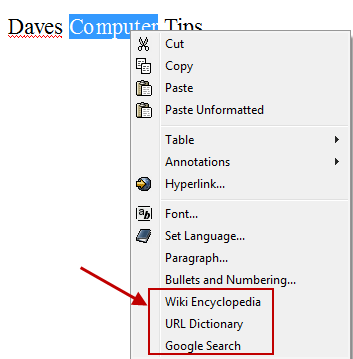 A great inclusion is the nice range of  templates pre-configured  to suit most purposes – (a word to she who must be obeyed… please note the 'Friendly-Letter' template :)):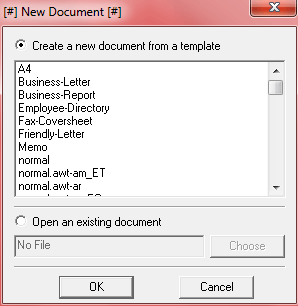 AbiWord includes so many useful features, far too many to enumerate. Here are several screenshots displaying a selection of menu items, just to help give you an idea… a picture is worth a thousand words:
AbiWord is an excellent freeware alternative which packs of lot of great features and functionality into such a comparatively small file size.
AbiWord HOME PAGE
Download from FreewareBB
Jarte
Jarte is a free word processor based on the native Windows WordPad processing engine but expanded to provide a very much enhanced feature set. Unlike many in the genre, Jarte does not follow the Microsoft Word model at all, its design being specifically based around a rather unique clean and simplistic look. In this respect, Jarte does take a little getting used to. Familiarization is not an onerous process however and once you get used to Jarte's minimalistic approach you can really appreciate the great balance of useful features and simplicity.
Jarte is a mere 2.9MB download, installation is 100% clean and free from toolbars or bundling of any kind. At first launch Jarte will present its 'Compact Layout' interface. There are three layouts to choose from, Compact, Classic and Minimal: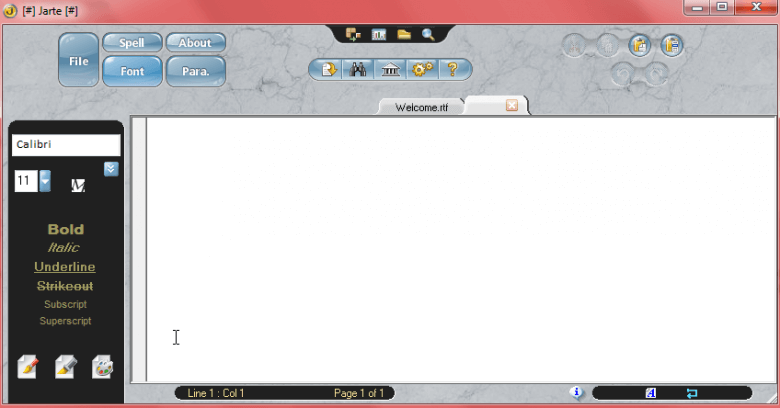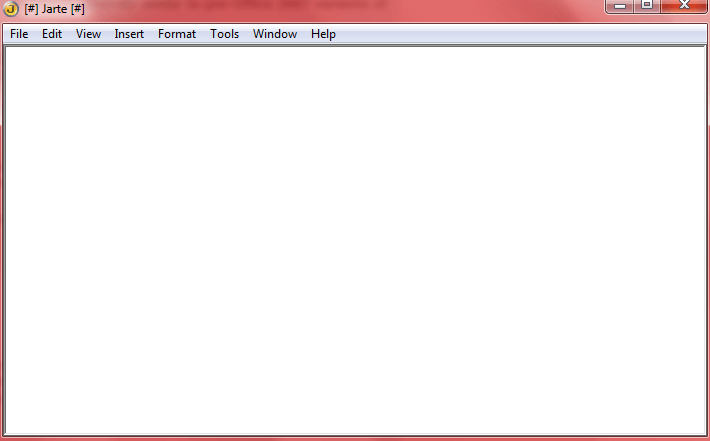 One of Jarte's most appreciated innovations among aficionados is the 'Clickless Operations' feature which, when enabled, provides access to menu items and options merely by hovering the mouse cursor over selections. There is a wealth of options in formatting; fonts, paragraphs, page, header and footer…  an outline function, indenting and outdenting, plus all the usual 'insert' options:
Jarte's referencing/lookup system is also right-click based ; simply highlight a word, right click and select Dictionary or Thesaurus to take you online. Or, directly to WordWeb via seamless integration if you happen to have that very good free dictionary/thesaurus installed.
Save formats are rather limited but the supported .rtf (Rick Text Format) is pretty much universally compatible… most word processors are able to read RTF. The all important .doc is available too, and the latest .docx Word format is also readable provided the Office Compatibility Pack from Microsoft is installed. There is also an option to export to PDF, which is a great addition:
Jarte retains details of items placed on the clipboard during each session for easy copy and paste access, and even includes a basic screen capture tool – all this and a portable version too! Just one minor negative; Jarte's Free edition does include a basic spell checker but the more advanced background spell checking (automatic spell checking as you type) is only available in the Plus version.
Jarte HOME PAGE
A comprehensive Help Page is directly available via the program's interface.
Download from FreewareBB
If your preference is for a light, bloat free, yet powerful word processor, Jarte will suit you just fine. If you are maybe looking for a more feature rich and familiar alternative, AbiWord might just be the one for you… either would represent a very good choice.