Storage Sense
There are many third-party utilities you can use to keep all those temporary files, log files, etc, from cluttering up your drive. Left to its own devices, Windows will happily create more and more cruft until you begin to notice that your drive isn't as big as you once thought it was.
Windows 10 comes with Storage Sense which is a bundled utility that will help you get a grip on the redundant and mostly useless number of files that can get in your way. This week's Quick Tips article will show you how to enable it and also some of its features.
Note: Windows has traditionally come with another utility called Disk CleanUp. This long-standing tool will soon be deprecated much the same as other utilities we have all come to know. Unlike Disk CleanUp, Storage Sense is an automated solution.
Another Note: These settings were tested on Windows 10 version 1803. Earlier versions may be different than what you see here. If you were brave enough to get version 1809, then there may be differences there, too.
How To Enable Storage Sense
Storage Sense is not enabled by default. To enable it, do the following:
Use the Windows Key + I to open Settings
Click System
In the screen that opens, click Storage in the left panel
That should bring you to a screen that looks similar to this: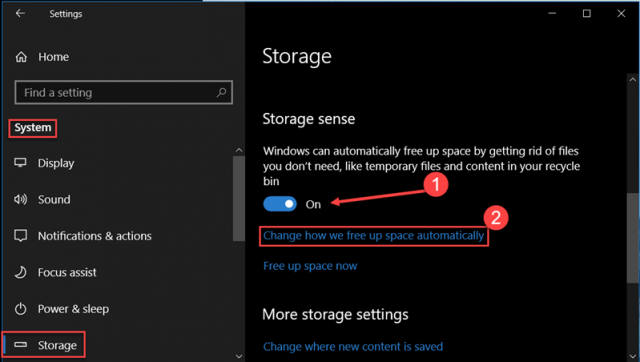 In the right panel, scroll down to the Storage sense section and toggle that switch to the On position. Next, click on the link labeled Change how we free up space automatically. That should bring you here: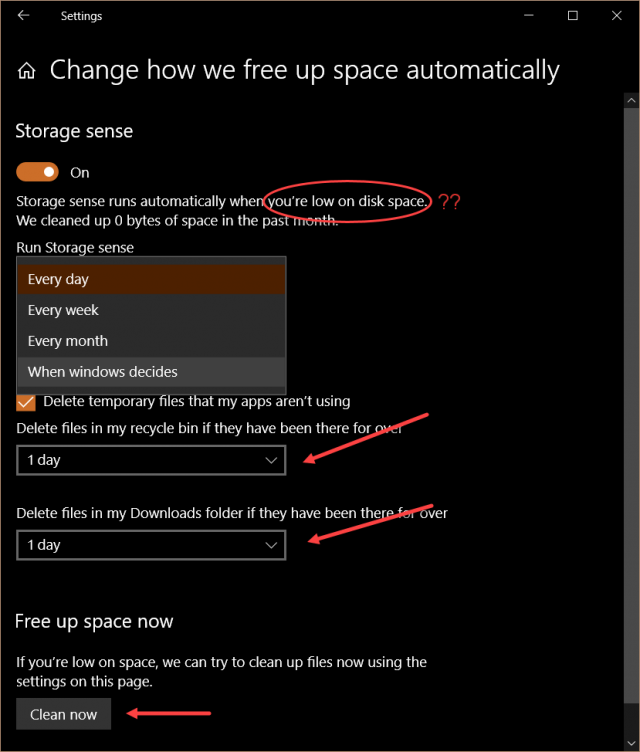 You will be presented with three drop-down menus: When to run Storage Sense, how often to clean Temporary files, and how often to clean out the Downloads folder.
I question the highlighted statement in the above image, however. My drive is never low on disk space (whatever that may mean to Windows), so will it never run? I don't know…
If you would like to clean things up right away, simply click the Clean now button and you're done.
As always, if you have any helpful suggestions, comments or questions, please share them with us,
Richard
—