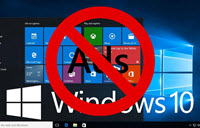 It used to be, in older times when we actually paid for our operating systems, that imposed advertising would not have been tolerated. Nowadays it has become the standard and regardless of whether we have to pay for our systems, the abusive advertising practices in our operating systems are generally regarded with loathing. And I'm not talking about the ads you see while visiting websites (that I can understand and empathize with), I am only talking about what you see without ever firing up your browser to surf the wilds of the internet. They stick 'em on the Start Menu, they stick 'em on the Lock Screen and they even stick 'em in the File Manager of all places. I'd like to tell 'em where they can stick 'em but it would be inadvisable to say it out loud on a family-friendly website. This week's Quick Tips article will show you how to turn most, if not all, of those advertisements off, once and for all (or at least until the next bi-annual update).
Note: I make it a habit to check all my Windows settings from time to time as Microsoft has the nasty habit of changing them back to a condition they think is better for me them.
Turning Off The Ads
I won't be able to show you screenshots of ads in any of the following items in this list because mine are all turned off. All I will be able to do is show you how to accomplish that same blessed condition which I enjoy.
Start Menu And Lock Screen
I combined these two because you can find the settings for each in the Personalization menu of the Settings App.
Use the Windows Key + I to open the Settings App
Choose Personalization
That should bring you here:
Click Start in the left panel.
Toggle the indicated switch to the Off position to get rid of those suggestions ads.
Now, click on Lock screen in the left panel:
In the right panel, scroll down a bit until you see the indicated switch and toggle it to the Off position so you don't get any more fun facts, tips, and more ads.
Taskbar And Action Center
These two are also combined because you can find them cozying up right next to each other in the Settings App.
While you are still in the Settings App, click the Home button at the top, then choose System on the Main Menu
In the left panel choose Notifications & actions
That should bring you here:
As indicated in the above image, if you want to stop experiencing the Windows welcome experience ads in the Taskbar, then toggle that switch to the Off position
If you want to stop getting tips, tricks and suggestions ads in the Action Center, then toggle this switch to the Off position
Ya gotta love these naming conventions. How clever!
File Explorer
Finally, we come to the File Explorer. Frankly, I have never seen ads in this program but that might have something to do with the fact that I never use it. In any case, for those of you who do use it and want to make it ad-free, here's how:
Run File Explorer
Click the down-arrow under Options in the Ribbon Menu
Choose Change folder and search options
In the window that opens, make sure the View tab is selected
Scroll down until you find the entry labeled Show sync provider notifications
Uncheck that box to stop the ads
Click OK
That's it! You have successfully turned off the ads in Windows 10. Every commercial enterprise on the planet will now hate you. You will, however, love yourself for taking the time to do this, I'm sure, and that is much more important.
Final Thoughts
None of us likes advertisements– with the possible exception of Super Bowl ads which can sometimes be quite entertaining. I can also understand why ads can be an important way of helping to support websites such as this one. But, and this is a big "but", imposing advertisements in our operating systems, right on our own computers, is a distasteful practice to me. Microsoft has even taken it a step further by installing unasked-for crapware on our computers, which has nothing at all to do with an operating system (Candy Crush comes to mind). I realize the whole point is to make money. That is, after all, what businesses do. But none of those reasons mitigate the in-your-face ads and Possibly Unwanted Software (PUS) placed on our personal computers. That's my humble opinion anyway.
As always, if you have any helpful suggestions, comments or questions, please share them with us,
Richard
—