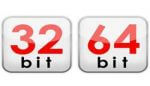 This will undoubtedly be the quickest Quick Tip in Windows 10 Quick Tips history. I always begin these little posts thinking they will be, well, quick. It doesn't always end up being that way because sometimes I get long-winded, or sometimes the subject matter simply demands more attention. This particular Quick Tips article will, indeed, be quick.
My son asked this question the other day and it occurred  to me that if he doesn't know, then other people may not know, either. So here is the very simple answer to this burning question…
32-bit or 64-bit– Which Windows System Are You Running?
You will have to bring up the System Properties Sheet for your computer and this can easily be done by using the Windows Key + X hotkey combination and choosing System from the Power Menu.
You will immediately be presented with the above window showing you, among other things, which system type your are running.
That's it! I told you it would be quick,
Richard
—