Pretty Photo is the latest offering from the Toolwiz team of developers and represents their initial foray into image editing software. With flagship products Toolwiz Care and Time Freeze enjoying wide popularity and universally favorable reviews,Toolwiz has quickly established a reputation for producing very good freeware.
There are so many free image editors already established and available I was actually a little surprised the Toolwiz team chose this area for their latest project. However, after checking Pretty Photo out, it's clear this software follows Toolwiz's usual model for innovation and features which stand it out from the crowd.
With Pretty Photo, Toolwiz has combined both image editor and photo collage creator into one free product, I know of no other freeware which offers that dual functionality. And Toolwiz has not skimped on features either, with an abundance of features and options available throughout. Pretty Photo presents an excellent range of professional editing elements as well as simple one click solutions for the less experienced (which includes me). It also provides lots of terrific annotation and 'special' effects options which are not generally present in this type of software. Here is an extract from the Pretty Photo HOME PAGE:
ToolWiz Pretty Photo not only comes with 70+ professional image (art) filters and thousands of objects, but also supports frequently used functions, such as Resize, Flip, Crop, Rotate, Layers, Shadow, Frame and so on. Recently, we also made photo collage easier. With 97 collage patterns for your selection and DIY pattern designer.

ToolWiz Pretty Photo makes it so easy for you to alter some image properties, like HUE, Saturation, Color Balance, Curves Tools, Levels, Brightness and Contrast. ToolWiz Pretty Photo also offers a collection of both standard and special objects to enrich your Pretty Photo editing experience. The standard objects include; Line, Text, Image, Rectangle, Ellipse, Arrow, Shapes, Pop Message, Symbols, etc.; whereas, the Special Objects presets (under Beautify) present a wide range of object selections to beautify your photos: Blushes, Eyebrows, Eye Shadows, Pupils, Eyelashes, Imperial Crowns, Spoofs, Wigs, Hats, Head Accessories, Necklaces, Glasses, Masks, Props, Mufflers, Pops and more.

The beautifying editing is powered by the following special features: Soft Focus, Color Paint, Mosasic Paint, Scrawl Paint, Image Warp, Skin Polish and Skin Color Change. If you still find these complicated, the best way to beautify your photos is to take full advantage of the 60+ art filers, including Gothem, Kelvin, Nashville, Toaster, Lomo, Polaroid, Sunshine Beach, Old Photo, Early Bird, Brannan, White and Black, Closer Black and White, Emboss, Mono Sketch, Pencil, Color Sketch, Color Processing, Rainbow, Night Film, Inkwell, X Pro II, Soft Love, Hard Love, Happy Tone, Color Emboss, Soft Elegance, HDR Normal, Diabolical, Cartoon, Semi Vintage Red, Missing Mile, In Front light, Foliage, Coffee, Apply Canvas, InFection, PolkaDot, Frost Bite & Regressive Noise
And guess what? Yep, Pretty Photo has a portable version available too!!
No prizes for guessing which version I opted for. As you can see, download is a healthy 58.1MB. Simply double click the single executable to run Pretty Photo.
The first screen simply offers the choice of opening either the editor or collage maker, just click on whichever option you require:

Pretty My Photo obviously opens the editor interface: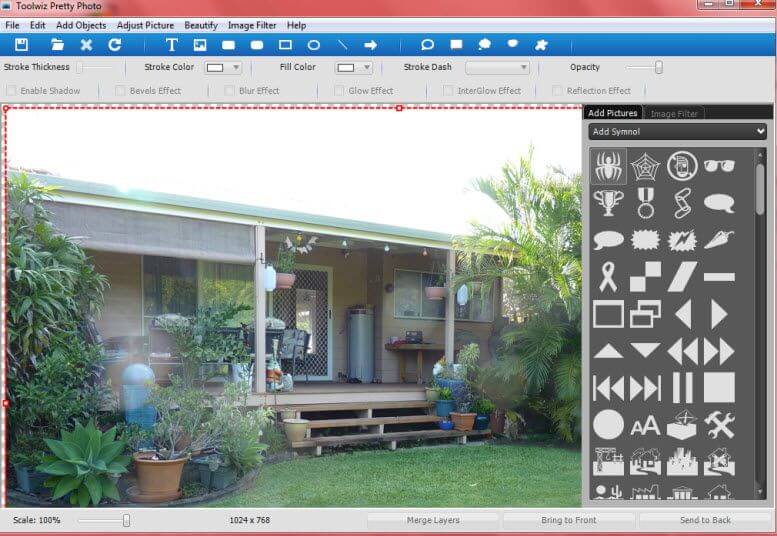 It's very easy to identify and access the various features and options. Here are some screenshots of options available from items included across the main menu:
Adjust Picture                                                Beautify                                                 Image Filter
At the right of the interface is a panel where you can choose from a huge range of objects which can be added into an image. Each object can easily be resized to suit, and placement is very accurate via simple drag and drop. Here are screenshots of just a few available categories:
There are also more than 60 common art filters available via a simple click and apply method: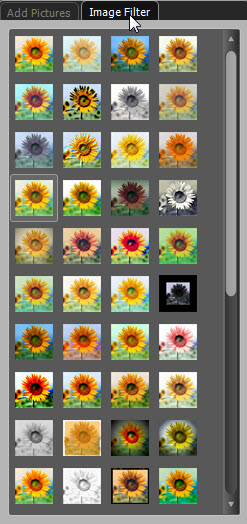 **The above screenshots show just a small sample – note the scroll bar on the right indicating many more available.
Selecting Collage My Photos will open the collage creator interface: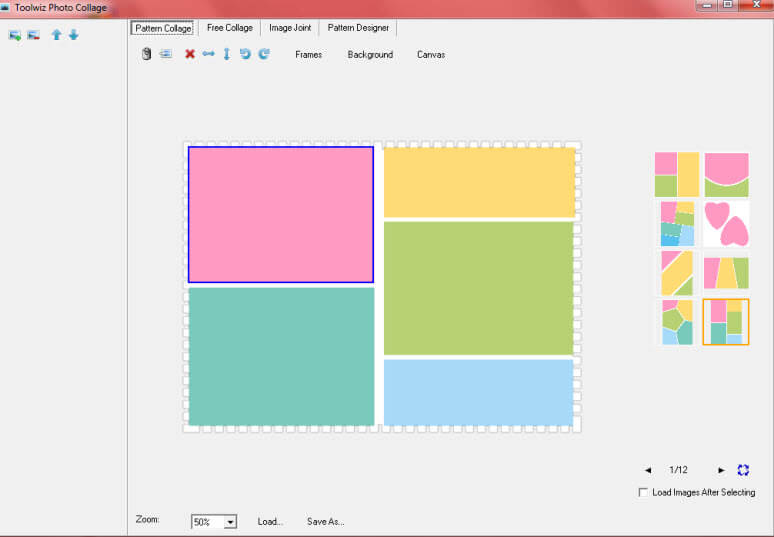 Plenty of pre-defined templates to choose from (96 in all) plus a DIY option under "Free Collage". Or design your own pattern with "Pattern Designer".
I'm not going to pretend I know anything about collage creation tools, because frankly I don't. This one, however, appears to include pretty much everything I'd imagine would be required. Some of you 'collage experts' out there might like to offer advice on that one via the comments… it would be appreciated.
Despite my unfortunate lack of expertise in the collage department, and even though I already have a couple of simple image editors on hand, I reckon Pretty Photo is a definite keeper, it offers plenty of additional features, above and beyond normal expectations, especially for freeware. The duality is a great concept, both in terms of functionality and a feature set which caters for experts and beginners alike. Did I mention there's a portable version available too!! 🙂