This is part 3 of a 4 part series evaluating and comparing 3 alternative cleaning suites. The three products are SlimCleaner, Toolwiz Care and Wise Disk Cleaner: Part 1: SlimCleaner — Part 2: Toolwiz Care — Part 4: Conclusion
Third and final product for testing is Wise Disk Cleaner and this is also the one which has impressed me the least. Installation includes two aspects worthy of a cautionary note, one at the beginning and another at the end. First up is an option to install the Ask Toolbar which is enabled by default. So make sure to uncheck that box before clicking the "Next" button:
Then, at the end of the process, is an option to download Wise Registry Cleaner, also enabled by default. So, if you do not wish to download the extra software, make sure to uncheck that box also: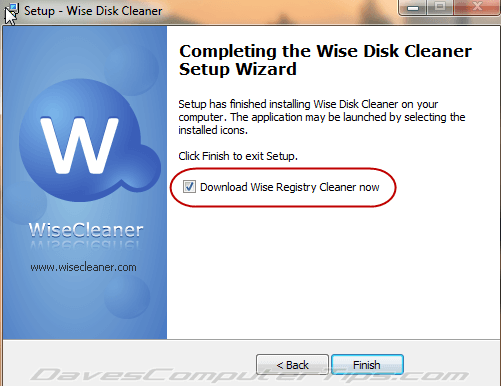 Wise Disk Cleaner opens to a rather plain interface devoid of the usual sections and sub-menus. The scarcity of features and options pretty much reflects the software – basic!!
Common Cleaner provides access to the software's primary function, displaying the various elements set for cleaning. Each section can easily be expanded to show an exact list of areas which are selected by default, plus a few extra options which can be enabled at the users discretion: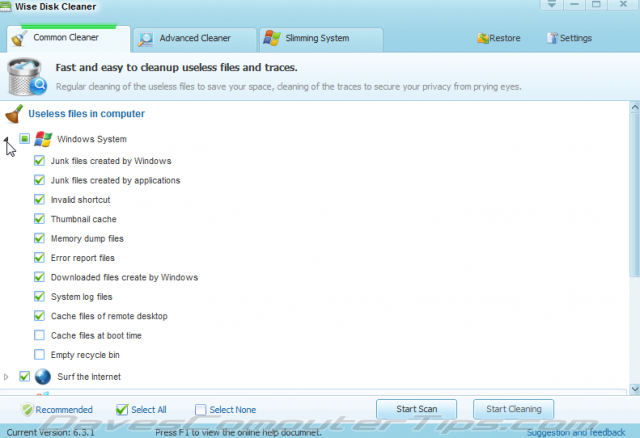 Advanced Cleaner allows users to search by file extension for further cleaning…"This section provides more settings to find more useless files and free more space":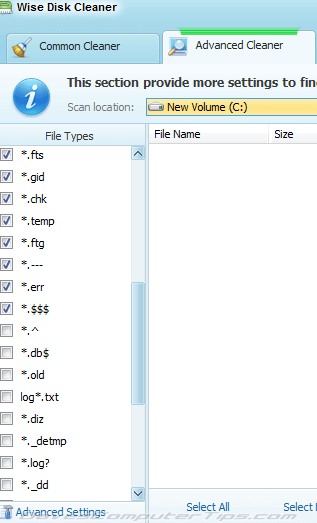 Slimming System opens up an advisory listing details of files which can be deleted to create more disk space. In these days of  large capacity hard drives this feature would seem a tad redundant, I guess it may be appreciated by those with older computers and smaller drives:
Restore provides nothing more than quick access to system restore points which have already been created. There is no built-in method available to create restore points but you can delete selected restore points from here:
Settings includes nothing out of the ordinary with one notable exception: under the General section is an option to "Auto Get Newsletter" which is enabled by default. Anyone who does not wish to be bothered with newsletters (AKA ads) should uncheck that box: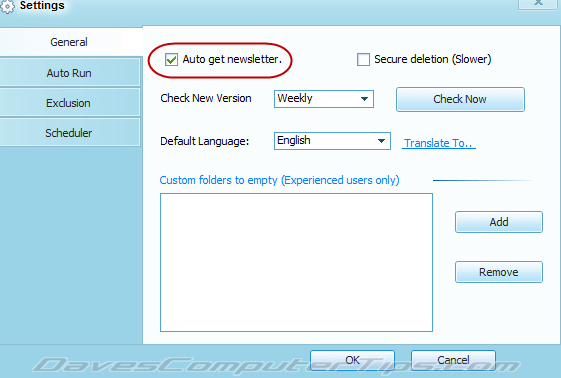 Testing Wise Disk Cleaner has been a disappointing experience although, due to the lack of features, tools, optimization, etc., it has also been a pretty quick one. And it doesn't get much better when comparing the primary function with our benchmark software CCleaner: again with both products scanning in 'Analysis' mode, no actual cleaning performed, and neither changed from default settings:

As you can see from the highlighted numbers, unlike SlimCleaner and Toolwiz Care, the differential is very marginal, bordering on inconsequential. Considering the lack of tools and features in Wise Disk Cleaner plus almost identical performance levels I cannot see how Wise Disk Cleaner challenges CCleaner in any way, shape or form – and especially seeing Wise Disk Cleaner also involves several minor annoyances.
Wise Disk Cleaner HOME PAGE
Download from FreewareBB HERE
Next week – the summing up. A final comparison of features and cleaning abilities between all four contenders; SlimCleaner, Toolwiz Care, Wise Disk Cleaner and, of course, our benchmark CCleaner.