Winners Announced!
[message type="info"]
This contest has now expired. Winners will be notified by eMail
Jaff Husin
Robert Furlong
Debnat Son
Frank Mohnhaupt
Karsten Andersen
Yury Kuzmin
Mieczyslaw Szustakowski
Shawn Irfan
David Millan
Robyn Bellefleur
Congratulations to the Winners and Thank You to everyone who participated!
[/message]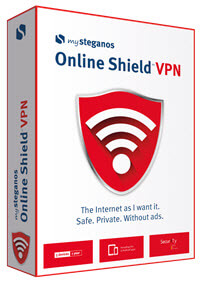 Steganos Online Shield VPN
Steganos has generously offered our readers a chance to win one of ten licenses for their Online Shield VPN software in this giveaway contest. Each of these licenses is good for one year from the time of installation and can be used concurrently on up to five devices. These licenses are currently priced at $49.95 (US) for a one-year subscription. Steganos also offers a free trial period so you can try before you buy. Or, by entering this contest you stand a chance of winning a copy for free!
"A VPN is a virtual private network in which your data is securely transferred. If you use VPN software, you will not connect directly to the Internet as usual.
First, you connect to the VPN provider in encrypted form, which in turn is forwarding you to the Internet. Your data will be anonymized:
Because your connection request is made via a server of the VPN provider (node), you will be assigned a new IP address. This protects your real IP address, which serves as a distinctive feature of your device – so your Internet request cannot be traced back. The virtual private network makes your computer invisible."  ~ Steganos
This giveaway contest has ended.
Installation
Installation is relatively straightforward. You don't have to worry about having unwanted software installed. You will, however, have to set up an account with Steganos in order to use this program. As with most other internet accounts, this involves nothing more than an email address and password.
Usability
Online Shield VPN is extremely simple to set up to your liking. The Main window provides five on/off settings plus a generous choice of countries, an icon that will take you to the Settings menu, and an easy way to get information about your product license. It looks like this:
I have the Ad blocking and Cookie settings disabled because I am a control freak– I don't want all cookies removed and I don't want all sites to have their ads blocked (DCT comes to mind).
Note: Online Shield does offer an option to exclude cookies of your choice from being removed.
I do like having my connection encrypted, blocking tracking sites like Facebook and Twitter, and anonymizing my browser. Google, it has been said, will slow down or otherwise "cripple" non-Google browsers (Edge) on some of their sites. Dirty shenanigans if true.
If you choose the Settings icon, it will take you here: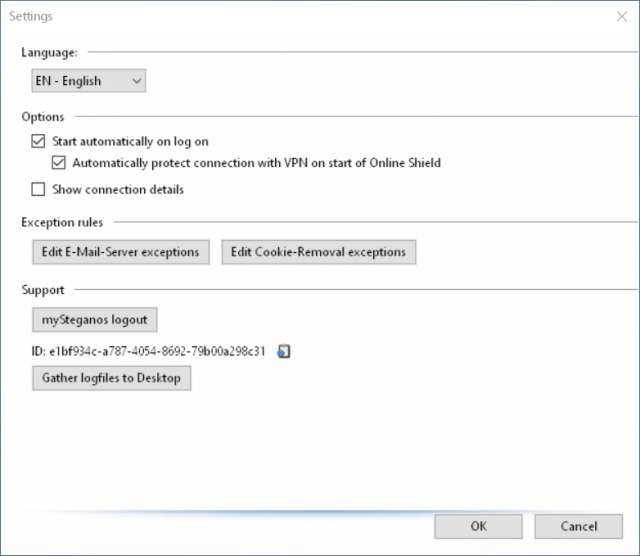 That's about it and this is as easy as it can get.
Conclusions ?
I have tried several VPN programs over the years and I must say that Steganos Online Shield is one of the easiest to use and understand. I can highly recommend this program for its intuitive interface, online help system, and ease of use.
Note: If you use Heimdal Security then due to the way this software works, Heimdal will no longer be able to filter the sites you visit. This conflict is not limited to Online Shield but is problematic with other VPN providers, as well. There are workarounds in some cases.

How To Enter The Contest
We'd appreciate it if you'd take a moment and submit a comment telling us why you'd like to win Steganos Online Shield VPN. However, submitting a comment is not required to enter this contest and will have no bearing on your chances.
For your chance to win, simply enter your name and a valid email address in the spaces provided below, then click Enter Contest. After your entry is accepted you will be presented with options to share the contest on Twitter and/or Facebook. For each person who enters the contest as a result of your share, you will earn two (2) extra entries!
Sharing the contest on social media is completely voluntary, but is encouraged.
Competition Rules:
To enter, simply submit your name and a Valid email address. Your address will not be shared outside of this site


You must submit a VALID email address. We need to contact the Winner, so disposable email addresses will not be eligible

Additional entries may be earned by voluntarily sharing on Facebook and/or Twitter

Shortly after the contest ends, the winner(s) will be chosen at random

Winner(s) names will be posted on this giveaway page. Please check back here to see the winner(s) name announcement!
The winner(s) will be notified by email at the email address used to enter the contest – be sure to use a valid email address that you check regularly
Winner(s) must claim their license within five (5) days. After the five (5) day period, unclaimed prizes will be distributed at DCT's sole discretion

Entrants agree to allow DCT to communicate with them via email using the address provided by the entrant when entering the contest
[contesthopper contest="91950″]
Good luck to everyone!!
—