"Telemetry is an automated communications process by which measurements are made and other data collected at remote or inaccessible points and transmitted to receiving equipment for monitoring" ~ Wikipedia

A lot has been written about privacy issues in Windows 10, which, to some extent, have also now been introduced into previous Windows versions. And, in the face of public outcry, quite a few developers have seized the opportunity to produce telemetry blocking software.
Personally, I see a molehill where many apparently see a mountain. Most of the tracking and data collection can be turned off in Windows 10, simply and easily, if not required. However, I do appreciate and respect users' concerns over Microsoft's elevated telemetry activities.
I've checked out a few of the free anti-telemetry offerings as they've appeared but haven't really come across one I was completely satisfied with… until now.
Spybot Anti-Beacon
"Spybot Anti-Beacon is a standalone tool which was designed to block and stop the various tracking (telemetry) issues present in Windows 10. It has since been modified to block similar tracking functionality in Windows 7, Windows 8 and Windows 8.1 operating systems."
If you are looking for a telemetry blocking software there are several reasons I would recommend Spybot Anti-Beacon:
First and foremost, it is simplicity personified
Secondly, it comes from the Spybot team who have a long and distinguished history with security software (dating back to the early 2000s)
Thirdly, a portable version is available
The portable version is a 1.6MB download. Simply run the downloaded executable and choose a location – USB flash drive, external drive, or simply to the default location which is the same location as your downloaded file (usually the Downloads folder).
*A scan through Virus Total reveals one red flag coming from Baidu. Seeing how the other 54 antivirus engines all give it a clean bill of health, plus considering the source of the file, I think it's pretty safe to assume that this would be a false positive: Virus Total Scan Results
As I said earlier, the program is extremely easy to use. Simply click the Immunize button at the bottom of the interface and… all done!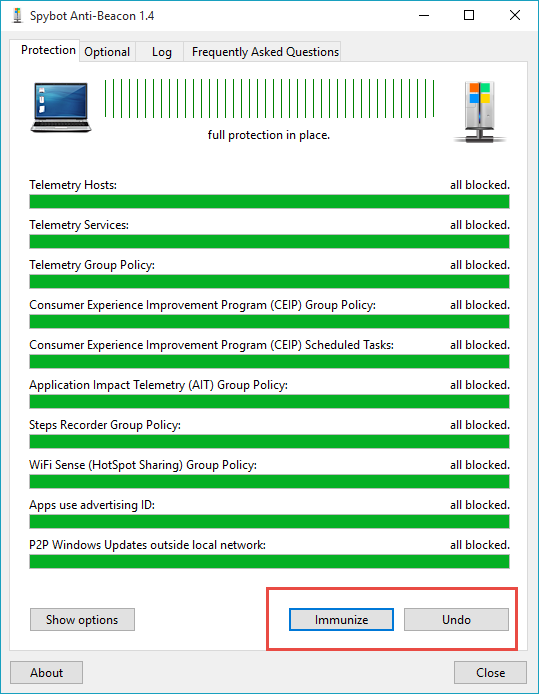 Any time you wish to undo the telemetry blocking, simply run the software and click on the… um, well… Undo button.
You can also open the Optional tab to access more settings: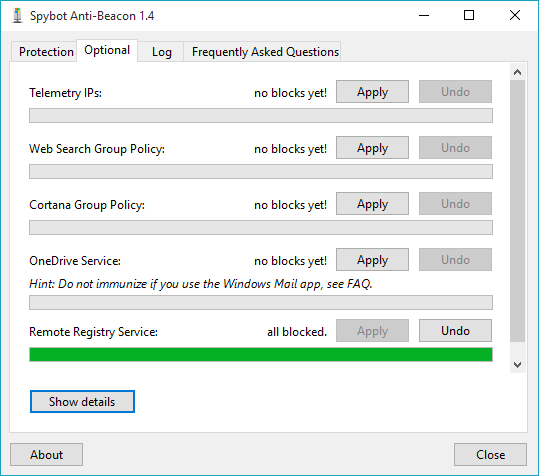 And a FAQ tab reveals some interesting information regarding the software and its development: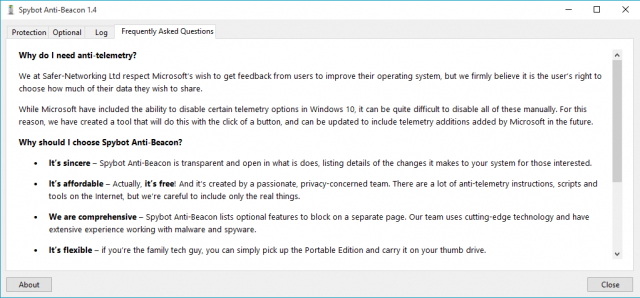 I'm obviously unable to fully test the effectiveness of the software's telemetry blocking capabilities but, coming from Spybot, I think it's fair to assume that it would work as advertised.
**IMPORTANT FOOTNOTE: Please be aware that this type of telemetry blocking software can seriously impede functions required for some apps to work properly, or even work at all. If you are into apps and the mobile scene in general, I would advise caution.