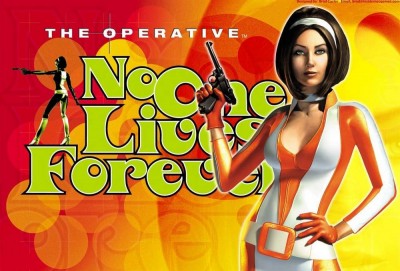 Developer: Monolith Productions
Publisher: Fox Interactive
Date released: November 2000
Some games are so memorable that they never really go away and this game is one of those.
Fondly remembered for all the right reasons, NOLF is a masterpiece of the spoof spy genre; think Austin Powers meets The Avengers and you get the idea.
Our heroine, super sexy Cate Archer is an operative working for UNITY, an international anti-terrorist group bent on thwarting the dastardly efforts of H.A.R.M to disrupt world peace and whose mission is to arrange for the defection of a prominent East German biophysicist that goes by the name of Otto Dentz. However things go wrong when H.A.R.M abducts Dentz during a flight to England.
The game itself is a first person shooter with a prominent element of stealth. Many of Cate's gadgets are handy spy tools disguised as essential items a lady might find in her purse, such as a powder puff or compact, in which of course she is trained at UNITY headquarters.
NOLF is fondly remembered more for its wry, humorous dialogue, it's wonderful 60's spy music and slapstick humour than being a shooter and it's a tribute to superb game design and writing that it's still played today.
Some of my favourite quotes from the game:
[In a bar]
4th Contact: You are the most beautiful girl I have ever seen. Can you cook and clean too?
Cate Archer: No, but I can put you in the hospital if you want. Maybe you can find someone to take care of you there, maybe
[Standing in the street]
1st Contact: Guten Abend Fraulein, do you make love to strangers?
Cate Archer: Certainly not!
Contact: Then allow me to introduce myself.
Cate Archer: Why not introduce yourself to a police officer and spare me the trouble?
NOLF is missing?
In a twist that could easily have been a plot from NOLF, the intellectual property rights for the No One Lives Forever are said to have gone missing during the numerous buy outs and takeovers with the main publishers and designers of the game over the intervening years since 2000.
As of May 2014, fans breathed a collective sigh of relief when H.A.R.M issued a statement through their dastardly proxy Volkov, denying any responsibility and pointed the finger at Night Dive Studios, a publisher specialising in re-releasing classic video games.
More questions than answers then, but since Night Dive Studios who are responsible for bringing back System Shock 2 and others, have recently filed a patent for all three NOLF games in the series, it's a safe bet to feel tingly all over in the hope of a digital release.
Currently, there are no known sales outlets for the game and many rely on picking up original CD's in thrift shops or borrowing from other sources, so to whet your appetite, here's some top Spy music from NOLF to get you in the mood:
[youtube]http://youtu.be/2t2YJIfSdXM[/youtube]