Have you ever accidentally deleted a file or changed a file and then inadvertently 'saved' the alterations?
Windows 7 provides a "Restore previous version" option to help us overcome such eventualities. The 'Previous Versions' feature is part of the volume shadow copy service, which is also utilized to create restore points and image based backups in Windows 7.
NOTE: For this to be available, System Protection must be turned on for the drive on which the files/folders are stored.
It is very easy to access older versions of files and folders…simply right click on a file or folder you wish to restore and select "Restore previous versions". For instance, if you accidentally deleted a file from a folder in 'Documents', browse to that folder and open previous versions from it:
After clicking on the 'Restore previous versions' option you will then see a screen which displays details of all available copies for this folder: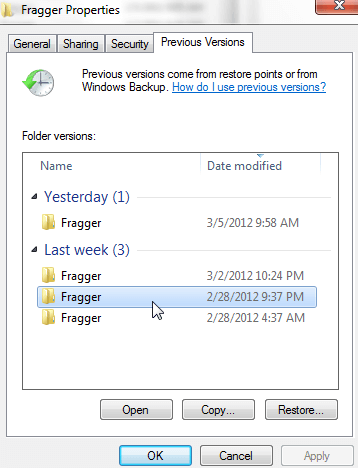 Click on the version you wish to restore from and you can:
Click on the Restore button to restore the full contents of the folder as it appeared at that time. NOTE: This will replace the current version of the folder and cannot be undone.
Select Copy to copy the full contents to another location.
Or choose Open to browse the contents of the folder. You can open, copy, or do anything you wish from here; e.g. if you accidentally deleted a file, you can copy and paste that file back into the current folder.
If you accidentally deleted a single file or entire folder from one of the root folders you may still be able to restore it:
1) Go to Start>Computer, right click on the entry for the drive and select "Restore previous versions".
2) In the new window; double click on a version dated before the file/folder was deleted.
3) Navigate to the location which contains the original copy of the file/folder.
4) Drag and drop the required file/folder to another location; such as the desktop, another folder or back to the current root folder.
The even better news is, this very useful feature is available in all editions of Windows 7.