Update: March 4 — A second eMail has been sent to the winners. Apparently some were not received the first time around.
Update: March 5 — A third round of eMail was sent to the winners due to problems with my eMail server. Apologies all 'round.
Winners Announced!
[message type="info"]
This contest has now expired. Winners will be notified by eMail.
Dhruv Gupta
Bill Bemsin
Kenneth Wolf
Radko Dimov
David Hakah
Congratulations to the Winners and Thank You to everyone who participated!
[/message]
NXPowerLite Desktop Edition 7
NeuxPower has graciously offered each of our DCT readers a chance to win one of five licenses for their NXPowerLite Desktop 7 software in this giveaway contest. Each license is currently valued at $47.00 (US). Here is a brief description:
"PDF and Microsoft Office files often contain lots of high-resolution images, and background data not required for normal use of the file. NXPowerLite removes this data and excess bytes from internal graphics and standalone JPEGs to radically reduce files to their smallest size – without compromising quality. Optimized files stay in the same format, so a JPG remains a JPG even when optimized. It will look and feel identical to the original, just much smaller."
They also offer a 14-day trial version so you can try-before-you-buy.
Installation
Installation is as simple as it gets; download it, install it, and run it. There are no bloated extras to worry about. This is always a blessing.
System Requirements
This is easy, too. If you are running any Windows version of XP (with SP3), or later, this program will run on it. This includes just about anything you would be using in today's world.
Features
Compress PDF, Microsoft Office and JPEG files by up to 95%
No visible loss of quality between the original and compressed file
Files keep the same format and functionality
Perfect for avoiding bounce-back when sending email attachments
Handy productivity integration for Windows Explorer and Microsoft Outlook
Using The Program And The Results
When I first heard about NXPowerLite I have to admit that I was skeptical. Typically, when compression programs are used at the source, it is necessary for the receiving party to have the same software to de-compress the files in order to use them. That is not how NXPowerLite works. NXPowerLite compresses the file(s) at the source, but does not change their format. This means that if you compress a JPG file on your computer, the recipient receives a JPG file, and they need no special software to view it.
Ease Of Use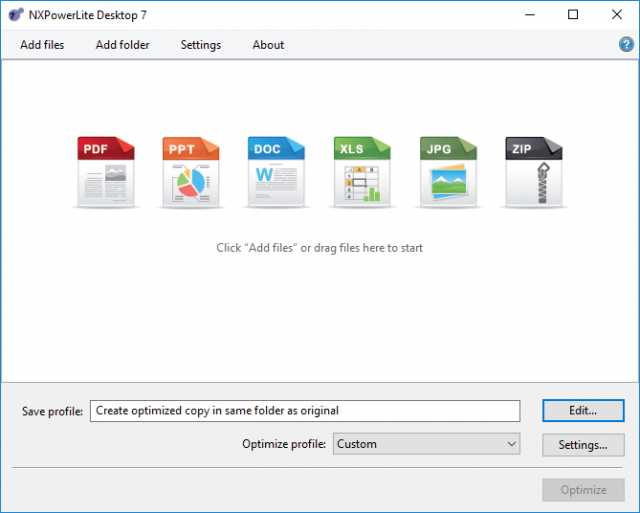 Using NXPowerLite couldn't be more intuitive. Either drag your file(s) onto the main screen (shown above), or click the Add Files button in the menu. So, I did that. I dragged a few files over and had NXPowerLite do its stuff.
Results
I hear all sorts of claims by various companies bragging about how they can make huge files small. Some of them can, but many are mere marketing taunts to get you to buy their product. Again, not so with NXPowerLite. The compression ratios are beyond anything I have ever seen in all my years of doing this type of work. "Incredible" is the word that comes to mind. Here are a couple examples based on some test runs:
Group of 10 JPG files:
Compressed with 7Zip at Ultra settings: 6.1 GB
Compressed with NXPowerLite: 3.1 GB
Group of 4 PDF files:
Compressed with 7Zip at Ultra settings: 272.8 GB
Compressed with NXPowerLite: 104.2 GB
Note: I ran these simple tests quite some time ago and did not have the foresight to take note of the original file sizes, nor did I mark down the times it took for the operations to complete. I now wish I had done that.
These results are nothing short of amazing. I am impressed. Here is an image from NeuxPower that should offer more insight into what this program is capable of: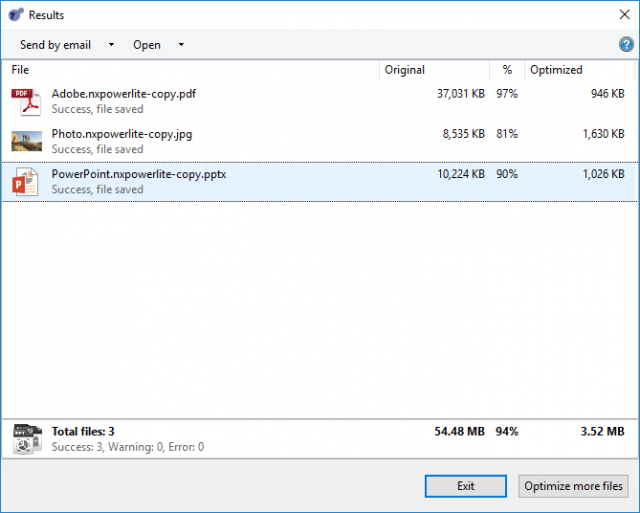 I still can't get over it, to be honest. If I hadn't tried it out for myself, I'd still be crying, "Oh, pshaw!"
Conclusions ?
I have nothing but good things to say about NXPowerLite. It is fast and the compression levels are mind-boggling. If you happen to be one of those people who sends a lot of files up and down the internet highway, then smaller is better, and NXPowerLite is the right tool for the job. I can, without reservation, wholeheartedly recommend this product.
How To Enter The Contest
We'd appreciate it if you'd take a moment and submit a comment telling us why you'd like to win NXPowerLite Desktop 7. However, submitting a comment is not required to enter this contest and will have no bearing on your chances.
For your chance to win, simply enter your name and valid eMail address in the spaces provided below, then click Enter Contest. After your entry is accepted you will be presented with options to share the contest on Twitter and/or Facebook. For each person who enters the contest as a result of your share you will earn two (2) extra entries!
Sharing the contest on social media is completely voluntary, but is encouraged.
Competition Rules:
To enter, simply submit your name and a Valid eMail address. Your address will not be shared outside this site


You must submit a VALID eMail address. We need to contact the Winner, so disposable eMail addresses will not be eligible

Additional entries may be earned by voluntarily sharing on Facebook and/or on Twitter

Shortly after the contest ends, the winner(s) will be chosen at random

Winner(s) names will be posted on this giveaway page. Please check back here to see the winner(s) name announcement!
The winner(s) will be notified by eMail at the eMail address used to enter the contest – be sure to use a valid eMail address that you check regularly
Winner(s) must claim their license within five (5) days. After the five (5) day period, unclaimed prizes will be distributed at DCT's sole discretion

Entrants agree to allow DCT to communicate with them via eMail using the address provided by the entrant when entering the contest
[contesthopper contest="77183″]
Good luck to everyone!
—