Kingsoft Office Suite has been around for some time now but has always been available only as shareware. This latest 2012 version however has been released as Freeware, which is good news indeed. The freeware ranks are not exactly over endowed with office suites, and even better news is that this one is a truly excellent alternative.
Kingsoft Office Suite Free 2012 incorporates all essential elements; Word Processor, Spreadsheet and Presentation. The suite is feature rich and fully [bilaterally] compatible with Microsoft Office; opening, reading and editing.
Additional features include:
Built-in PDF Converter
Multiple document tabs
Document encryption
Easily share files via email (built-in)
Automatic spell checker
Now for some more good news; the download for Kingsoft Office Suite Free 2012 weighs in at a comparatively light 68.3MB.
UPDATE: Several reliable sources are reporting that the Kingsoft software expires after 1 year. We have contacted the company requesting clarification and will appraise you of the situation as soon as a response is to hand.
Final Update (posted 24th September): After communicating back and forth with Kingsoft Support we finally received notification that an official explanation has now been posted on their site: HERE.
Following Kingsoft's publication of the statement I downloaded, installed and ran the software…all good. I then put my system clock forward one year and again tried to run the software. It would not open and I received this popup message: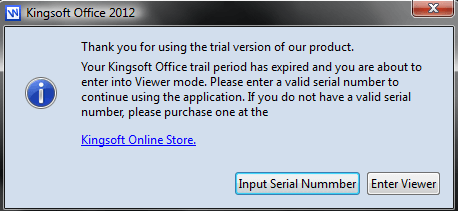 Note the references to "trial", and the last line: "If you do not have a valid serial number, please purchase one at the…"
So, this has not changed in the slightest and we believe it entirely contradicts Kingsoft's statement.
I also went through the EULA and bring the following extracts to your attention:
Kingsoft reserves the rights to replace, revise and upgrade the "Product", as well as the rights to charge fees for such replaced, revised and/or upgraded edition of the "Product"
Kingsoft is entitled to terminate the EULA at any time, if any terms or conditions in the EULA are violated.  Upon the termination, you shall destroy or return to Kingsoft all the copies and all the associated documents and printed materials of the "Product".
Kingsoft has the right to amend the policies on the "Product" by a 15-natural-day prior notice on the official website (

www.kingsoftstore.com <http://www.kingsoftstore.com>

), including but not limited to functional deletion, set of usage time, license termination, etc…
On the strength of all the evidence, Daves Computer Tips does not support nor recommend this software.