I am not a smartphone or tablet user myself but that  doesn't mean I don't follow the development of these devices and associated trends. I was interested to see that, as far as market share is concerned, the well respected NetMarketShare has the two mobile operating systems pretty much neck and neck as at the end of June this year.
What's interesting is that the two combatants began 2014 with iOS holding a quite substantial advantage over its rival. Here is a month by month break down of market share for the first half of this year:

As you can see, iOS started off 2014 with a handsome 18.86% lead but that has now been cut to a mere 1.86%, which represents a whopping 17.00% turnaround in just 6 months.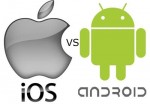 Of course, the iPhone and iPad stand alone against a plethora of similar Android devices, including large numbers of lower quality knock offs, so even for Apple to be sharing the market share near enough to 50/50 with Android is quite an achievement. Still, the quickly receding differential should be enough to give Apple executives pause.
It appears another day in computer and technology history may be just around the corner as Android draws ever closer to surpassing iOS's market share and taking over as top dog… certainly one to keep an eye on.
My wife actually owns both Apple devices, a 3rd generation iPad as well as an iPhone 4S and I must say, both are high quality products. If I were to take the mobile route though, I'm pretty sure I'd choose to go with Android. Even though big brother Google is involved, I much prefer the more open and free eco-system to Apple's more closed and proprietary one.
Which do you prefer and why?