SlipStreaming? What the heck is that?
Deciding whether you want to slipstream Windows 7 depends on if you know what slipstreaming is. In this article I'll tell you about slipstreaming and how to slipstream Windows 7, the Service Pack 1 update, and the most recent updates since SP1 was published.
Slipstreaming is a great concept and a very useful timesaver. Basically, what it involves is combining the original Windows 7 installation with the following Service Pack 1 and all the security updates that have followed since your original installation. Imagine that!
Next time you decide to do a complete clean install of Windows 7 you won't have to plug in your SP1 disc nor will you have to wait for umpteen megabytes of downloads to get your Windows system up to date.
The last time I did a clean installation of Windows 7 it took a very long time. Not so much for the installation itself but the biggest burden is all those Updates that have happened in the interim. Last count it was over 100 for me! That took an inordinate amount of time to download, not to mention all the re-boots that were necessary to complete their installation.
Slipstreaming is a way of combining all those things into one single fat installation that ultimately takes care of all of the above in one fell swoop. Cool!
Installing Windows 7, again…
Around here, re-installing Windows is a common thing. I install a lot of different software for reviews, personal curiosity, and testing purposes. This activity leads to a cluttered and possibly infected Windows installation but most certainly a cluttered and inefficient computer. That is where this SlipStream Windows 7  article comes in.
What you will need
In order to perform this magic you will need a couple of things. Get these ready before you start.
A blank DVD
Your original Windows 7 installation disc
You'll need Windows 7 installed
RTSe7enLite – this is the utility you will have to download and Run; here's the link: http://www.rt7lite.com/downloads.html
Important Note: The following instructions will not work with Build 1.7.0. You must scroll down the page at the above link to find the Beta Build 2.6.0 and get the 32-bit or 64-bit version– whichever is appropriate for your Windows operating system.
This is what you will be looking for: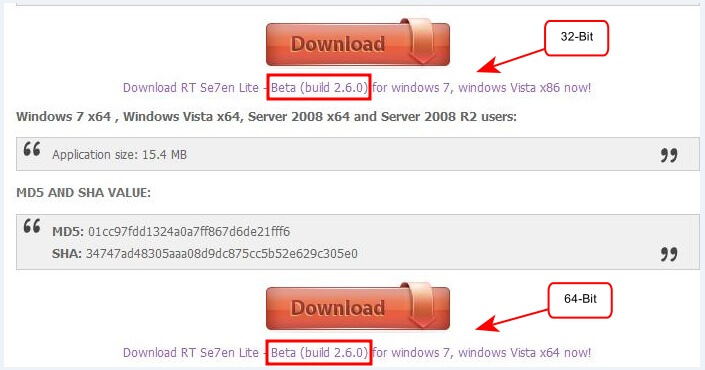 A little bit (or a lot) of time– say roughly an hour or two or three (this depends on your computer's capabilities and how much you plan to combine in your slipstream)
Slipstreaming Windows and Service Pack 1 (SP1)
When I slipstream Windows I like to copy everything over to my hard drives first. It makes things go much faster and it gives me complete control of the source and destination files locations.
Here is what I suggest:
Choose a hard drive with lots of elbow room. I needed over 20GB before the task was completed.
Create a Work folder on the drive of your choice
Create a sub-folder beneath that called Win7 or anything descriptive
Create another sub-folder beneath the Work folder called SP1
Create another sub-folder called Temp– this will be for the temporary files RT Seven Lite produces during processing
Copy your original Windows 7 DVD to the Win7 folder
Copy the SP1 disc to the SP1 folder; if you have an ISO file you may use it here instead
If you do not have an SP1 DVD or ISO file you may download one at this link: http://www.mydigitallife.info/official-windows-7-sp1-iso-from-digital-river/
Note: With the exception of having an SP1 DVD or ISO, the above steps are not essential but I believe it will make this exercise a bit easier in the long run. The choice is yours.
Install and Run RTSe7enLite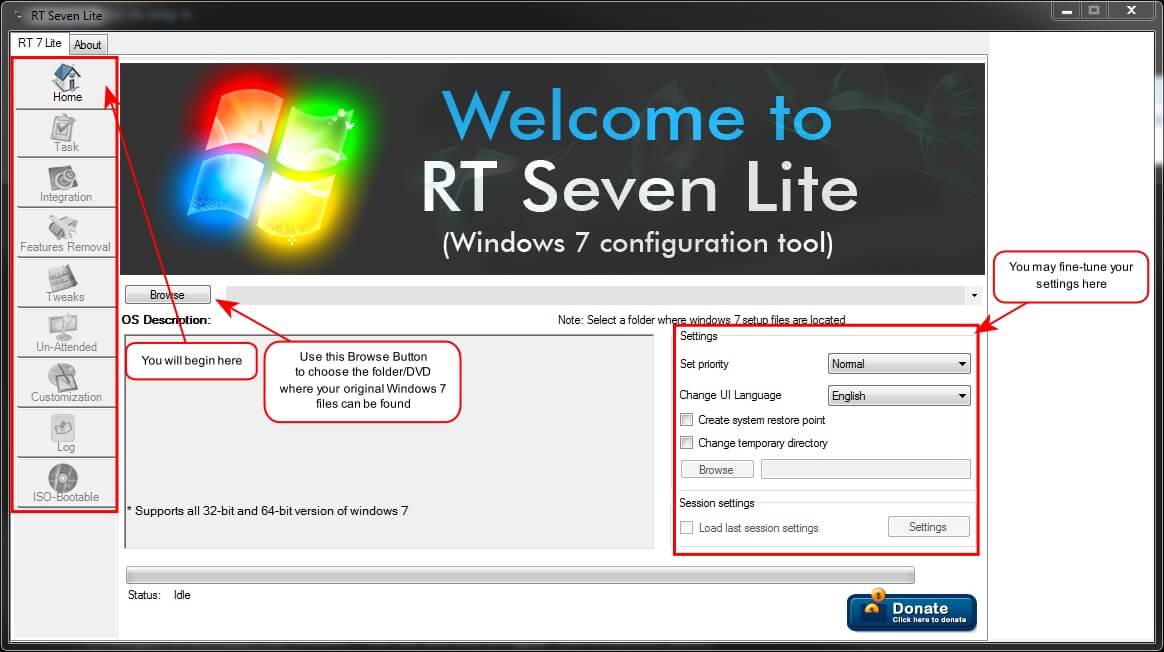 When you fire up RT Seven Lite you will have a few choices to begin with. The left-most panel will be greyed out and unavailable until some preparation work is first done.
1) You must tell RT Seven Lite where the original Windows 7 installation files are located. Choose the Browse Button to do this. If you have followed my advice about file locations you will know exactly where that is.
Important Note: If you are going to use any of the options mentioned below, you must choose them before you select the directory above. You will not have the opportunity to come back to these options without re-starting from the beginning. I learned this the hard way.
2) You now have a couple of options you may choose from:
Set priority: How much in the way of computer resources do you wish to allocate to the slipstream process. the higher the priority, the faster things will be done. It must be noted this does take away from other processes and may slow them down. Set too high a priority and your computer may become barely usable while RT Seven Lite is doing its work.
Change the temporary directory: If you do not choose this, then the default Windows temporary directories will be used. If you have created the Temp sub-folder as I suggested, then you may choose this as the folder that RT Seven Lite will use.
There might be at least one very good reason to change this and that is room. You will need several gigabytes of disk space to perform this operation. Be sure your drive has enough free space to get the job done.
I like to have everything in one place but this is a personal preference and again this is entirely up to you.
Once you have chosen your Windows 7 source directory you will be prompted for the Operating System: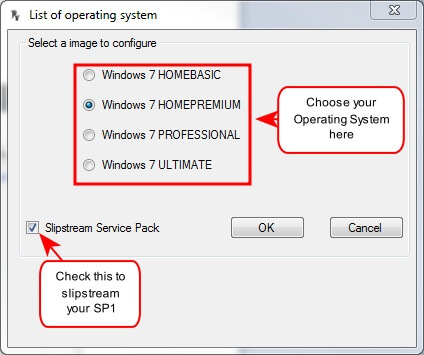 Choose your weapons…er…Operating System. Some may be hopeful at this point that by choosing a higher Windows version than you own will allow you to get it on the cheap. Sorry. Unless you have the product key for the version you choose here, it won't work when you get to installing it.. Microsoft will frown upon you. Just choose the operating system that you own and all will be a good thing.
Be sure the Slipstream Service Pack box is checked! If you fail to do this, you will have to start over. There are no Back Buttons in this program!
Once you have made your selections you will get a progress window like this one: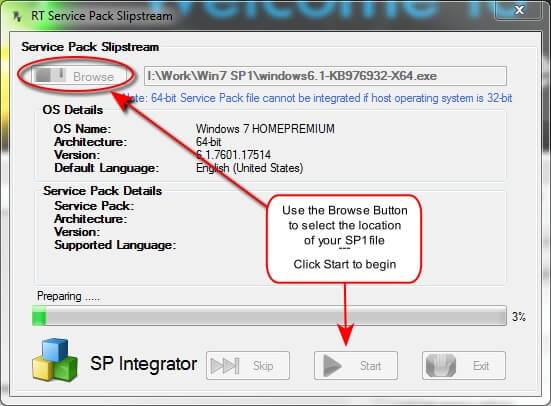 SP1 Choices
I had 3 SP1 files to choose from on my SP1 DVD:
…ia64– Itanium 64 chip
…X64– 64-bit chip
…x86– 32-bit chip
You will have to choose the correct one based on your system. If you use an SP1 ISO as your source file I don't believe you will have to make this decision.
Once you do the above and click the Start Button, you'll want to go for a walk or do something else healthy. This could take quite a while. On my computer, at Above Normal priority settings, it took 25 minutes. At Normal settings it took ~45 minutes.
That was a Preparation process. Once it has finished there will be a second step which won't take nearly as long– maybe 5 minutes or so.
Let's Add All Those Updates to our new Slipstreamed Windows 7/SP1 ISO
This part is tedious but you only have to do it once. In order to integrate the updates Microsoft has provided for your system you will need to download them. I don't know of a way to download them all in one go. As far as I know they must be downloaded one at a time. If anyone out there knows how to get all the updates at once, please let me know! It would not only be information valuable to me but for all DCT readers.
Here's how:
Open the Control Panel and choose Windows Update
In Windows Update, in the left panel, choose View update history
In the window that opens, right-click on an update and choose View Details from the context menu that opens. You will then see a window like this: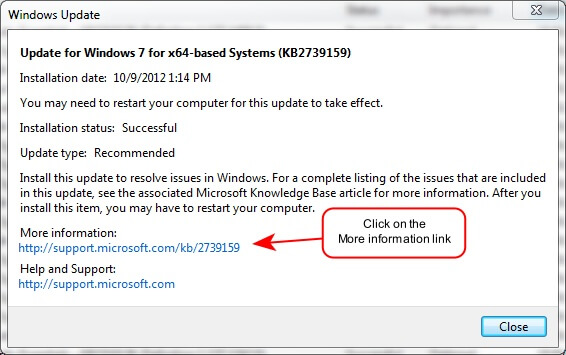 By clicking the link under More information a page should open in your default browser. This page will have download links matching the update you chose. Be sure to pick the one that matches your operating system, such as Windows 7 x86 if you have a 32-bit system, or x64 for 64-bit systems.
You may download them to any folder you like; just remember where so you can let RT Seven Lite know when you are ready. I put mine in the Work folder we created earlier. When we are finished with this tutorial they will no longer be needed and may be safely deleted.
Continue with the above steps, one at a time, until you have downloaded all the updates you would like to slipstream. Since the list can be a lengthy one you might want to only download the Important updates rather than all the Optional and Recommended updates, too. The choice is yours, of course.
When you are finished, close all the Windows Updates windows.
Back to RT Seven Lite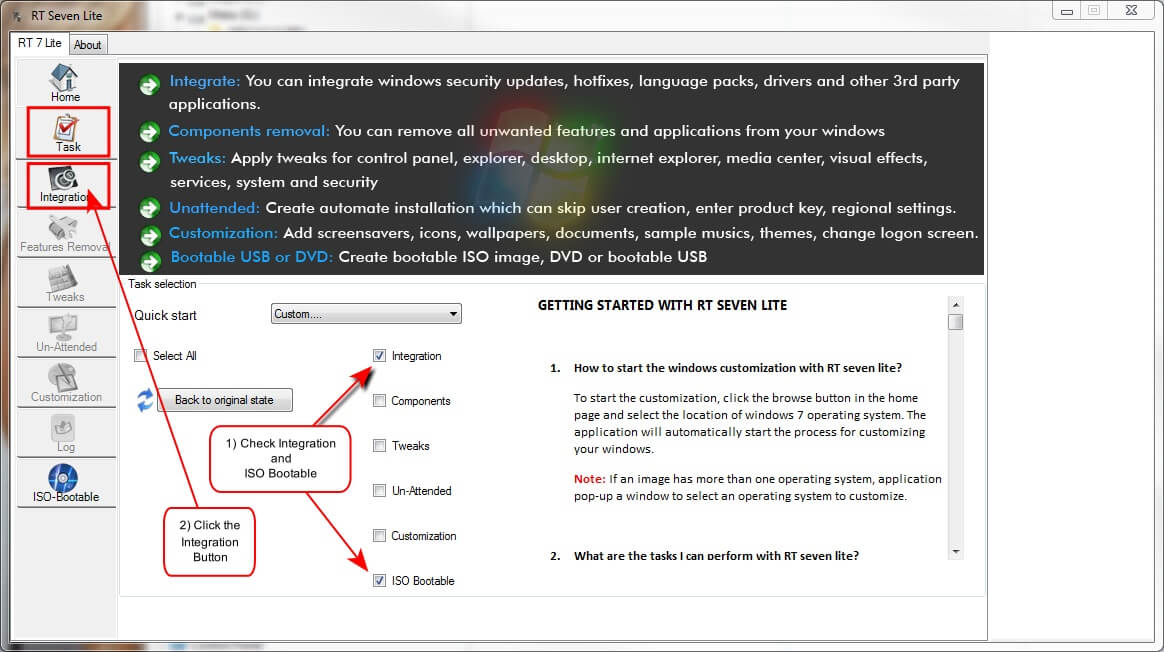 Click the Task Button in the left-hand panel.
You can see there are many options available to customize Windows here. It is beyond the scope of this article to cover everything that RT Seven Lite can do, so I will only be discussing the Integration and ISO Bootable aspects of this great utility.
Put a check mark in the Integration and the ISO Bootable check boxes by clicking on them.
Now, click the Integration Button in the left panel.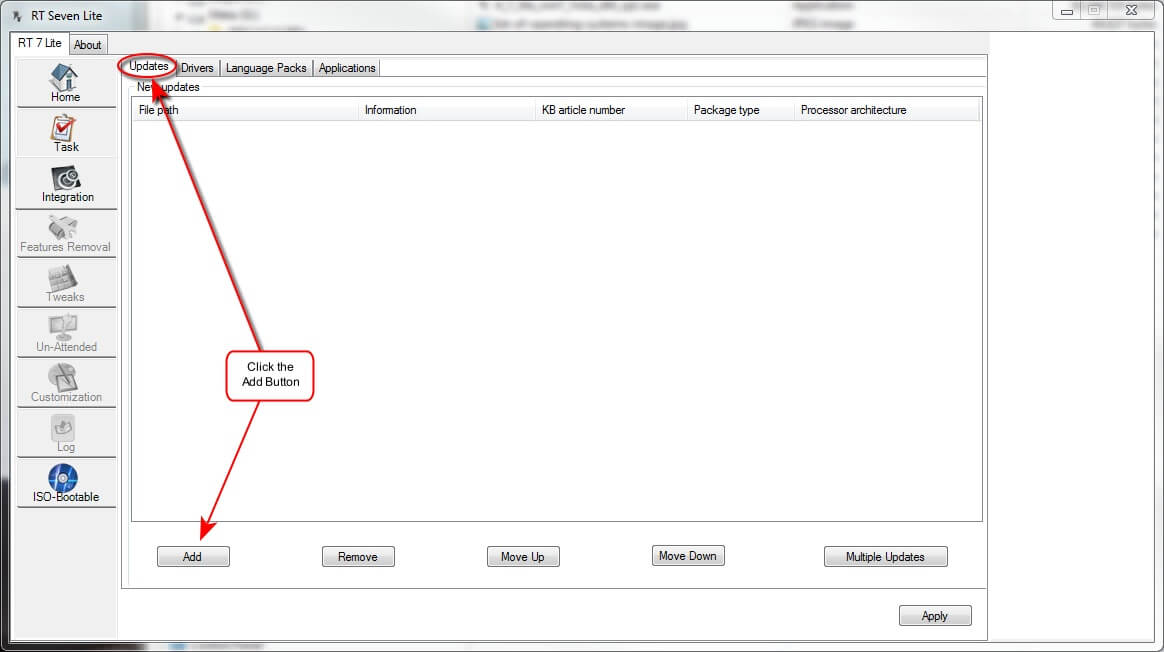 Under the Updates Tab, click the Add Button.
A window will open from which you can choose all those updates you downloaded earlier. Remember where you put them?
You can add them one at a time, or all at once using the traditional methods including the <CTRL> key to choose non-consecutive files, the <SHIFT> key to choose consecutive files, or simply drawing a box around them using the mouse.
When you click the Apply key, the Integration window will then be populated with all those MSU (MicroSoft Update) files you have chosen.
When you get back to the Integration window shown above and all your MSU files are listed click the Apply Button to continue to the next step.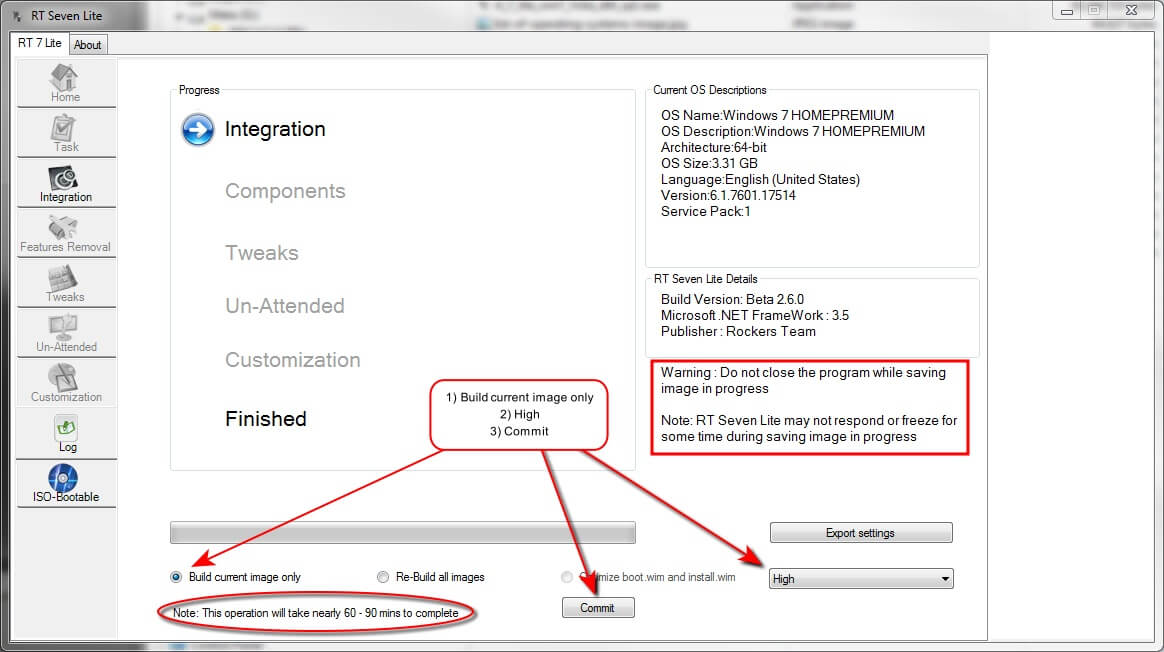 Click the Radio Button labeled Build current image only
Make sure the Priority is set to High
When you are ready to begin, click the Commit Button
Take note of a couple of things here. There is a warning about possible lags and/or freezes. More importantly is that you do not close RT Seven Lite while it is processing your slipstreamed installation.
The other point to notice is the amount of time predicted. In my case you can see that it is between 60 and 90 minutes. Your times will differ dependent upon your computer's capabilities and the number of update files you have chosen to integrate. After you note its progress, you may want to take another healthy walk.
For the purposes of this article I only chose 2 updates to integrate and it took about 5 minutes to complete– no where near the threatening 60 to 90 minutes that had been predicted.
When RT Seven Lite is finished, click on the ISO-Bootable Button in the left panel.
Creating your new Slipstream Windows 7
You have 3 choices here:
Direct Burn to a DVD
Create an ISO image to burn later
Create a Bootable USB Flash Drive (you must have ~5GB free space available on your USB stick and it will be formatted so back up anything that you deem important!)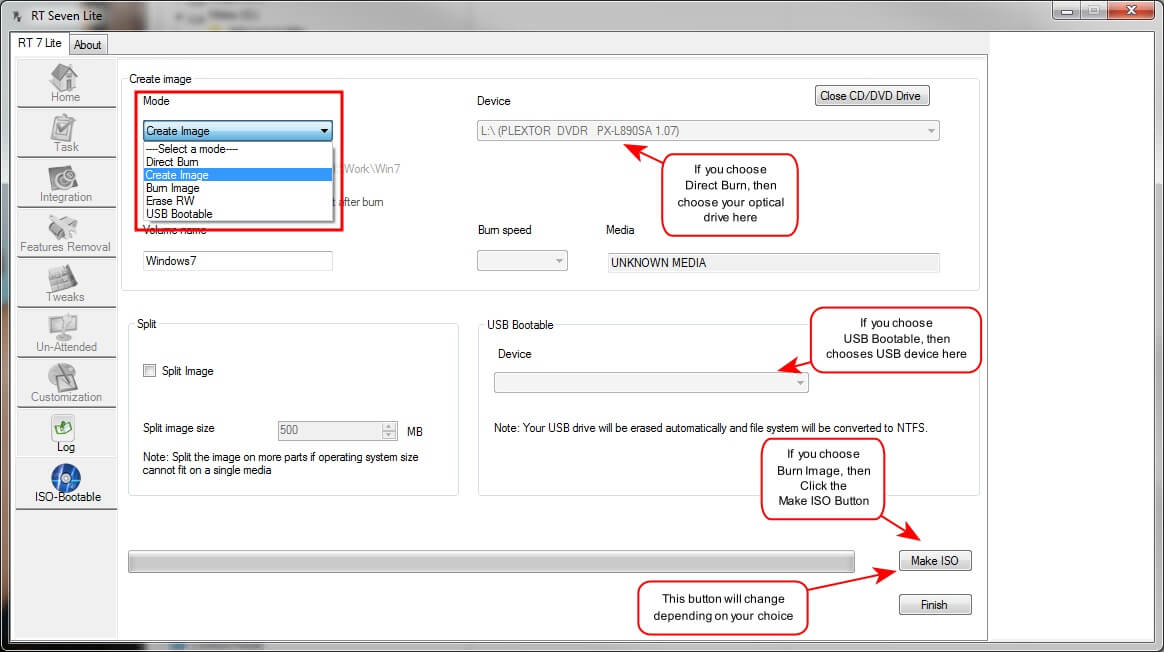 The above image should pretty much explain the rest and it's fast and easy.
Choose the type of operation (Mode) you want. That is, where do you want to create your slipstream (DVD, USB, or ISO file).
If you choose DVD, you will be prompted for a blank DVD; if you chooses USB, you will be prompted for a USB (which will be formatted!!!); if you choose ISO, you will be prompted for a destination folder and file name.
Once you have made your choices just click on the 'Make …' button in the lower right corner. This button's label will change depending on your choices but the result is the same– it will begin the process.
I chose the simple, and quick method of creating an ISO image and it took a whopping 3 minutes to finish. I didn't even have time to go grab a cup of joe.
Final Thoughts
Congratulations for having made it this far!
As you have seen, creating a Windows 7 SP1 Slipstream is not necessarily for the faint of heart. It can take quite a lot of time and some tedious work to complete. My original estimate of 2-3 hours may be on the short side of reality. It really depends on several variables: The speed of your computer and the number of Updates you want to integrate and how much customization you plan to employ.
Believe it or not, this was the simple example. With all the customization options that RT Seven Lite offers it could add up to many hours of thought and planning.
The bright side is that once you have finished this task, you will have a much faster and personalized installation of Windows 7 in the future. Death, taxes, and the re-installation of Windows– there is no escaping it.
Some of the things you can do is remove programs and features that you never use in the first place. Take the games bundled with the operating system, for instance. If you never play them and always find yourself removing them, here's a way to not install them in the first place! This is just one idea to get you thinking about all the possibilities of this very flexible tool.
RT Seven Lite is not difficult to use. The worst thing that could happen is that you get sucked into spending a whole bunch of time playing around with it. Don't hesitate to check out all the customization options, but, be careful! It can be addicting. A good thing that might happen is that you end up taking a lot of healthy walks.
Have fun!
—