I have a number of old photo albums filled with pictures. Some have the sticky paper that the prints adhere to. Then there are some really old ones from my parents that use those stick-on corners the pictures slip into. And there are the ones that are behind plastic. Each contains four or more pictures to a page. 
In the past, I have suggested using your cell phone to snap the pictures one at a time. The best quality comes from taking the pictures out of the album. Back in the 1900s, the scanners came as standalone devices and even came with software that used OCR to scan papers into editable documents. Some even had software to scan a group of pictures placed on the scanner and separate them into individual digital images.
I found a great app for my cell phone that works on either an iPhone or an Android. It is called Photomyne. This is what their web site has to say:
You can scan a whole album page and the app will recognize and crop each image on that page and save them as individual digital photos.
Sure it can, I thought. Then I downloaded the free version and gave it a try. Wow. It really works and not only does it separate the images, but it also enhances them as well. 
You can use the free edition to scan and clean up the images automatically. The upgrade to premium adds a number of additional features. You can continue to use the free one indefinitely but will have to get past the suggestions to upgrade.
This is not a Windows application. It runs on your iPhone/iPad and saves the created images on the phone. You will then want to either download them to your computer or upload them to your favorite photo saving cloud such as Google Photos (my favorite), Amazon Prime, Dropbox, OneDrive, etc.
Here are some old pictures in an album and I would like to digitize them and put them on my Facebook page. In case you are wondering, the pictures are mine. Left to right is a picture of me with my paternal grandparents, my daughter in the early 1980s, my grandfather looking at the devastation from the 1938 hurricane in Providence, RI, and me in my cowboy outfit with my Dad a long time ago.
I could scan them with my 3-in-1 printer or take individual pictures with my cell phone but I found a better way with Photomyne. I installed the free app on my iPhone and used it to take a picture of the album page without having to remove the pictures from the album page.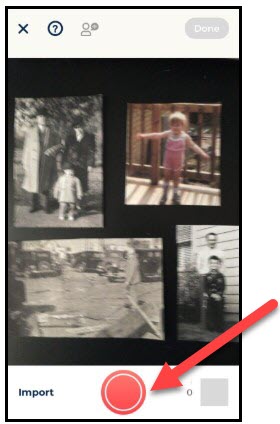 I opened the app and focused on the album page. It told me to hold down the red button for 3 seconds. As I did, a circle displayed quickly filling with red as it processed the pictures.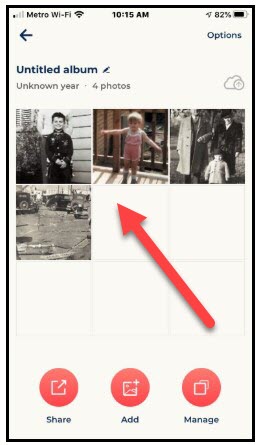 When it finished, four separate pictures appeared on my screen. The images were sharper than the originals and straightened. Even the picture I had scanned in from a newspaper quality magazine of the 1938 hurricane was enhanced. 
I then clicked the Share button and chose to save the pictures to my phone where they were automatically uploaded to Google Photos.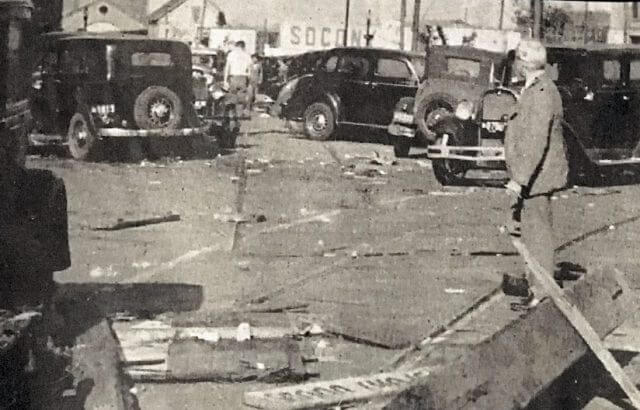 Above is the result of that 1938 picture of my grandfather.
This was a great addition to my toolbox. Hope you like it as well.
FURTHER READING:
Dick
—