Recently, I had an issue with my MacBook dropping its Wi-Fi signal. I was concerned that it was an issue with my MacBook. I figured that I needed an appointment with the Genius Bar so I went online to schedule one. Before scheduling an appointment, I was given the option of doing a MacBook health check by running Apple Diagnostics. Well, technically, I ran Apple Hardware Test since my MacBook was introduced prior to June 2013. You can tell when your Mac was introduced by selecting 'About This Mac' under the Apple menu.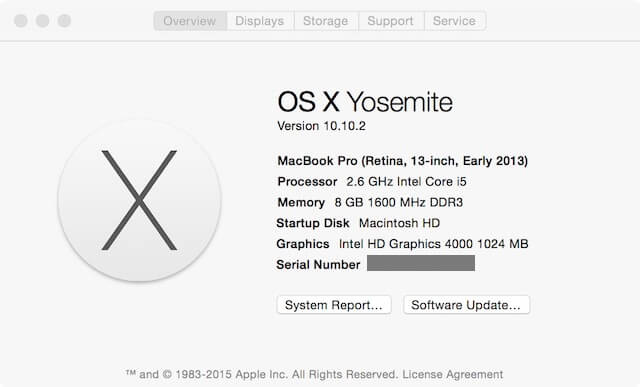 Running Apple Diagnostics or Apple Hardware Test will help identify the potential source of a hardware issue and will provide first steps to try and resolve it. If need be, it will also help you to contact Apple Support for further assistance. I figured that I might as well give it a try.
To run diagnostics:
STEP 1:  Shut down your Mac.
STEP 2:  Restart your Mac and immediately hold down the 'D' key.
STEP 3:  Select a language.
STEP 4:  A Hardware  Tests screen will be displayed.  Click the 'Test' button.
STEP 5:  Diagnostics will be run and the result will be displayed.  My MacBook took 2 minutes 33 seconds to run diagnostics.  The result was "No issues found".   You can click on the 'Restart' or 'Shut Down' button to continue.
If any issues are found, a brief description of each issue along with applicable reference code(s) will be displayed. Make a note of any reference codes. You will be able to access applicable online support articles. Your support and service options will be displayed. You will be able to contact Apple Support for further assistance.
So, for me, running diagnostics saved a trip to the Genius Bar since no hardware issues were identified. My issue turned out to be related to Yosemite. I was running OS X 10.10.1. The Wi-Fi issue was resolved by updating my MacBook to OS X 10.10.2*. Luckily, I was able to figure this out without any help from the Genius Bar.
*Further reading: How to Set Up Your Mac for Automatic OS Updates – And Why You Should