Audacity
I recently had to put together a DVD for my Uncle using his pictures, videos and music. I had too many MP3 files to deal with and decided to merge them into one file to make it easier to manage. I used Audacity to do this but had an issue with the final result– the final MP3 had a very low volume. Even with all the volume controls turned up full blast on my computer, the sound was still barely audible.
To fix this, I dragged and dropped the MP3 file to Audacity and then clicked on the top menu Effect, and then Amplify:

I wasn't sure what to type in the Amplification (dB) box so I used the blue slider instead. I dragged it over to the right, but I noticed if it was dragged too far, the buttons at the bottom would get grayed out and unclickable: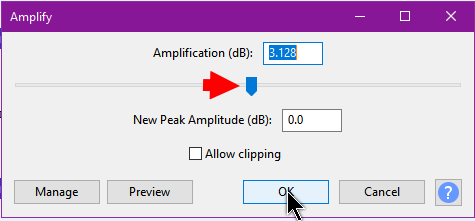 So I dragged it to just the point before the buttons went gray. Then I clicked on the Preview button to hear what it sounded like and it did make a world of difference. So I clicked on OK and then saved it by going to File, then Export, then Export as MP3.
—