Windows 10 – Have You Upgraded Yet?
Are you still waiting?
Alright, I know, it's only been a couple of days since Windows 10 was officially released for public consumption. Did you hit the icon  and expect a fanfare and choir of angels. I know I did and like most of the rest of us, all we got were some pretty windows telling us how wonderful Windows 10 is and that it would be available sometime after 29th July and just be patient because we would be notified eventually etc etc. I had reserved the upgrade on two machines and assumed that at the stroke of midnight, I'd receive a personalised, engraved and embossed invitation from Mr Gates himself. Wrong, but I did at least get this:


And I passed the compatibility test…
Get Windows 10 now!
So, if you don't want to sit in the queue and wait for Microsoft to roll it out to you 'eventually', head over to their downloads page here: Download Windows 10, and run the Media Creation Tool which gives you the option of doing an in-place upgrade of your existing Windows 7 or 8.1 system OR to create installation media on USB or DVD for a clean install on another PC.
I opted to upgrade my existing Windows 8.1 system and the process was very straightforward, especially as I was given the option to keep my personal files and programs.
Once you've decided to upgrade and clicked NEXT, Windows 10 begins downloading and depending on your internet connection, this will take some time, but you can carry on working whilst it downloads. I generally prefer a clean install but frankly, this method is a great time saver and is pretty much wash and go. Where I live, the whole download took 15 minutes, but times will vary.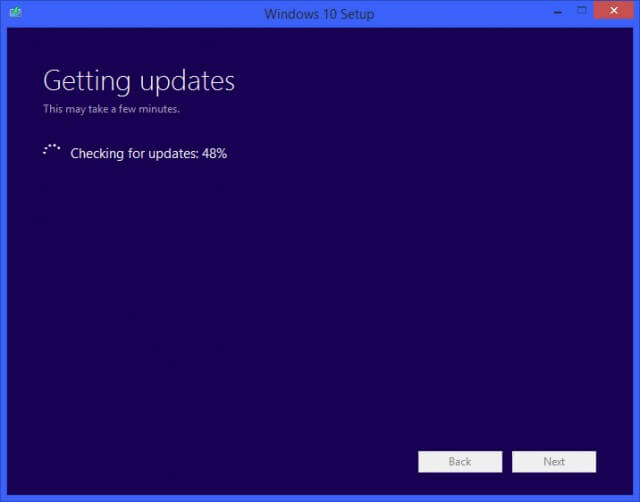 And finally, you're ready to install so take a quick jog around the block, freshen up and you'll find that the whole process is pretty much standalone and in an hour or so your new Windows 10 will be ready to use.
A painless experience
Within an hour or two I was happily working away in Windows 10 with all my programs and personal files from Windows 8 just where I left them.
****** A special thanks to Daniel for giving me the heads up on the Media Creation Tool.******