With all of us shopping online more it is important to find good deals. If you are like me, sometimes the best deal for the things I want comes from Amazon. I know many of you might not like them but once in a while, you may need to buy from them. Since I am an Amazon shopper, I have an Amazon Prime account. This gives me free shipping on all my purchases plus there is a great number of shows/movies to watch for free. If you have a Prime account, you might pay for your service every month or like me, yearly. When this charge is done you should receive a receipt in your email. If you don't, then I'm going to show you how you can find it on your Amazon account. This is important since you might need it for your records or if you need the receipt for your business (you might be able to write this off). Regardless of the reason, this will show you where you can find these receipts.
How To Find Amazon Prime Receipts
This will be shown on my Windows 10 laptop using Google Chrome.
Step 1: Head over to Amazon.com and sign in to your account.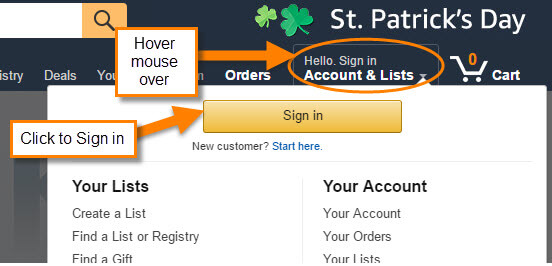 Step 2: Once signed in, look to the top right. You will see your name (Hello, Name) and all you need to do is hover your mouse over this area. The menu will appear and from the list find Account. Click it.
Step 3: Now you will be on the Your Account screen. At the top on the right, you will see Prime. Click it (you might have to key in your password again).
Step 4: On the Prime page there is a link called "Update your payment method" under Renewal Date. This will be on the top of the page. Click on that link.
Step 5: After clicking that link, a drop-down menu will appear. Find View all payment receipts in the menu. This is located under Last Payment under the date. Click it.
Step 6: Here is the Your Prime Payments screen where all the receipts reside. Find the one you would like to print off and see the View Receipt button under it. Click it.
Step 7: On the Receipt view page, look to the top middle. Here is where the Print this page for your records option is. Click it. Done!
Now you know how to find and print the Amazon Prime receipts. Time to share this knowledge with friends and family.
—