As most of you know, I write articles about consoles I use every day, especially the PS5. Here are some of them for you to check out:
This time I have decided to show you all how you can eject your game. Yes, you might think this is easy and you would be right. But did you know there is more than one way to do this? That is right, you can do this from the front of the console and from the controller itself. Sometimes you want to be lazy and do this remotely. In this article, I will show you how to do this from the front of the console to using the controller. Time to turn on your system and get this new lesson started.
How To Eject A Disc On PS5
This will be shown on my PS5 gaming console.
Step 1: The easy way to eject a Disc from your PS5 is to push the button on the front. That button would be the one on the right if the Console is laying down. If the console is standing up, then it would be above the power button. There is another way to do this without getting up off that couch. Move on to Step 2 to learn how…
Step 2: This time you will want to log in to your console. Once in, highlight the game that is in the disc drive with your controller.
Step 3: After you have selected the game with your controller, find the

(options) button. This is the button above your Square button. Push it.
Step 4: A menu will appear for you with many options. The one you are looking for is at the bottom called Eject Disc (very tricky). Select it and tap the X (Enter) button on your controller. Done…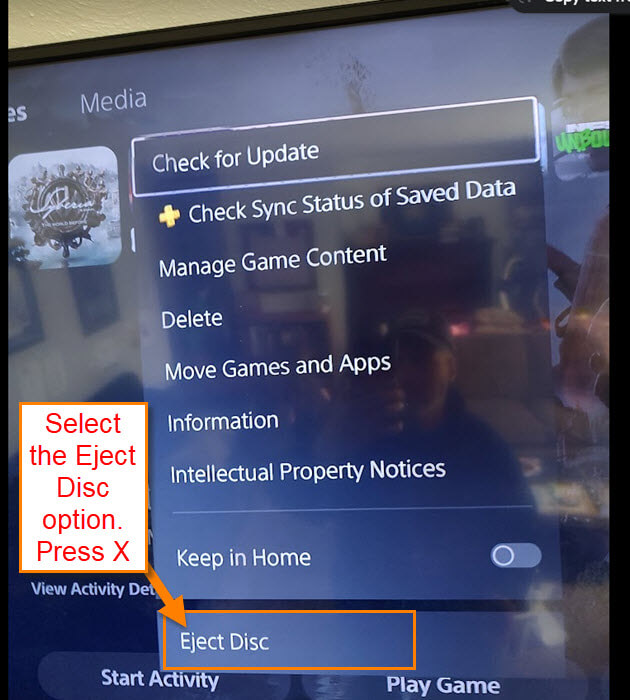 Now you know two ways to eject your game disc on your PS5. Time to share your new knowledge with all your gaming friends.
—